Finishing Touches Underway for New Restaurant, Bar Coming to Pocahontas, Virginia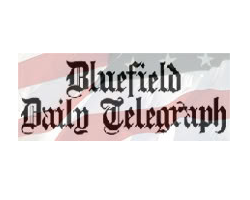 November 21, 2021 - Finishing touches are underway for a new restaurant and bar that will serve not only ATV enthusiasts and other visitors, but the Town of Pocahontas, Virginia and the surrounding area as well.
Located at the historic Pocahontas Exhibition Mine, the Ole No. 3 Restaurant & Bar has a sleek industrial decor and murals that recall the region's coal mining heritage. Preparations are being made for a soft opening starting on Dec. 9 at 4 p.m.
Owners Tom Wimmer and Jessica Mounts, both of Bluefield, spoke Friday about how the new restaurant came about and their plans for it.
Like many first time visitors, Wimmer and Mounts were impressed when they saw the large and lofty space that was the exhibition mine's former education room. Murals featuring coal miners, which were painted in the late 1990s by Carla Myles, still look bright and fresh.
"We said, 'Wow, this is really nice. This is upscale,'" Wimmer recalled. Work on the restaurant started soon afterward.
"This is all new," Mayor Ben Gibson said. "It was built by AML (Abandoned Mine Land) funds, part of $1.8 million the town received for this project."
The Ole No. 3 will have plenty of items on its menu that appeal both to visitors and the area's residents.
"The food's going to be a wide variety," Wimmer said. "That's been a challenge that we want to meet. We have the enthusiasts from the ATV trails, ATV riders and that's out of town, out of state. We also have this community. The food's going to range from steaks and fish and shrimp to burgers, sandwiches, pastas, almost similar to any mid to upscale restaurant anywhere else."
Having a local restaurant will mean that visitors and residents alike won't have to drive miles out of their way to find a place to eat.
"That's one of the reasons," Wimmer said when asked why they decided to open the Ole No. 3. "Another reason is the Town of Pocahontas has a really rich history in their community and very intriguing, the town if you haven't researched it or studied it. The town has been really open to us. We started out a couple of years with the ball field. They welcomed us and helped us refurbish the Joe Hill ballpark, and during that time the organization, the Lady Red Devils, had engaged a concessions truck. Then that led into a food trailer; so it came down back earlier in the year, and we had a very successful turnout a couple of times with the food trailer."
Being engaged with the food trailer, called El Diablo Twisted Grill, and talking with the town's leaders, led to creating the Ole No. 3 Restaurant & Bar. Gibson told Wimmer and Mounts about the restaurant space available at the exhibition mine and asked them if they would be interested.
"I said, well, maybe, we'll see," Wimmer recalled. "And then when I walked in, I was really floored. Wow, this is really exciting. This really stands out. There's a lot of potential here."
Mounts gave a quick tour of the kitchen, which features modern restaurant ovens and fixtures plus a walk-in refrigerator and freezer.
"No hotplates in here," she said.
The AML grant paid for the restaurant's furnishings, but all that remained was finding a leaser, Gibson said.
"Phase I included the restaurant and the equipment and things like that," he recalled. "Well, Phase I was completed, and we had everything but a leasee and the town put it out for public lease."
Besides the restaurant itself, there will be a game room, too, featuring billiards, Playstation games, ring toss and other games to help build on its family atmosphere. There will also be eight televisions, Mounts said.
The restaurant's name refers to the town's coal mining history.
"No. 3 is the No. 3 Pocahontas coal seam," Wimmer said. "The No. 3 seam is what started and helped found Pocahontas."