Stand With Workers This Thanksgiving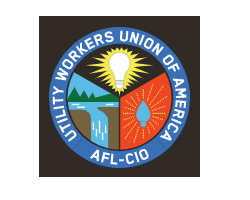 November 24, 2021 - Below is a message from the Utility Workers of America:

Whenever this time of year comes around, it is always a good opportunity for all of us to pause and reflect on the things we are most grateful for in our lives. As we look back on the challenges of these new times we've been living in, we can't help but feel overwhelmed with gratitude for the dedication and perseverance of those within our union.
Utility workers have risen to the challenge time and time again to ensure our nation's homes stay warm and safe, and that industries have access to the utilities they depend on to operate and keep our economy going. For this, and for everything you do to keep our movement strong and resolute, we thank you.
We are also grateful to be living in times when more and more people are beginning to realize the importance of standing up for everyday working men and women. Discontent among tens of thousands of Americans after years of disrespect has boiled over into protests this fall as workers flexed their strength and demanded change from their employers.
From September to November, workers at more than 25 companies took to the picket lines in the fight for higher wages and safer working conditions.
Their efforts are paying off. In addition to bringing labor into the mainstream conversation, real improvements are being won. Workers at Nabisco won $5,000 bonuses, annual raises and boosted contributions to employees' 401(k) accounts. John Deere workers were able to preserve their health benefits and win a 10% wage increase.
Currently, UWUA members in Pittsburgh are fighting their own battle for a fair contract with their employer. Earlier this month, UWUA Locals 479 & 475 conducted a practice picket against Columbia Gas of Pennsylvania. Workers there have been without a contract and are demanding their employer come to the table to improve safety, wages and benefits. If necessary, Local 479 and 475 members have voted to go on strike to win a fair contract.
As union members, we know we draw our strength from each other. We are thankful for these brave workers leading the way to a brighter future.
Thank you for doing your part to stand up for the good jobs that allow working people to lead dignified lives and provide for their families. When we fight together, we win together!
May you and your loved ones have a Happy Thanksgiving, and a safe and healthy holiday season.
In Solidarity,
Utility Workers Union of America