Energy Coal Confirms Spain Did Not Import Russian Coal
By Evan Millard
May 5, 2023 - Italy-headquartered coal trader Energy Coal confirmed to Argus that a recent shipment of coal carried on the 9,679t Sava discharging at Gijon was of non-Russian origin, despite media reports last week to the contrary.
Russian coal is banned from the EU since a bloc-wide embargo was imposed on 10 August 2022.
Energy Coal added that the "Gijon customs office carefully ascertained the origin of the merchandise and approved its importation after verifying that it indeed came from an origin that has nothing to do with Russia, and that all the documentation was perfectly in order. We cannot provide more information for confidentiality reasons".
The vessel departed Novorossiysk in the Black Sea on 6 April, stopped at Istanbul on 14 April, and discharged at Gijon on 26 April, ship-tracking data show. The vessel is owned by Turkish shipping firm Kamer Marine, and is currently located in the Baltic Sea en route to St Petersburg, the data show.
Despite the EU's ban on Russian material, ships leaving Russia continue to discharge at European ports given Kazakh coal is permitted to flow and is often shipped from Russian terminals.
Shipping data show 364,500t of thermal coal was imported by the EU+UK from Russian ports in April, and 68,700t from Latvian ports. This suggests the EU+UK may have imported as much as 433,000t of Kazakh material last month, of which 140,000t arrived in Spain.
Despite Kazakh coal imports being permissible, some European buyers are cautious about booking cargoes because of contamination risks and because some Kazakh product coal is transported along railways operated by Russian rail operator RZD, which is under sanction by the UK governments.
Customs inspection times have been lengthy for Kazakh coal arriving into Europe, with one trader commenting a shipment was held up for one week, and that some countries are stricter than others.
Greater Transparency on the Horizon
The Spanish government said it needs to be "inflexible in firmly complying with sanctions" and that it has plans to increase import origin transparency.
This will involve the preparation of an EU-wide proposal that calls for "a guarantee certificate from the European Commission, [and a] certificate not only from the ports…or from the exporter of the coal mines", the Spanish Ministry for the Ecological Transition and the Demographic Challenge told Argus.
The certificate would state "all elements [of the import]" including volume and date "guaranteeing that imports arriving in EU territory are not subject to any of the approved sanctions packages".
The EU's sanctions regime has undergone several reworks over the past year. For a brief period, Russian coal was able to be transited through the bloc to non-EU countries. But under the current legislation, Russian coal is only allowed to transfer from Russia to a third country "point to point" and not via EU territories.
Spain has been widely used by traders as a reloading hub for coal in recent months, so much of the volume arriving at the Spanish ports of Gijon, Ferrol and Coruna is not actually for final consumption in a country whose gas price cap suppressed coal demand over the winter.
Last year two large trading firms began stockpiling coal at Gijon when storage space at the Amsterdam-Rotterdam-Antwerp (ARA) transshipment hub became full.
In February, 152,765t of thermal coal was exported from Spain according to Eurostat data, most likely all reloaded from Gijon with the bulk, 145,003t, destined for Morocco.
Eurostat data for January show that 134,710t left Spain for Morocco, with another 75,114t heading to Turkey.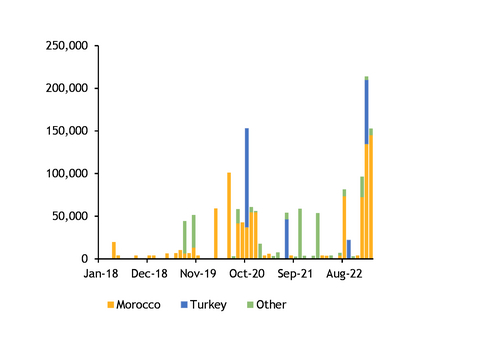 Spain thermal coal exports mn t