NTSB Focuses on Maintenance, Inspection Procedures in BNSF Coal Train Derailment
November 7, 2023 - The National Transportation Safety Board's investigation into a BNSF Railway Co. coal train derailment in Colorado last month is focused on the railroad's maintenance and inspection procedures, according to the board's initial report on the incident.
On Oct. 15, a southbound BNSF coal train derailed 30 rail cars on the Pikes Peak Subdivision in Pueblo West, Colorado. The derailment occurred near a track switch east of a railroad bridge that crossed over Interstate 25. The derailed rail cars struck the bridge, with six dropping to the interstate below and one or more striking a northbound truck-tractor in combination with a utility trailer (combination vehicle). The eastern span of the bridge partially collapsed over the interstate's northbound lanes.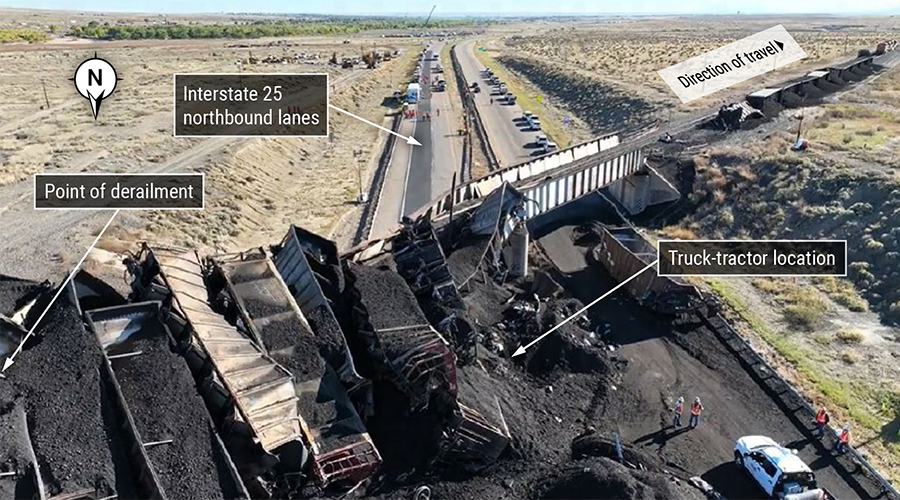 Photo: NTSB
The combination vehicle came to rest beneath the collapsed bridge span, derailed rail cars and lading. The truck driver was killed; no members of the train crew were injured, according to the NTSB report.
The train consisted of two locomotives at the head end, three distributed power unit, and 124 hopper cars loaded with coal. The train crew consisted of a conductor and an engineer.
Track near the derailment site was a single main track with an adjacent siding. Train movements near the derailment site are authorized by wayside signal indications with an overlaid positive train-control system and are coordinated by the BNSF Network Operations Center in Fort Worth. The speed limit in the area is 45 mph; the train was traveling about 32 mph at the time of the derailment.