Safety Awards for Ramaco
November 7, 2023 - Ramaco Resources is an operator and developer of high-quality, low-cost metallurgical coal in southern West Virginia, south-western Virginia and south-western Pennsylvania. Sentinels of Safety is the United States' most prestigious recognition for mine safety. For 2022, Ramaco's Elk Creek plant was selected as the nation's top performer in the Large Coal Processing category, having worked 219,292 injury free hours. This is the third time in the last four years Ramaco has received the Sentinel of Safety award, with the Elk Creek Plant receiving the 2021 Sentinel of Safety award and the Highwall Miner No 1 receiving the 2019 award.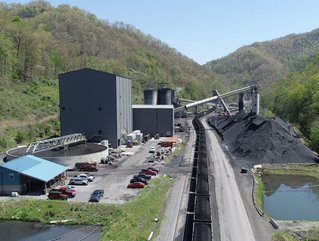 Elk Creek plant in West Virginia.
Credit: Ramaco Resources
Number One Priority
"The safety of our team is Ramaco's number one priority," said Chris Blanchard, Chief Operations Officer for Ramaco. "The crew at our Elk Creek plant deserves a lot of credit for earning this award for two consecutive years, and continuing to demonstrate that they are amongst the nation's most safety conscious."
Initiated nearly a century ago by Herbert Hoover, the Sentinel of Safety Award recognises coal and mineral mining operations for recording the most hours in a calendar year without a single lost-time injury. Of the 20 award recipients this year, six were for coal mining operations.
Randall Atkins, Ramaco's chairman and Chief Executive Officer stated, "There is no higher operational and management responsibility than maintaining the safety of our Ramaco employees. Our personnel have done an extraordinary job of upholding the exacting standards we have set to safely operate our mines and preparation plants. The national and state recognition they have received both this year and previously is testament to their achievement. We are exceedingly proud of what they have accomplished."
In his remarks during the award ceremony, NMA president and CEO Rich Nolan said recipients of the Sentinels of Safety Award "represent our industry's best; they've raised the bar for others, and I look forward to seeing the example they've set replicated across industry."
Awards for Excellence
Separately, Ramaco is also pleased to announce that several of its operations were recognised by the Virginia Department of Energy for Excellence in Mining, Reclamation and Safety. These include Best Reclaimed Highwall Miner Operation for the "Mudlick Creek" operation in Tazewell County, Virginia, and Best Impoundment for Ramaco's "Jamison Creek Impoundment" operation at its Knox Creek facility. The Big Creek Surface Mine was also presented with Awards of Excellence in Safety in the Large Surface category for working 63,755 hours with no lost time accidents.
The awards were given at the annual fall meeting and awards banquet of the Metallurgical Coal Producers Association (MCPA). "We celebrate the achievements of all these operators and the men and women who work in the met coal industry," MCPA president Ben Beakes said. "We are proud of the positive impact they have by mining the coal that is used to make steel needed to rebuild our world's infrastructure and manufacture everyday products which affect so many lives."