Capito Tours Conn-Weld In Princeton, WV, Participates in Town Hall Event
November 17, 2023 - Today, U.S. Senator Shelley Moore Capito (R-W.Va.) traveled to Princeton, W.Va., where she visited Conn-Weld's manufacturing facility as a part of the Association of Equipment Manufacturers (AEM) "I Make America" grassroots campaign. While there, Senator Capito toured the facility to see Conn-Weld's recent expansion project, met with employees, and participated in a town hall event.

"It was great to visit with individuals who are truly making America, and whose efforts greatly contribute to the manufacturing economy of our state and nation. Throughout my time in Congress, I have continuously worked to bring forward solutions that ease the tax burden placed on our manufacturers, and make sure they have the resources necessary to invest back into their business and their workforce. Conn-Weld is a great example of a company that is directly investing into our state and our communities, and that is evident by their expansion efforts currently underway," Senator Capito said.

"As a manufacturer in Southern West Virginia, it is important to us to ensure that our voice is being heard so that we can continue to provide good jobs and career paths in our state and the industries that support these jobs," Marvin Woodie, President, Conn-Weld Industries, LLC, said. "That's why we are honored to partner with the Association of Equipment Manufacturers to welcome Senator Shelley Moore Capito and her staff to Conn-Weld Industries."

"Manufacturing and mining are two powerful engines for growth in the state's economy, and that is why we need our elected officials to advance policies that help businesses invest in their communities and hire more Americans," Kip Eideberg, Senior Vice President, Association of Equipment Manufacturers, said. "Equipment manufacturers support more than 3,700 family-sustaining jobs in West Virginia, and we are grateful to Senator Capito for her leadership and ability to work effectively with her colleagues in the U.S. Senate to hammer out bipartisan solutions to tough problems. The Association of Equipment Manufacturers is calling on Congress to pass legislation that will lower the cost of financing the critical investments in machinery and equipment necessary for its almost 1,100 member companies to continue to make the equipment that builds, powers, and feeds the world. The current requirement for businesses to calculate their interest expense deductions based on the stringent earnings before interest and taxes (EBIT) standard has increased the cost of doing business and has led to reduced investment, slower job creation, and stunted economic growth. We are very grateful to Senator Capito for leading the charge on critical legislation that will encourage investment in American manufacturing and strengthen our national supply chain."

BACKGROUND:

In April of this year, Senator Capito introduced the bipartisan, bicameral American Investment in Manufacturing (AIM) Act. This legislation would reinstate the Earnings Before Interest, Tax, Depreciation, and Amortization (EBITDA) measure, supporting a competitive tax code for American job creators and businesses, like equipment manufactures. Reinstating EBITDA will make it easier for capital intensive companies to raise capital or obtain financing, protect U.S. jobs and wages, and strengthen global competition. The AIM Act has broad support from national and local business organizations and industry stakeholders across the country.

Photos from today's visit are included below: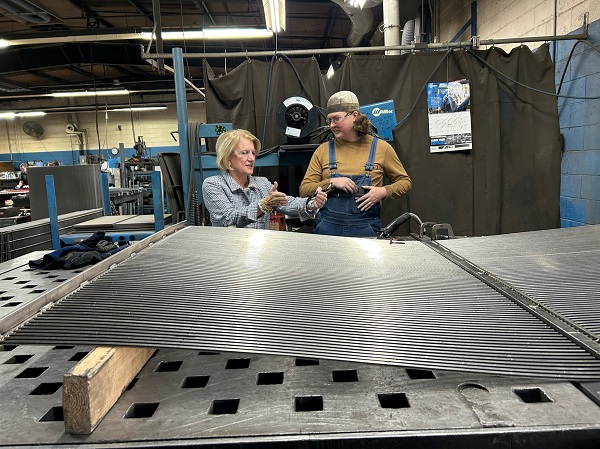 U.S. Senator Shelley Moore Capito (R-W.Va.) tours Conn-Weld's facility in Princeton, W.Va., on Friday, November 17, 2023.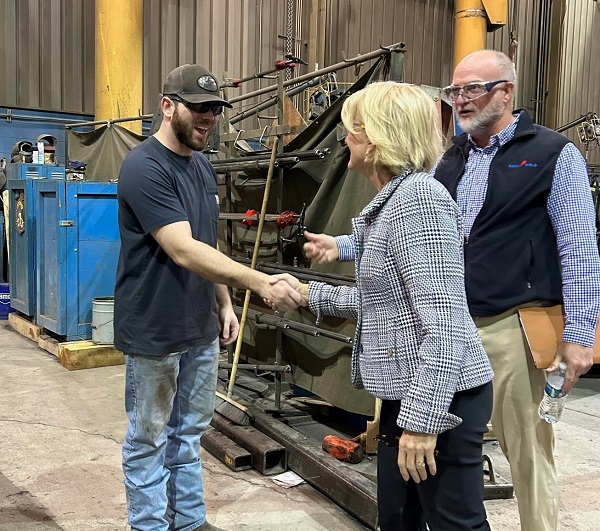 U.S. Senator Shelley Moore Capito (R-W.Va.) visits with Conn-Weld employees at their facility in Princeton, W.Va., on Friday, November 17, 2023.