Global Coal Output Through 2030 Will be Impact by Coal Phase-Outs by Top Miners
November 19, 2023 - Global coal production is expected to increase to 8,917.3 million tonnes (mt) in 2023, a growth of 1.9% over 2022, with China and India contributing to the growth. China, India, Indonesia, the US and Australia are the top five coal-producing countries, together accounting for more than 80% of global coal production.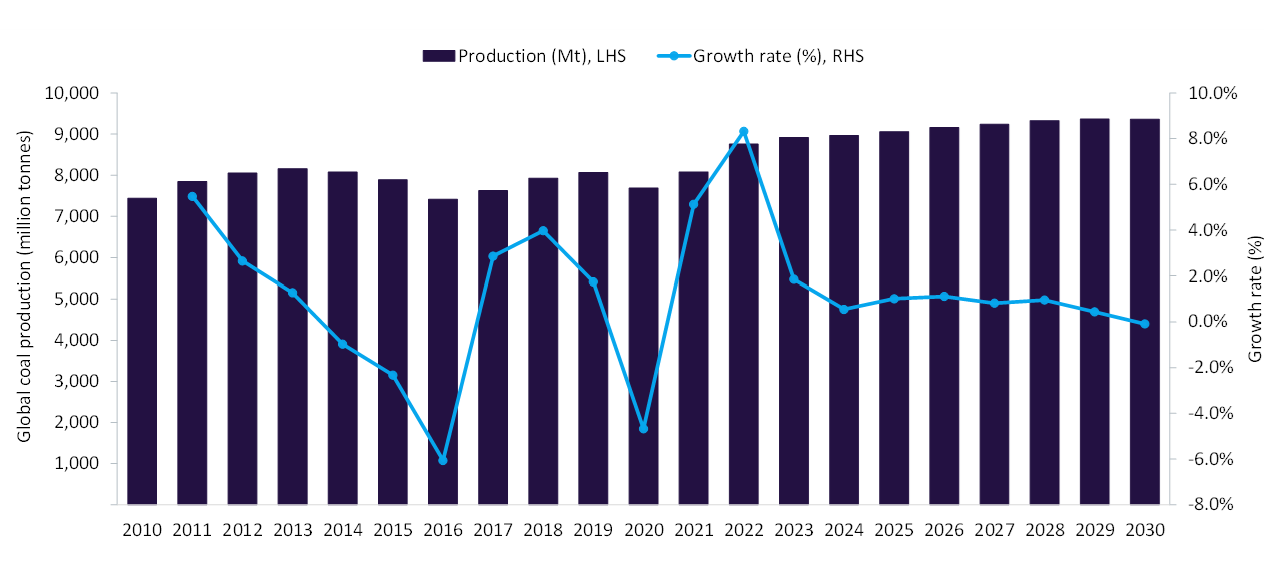 China is the largest coal-producing country accounting for about 50% of the world's total coal production in 2022. According to GlobalData, the growth rate in 2023 is expected to be lower than in 2022 (11.4% in 2022 versus 2.2% in 2023), primarily due to tightened safety measures, which have hampered production. Meanwhile, production in India and Indonesia, the second-largest and third-largest producers, is expected to increase by 6.2% and 1.8% respectively, due to the respective government's plans to increase coal output in order to satisfy domestic needs thereby reducing dependency on imports.
Coal India Ltd, China Shenhua Energy Co Ltd (CSEK), China National Coal Group Corp, Peabody Energy Corp, Glencore plc, Yanzhou Coal Mining Co Ltd, Arch Resources Inc, PT Bumi Resources Tbk, Singareni Collieries Co Ltd and PT Adaro Energy Tbk are the top ten coal-producing companies in the world, together accounting for 1,655.9mt, or 18.9%, of the global coal production in 2022.

Global coal production is expected to remain flat at a CAGR of 0.7% over the forecast period to reach 9,369.9mt in 2030. The flat growth will be due to competition from renewable sources, as well as issues with China's lower quality coal reserves, which will lead to rising production costs. In addition, closure of several mines in Indonesia and the US, will further curtail production during the forecast period. In contrast, India's coal production is expected to post a CAGR of 4.9% to reach over 1.3 billion tonnes by 2030, supported by the government's push to reduce dependency on imports.