Second Life Artisans Use Coal Heritage Connections to Honor the Industry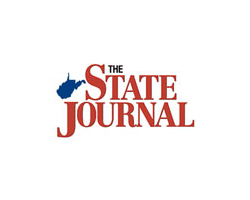 By Linda Harris
March 13, 2017 - The way Carol Dameron sees it, every time someone buys one of her handcrafted necklaces they're buying a piece of history. Not just her history. West Virginia's history.
"I think that's the allure of our jewelry — the fact that it is our history and it is our heritage," said Dameron, the creative force behind Beckley-based West Virginia Coal Jewelry. Handmade in a studio in her home, Dameron incorporates bits of West Virginia coal and other keepsakes like coal scrip into every piece she makes.
Coal scrip, which generally looked like metal tokens, was the currency of coal towns. Rather than pay cash, coal companies would give their workers scrip they could spend in the company store for whatever they needed.
"It was like gold — the only currency they had at the time," Dameron said. "Using scrip in jewelry, that's the history of it. The coal itself is beautiful, but the scrip part, that's what hits home with people — it means something to them. People can buy all sorts of beautiful jewelry, but when they see a piece of jewelry with scrip on it, they instantly will tell you stories about going to the company store when they were young."
Celebrating history, particularly West Virginia's coal history, is important to Dameron, who said as far back as she can remember coal kept food on her family's table, clothes on their backs and a roof over their heads.
"There were times when my dad would 'double-back.' We wouldn't see him for a couple days," said Dameron. "So I know what mining means for a family."
Coal fuels America, or at least it used to. Falling prices, automation, competition from natural gas and renewables and ever-tightening environmental regulations have squeezed the life out of the industry. Over the past two years, four of the nation's biggest mining companies (Peabody, Arch, Alpha and Patriot) declared bankruptcy, though nearly half of U.S. coal production is still generated by companies in bankruptcy. Dozens of coal-fired power plants also have closed their doors.
One study suggests about 83,000 miners lost their jobs and 400 coal mines went out of business from 2008-2015. Another claims 62,000 jobs have been lost just since 2011.
Preserving History
Turning coal into art isn't going to resurrect thousands of West Virginia mining jobs that have been lost over the past eight years. But while miners and their families wait for state and federal lawmakers to figure what, if anything, they can do to resuscitate West Virginia's mining industry, Dameron and several other artists are trying to make the best of the hand they've been dealt.
"We definitely honor it; that was the foundation of our business," said Jeremy Fairchild of Black Gold Coal Crafts. Located in Raleigh, West Virginia, Black Gold manufactures statues, figurines and other decorative items from coal. Some of Black Gold's designs date to the 1970s, when the original owner began crafting unique, coal-themed figurines; others were designed by Fairchild and his partners, his brother Justin Fairchild and Brian Bowman.
"We've seen a lot of interest in coal artwork, in the heritage of West Virginia and the role coal has played in our history," Fairchild said. "It also resonates among people who have moved out of the state, either for employment or other reasons. They display our pieces in their homes; it's like having a little bit of West Virginia wherever they may be."
Fairchild's family has a long association with the coal mining industry: In 1965, his grandparents founded Fairchild International, manufacturing equipment for the underground mine industry. The family sold the equipment business a few years ago, so when Fairchild and his partners found out Black Coal was on the market in 2015, they jumped on it.
He said they've tried to preserve the original owner's designs, which leaned toward characterizations of coal miners, while expanding into wall decor.
"We wanted to preserve the (original) aspects of the business," Fairchild said. "A lot of people have that heritage in their own family and can relate to that so we wanted to continue with that part of the business, while also expanding into a more modern (style) that people would want to decorate their homes with."
'Buying a Story'
Josh Nelson said his goal when he crafts a knife from old mine railroad spikes isn't to make art. It's to make a knife that will last longer and perform better than the cheap imports you can find in stores. The fact that it looks good, too, is just icing on the cake.
"A lot of blacksmiths get wrapped up in just the art side, which is totally cool," said Nelson, a Boone County resident and owner of Nelson Ironworks. "But I like my stuff to be functional. Anything I build and put my stamp on is going to be around for ever."
Nelson descends from a long line of coal miners: His father still works at a surface mine, and he himself spent just shy of five years working underground. While his chosen art form doesn't involve coal per se, he does use mine castoffs: He turned an old, high-tension torque mine roof bolt into a machete for a customer in North Carolina who wanted a stronger, higher-quality tool than he could find on store shelves. Nelson also heats, stretches and hammers old mine railroad spikes over his anvil to make custom knives. He said it's illegal to salvage mine parts yourself, so he purchases what he needs from people who sell mine supplies or railroad supplies. These days, they're not hard to find.
"A lot of times when you hear the word 'millennial' it carries kind of a negative connotation," said Nelson, who's using his grandfather's refurbished anvil. "But one thing I think is going for my generation is that we are looking for an experience vs. just buying something or acquiring an object. That's cool. When you think about buying something from a blacksmith or anybody doing things a traditional way, you're buying a story.
"There are some people who still come up to you and want to mention how much cheaper they can buy something at Walmart, but we haven't had a lot of that. Most people really respect what I do. The ones that don't, I just smile and let them go buy (a cheap import). There are plenty of other people out there willing to pay what something is worth."
Nelson said as far as he knows, he's the only working blacksmith in southern West Virginia actually selling his work commercially. He sees it as an opportunity to develop commerce in southern West Virginia.
"This area's been hit so hard by the downturn in the coal industry," he said. "Right now, it's kind of reversed and is coming back a little bit ... maybe it will last. It's very satisfying; it just fits with the history of this area."
'Relationship to Coal'
Fairchild says there's no denying Black Gold Coal Crafts is a nod to the past.
"With people in West Virginia, there's a true relationship to coal — they relate to coal more so than people from other states, even other mining states," he said. "We've made pieces specifically targeting Virginia and Kentucky, for example. There's a lot of coal heritage in both of those states, but something about it just resonates more in West Virginia. It's different. There's more pride in our coal heritage throughout West Virginia, and that's led us to keep our focus with the state of West Virginia. They can relate to them — I think it boils down to state pride."
That could be because the company favors West Virginia-themed coal products: wall art shaped like the panhandled state of West Virginia, or the flying WV logo associated with West Virginia University, for instance. They also replicate coal trucks, trains, shuttle cars, scoops, continuous miners and other mining memorabilia, along with ashtrays and wall art shaped like other coal mining states, including Pennsylvania, Kentucky and Virginia.
One of their newest designs, a best seller, is a four-foot high shape of the state crafted from coal.
Fairchild said the coal itself is very brittle.
"You can take a lump of coal, make a fist with your hand and crush it up," he said. "When we make an original piece, we make a mold off it. After that, so our products are more durable, we break the coal down and add a resin to it — a glue, you could refer to it as — and mold pieces of smaller coal and resin into the shapes we want. Once they're molded into the right shape, we take them and do the handwork, detail them out into the final product. That way, you don't get a piece that will break easily or crumble."
He said it usually takes three or four days for the pieces to seal, cure and ship.
"We're very proud of the pieces and our designs, the work we do," Fairchild said. "In a way, we feel like we're helping keep West Virginia's coal mining heritage on peoples' minds."
Wearable History
Dameron said growing up in coal country was a blessing, not the hardship outsiders might imagine.
"My childhood was extremely bad," Dameron said. "I was in and out of foster homes before I was finally placed in a home where the folks ended up adopting me. My dad was a coal miner, and I was just so grateful.
"I knew what it was like not to have anything, to be alone and then have a family take me in and provide for me when they already had children of their own. If I'd grown up in a normal family, would I have felt the same? I don't know. I went to live with my family when I was 5-years-old, and I appreciated everything they did for me. I can still remember the very first meal I had at their house."
It wasn't until later, though, that she realized how much her adoptive family gave her. Her father, Edward Lilly, would drive two-and-a-half hours every day to get to the McDowell County mine where he worked, then make the same two-and-a-half hour trek home at the end of his shift.
"If they didn't have an accident in the mine, if they were fortunate enough to retire, more than likely they'd end up like my dad," she said. "He didn't have an accident in the mine, but in the long run coal is what got him. He couldn't breathe, (and) he had cancer. But even knowing all that, he would never have changed anything, I heard him say it — coal is how he made his living, built his house and provided for his family.
"He loved the coal mines. He talked about the men he worked with — they all had nicknames, it was such a brotherhood to him. He loved his family dearly, of course, or he never would have put himself at risk, day in and day out."
Dameron hopes her jewelry reflects that understanding.
"I know the struggle; I know from being a child of it and being an adult and (seeing) the trickle-down effect," she said. "Just like now, with the teacher layoffs in our area. It's sad to me, but that's how it is — it's how coal has always been.
"All that passion and respect I have for coal miners, I think it kind of comes out in my jewelry. Anyone can make a piece of jewelry, but to take something that really means something to you and make it a wearable piece of history, I think that's what the appeal is."
Fairchild said he and his partners, too, have been amazed by the response to their work, "and the feedback we get from people as far as how much they love the product, or commenting on our website."
"They tell us stories of their own family's involvement with mining, things like that," he added. "It's heartwarming; it puts a smile on your face when you see how people relate to it. They enjoy seeing the pieces, the memories they recall from their own lives. The amount of feedback we receive is overwhelming. It kind of justifies the work we're doing, a sense of pride that people are relating to our products."
Fairchild said the mining industry has always had its ups and down.
"I've lived in West Virginia my whole life; I've seen first hand good times and bad times in the mining industry," Fairchild said. "It's like a roller coaster ride. You go uphill for a bit and next thing you know the bottom drops out and you're racing downhill. These last few years, since mid-2012 when everything started to decline, it's been pretty devastating."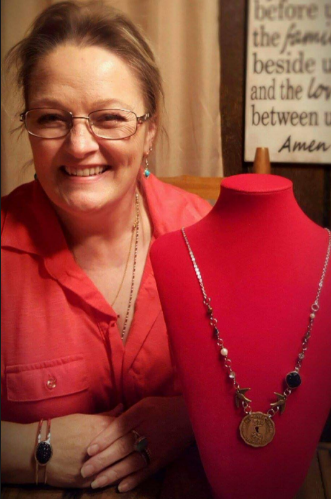 West Virginia Coal Jewelry's Carol Dameron displays one of her hand-crafted necklaces featuring coal scrip.