Peabody Energy's Reorganization Plan To Be Confirmed March 16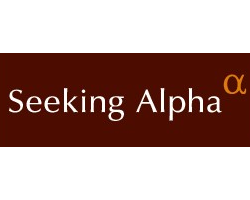 By WYCO Researcher
March 14, 2017 - The bankruptcy judge will, in my opinion, confirm the bankruptcy reorganization plan of Peabody Energy Corp. (OTCPK:BTUUQ) after a hearing on March 16. All impaired voting classes, except Class 5C, approved the plan by large margins. (Shareholders were not allowed to vote and were assumed to have rejected the plan.) Retail holders of Peabody debt will assert at the hearing that the plan discriminates between certain institutional holders and small debt holders thereby violating section 1123(a)(4) of the Bankruptcy Code. Since Judge Barry Schermer did not seem impressed by that argument at the hearing approving the adequacy of the disclosure statement, I expect the judge will "rubber stamp" the plan and sign the confirmation order. (He could make a minor change. See below.)
Confirmation of the Reorganization Plan
Below are the results of the voting (docket 2654). I am assuming that many retail holders did not vote because the totals of dollar amount of unsecured debt and the convertible debt are less than the total amount outstanding. Class 5C voted against the plan because only 65.77% of the dollar amount voted for approval, which is just under the two-thirds majority of the dollar amount needed. You do not need all classes to approve the plan for it to be confirmed - you just need one class to approve. (Approval needs two-thirds dollar amount and a majority of holders within a class.)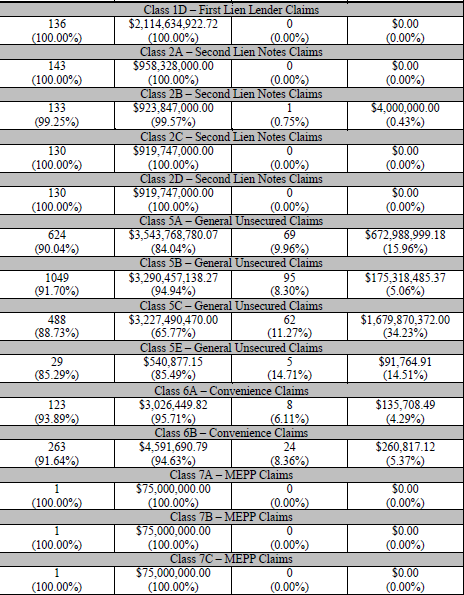 In order for a plan to be confirmed it must meet standards established in the bankruptcy code. The biggest issue in Peabody's case is section 1123(a)(4):
provide the same treatment for each claim or interest of a particular class, unless the holder of a particular claim or interest agrees to a less favorable treatment of such particular claim or interest
As I covered in prior articles, retail debt holders are effectively getting much less recovery than institutional Co-Proponents Noteholders and Second Party participants. These institutions are arguing that the recovery under the plan is the same for all members of the class and the differences are from potential gains/losses from their participation in financing the plan. The institutions further assert that individual investors are not allowed to participate in the financing because of various federal securities regulations.
Peabody filed a Memorandum of Law (docket 2655) in an attempt to prove that its plan meets all requirements under the bankruptcy code. Others, including CFO Amy Schwetz, filed a declaration of support (docket 2656) to confirm the plan. They all pretty much say the same thing (excellent at maximizing legal fees).
Assume for a moment that the judge is concerned about discrimination against retail debt holders. What is the remedy? Allow individual retail holders to participate with the Co-Proponent Noteholders? That would not be an available remedy because, under SEC regulations, individuals are restricted from participation. Have a plan with less dilution? The Alternative Plan has less dilution for retail holders, but the financing is shaky and the Co-Proponent's plan has much stronger financing. (Of course, the reason that theirs is stronger is because they are transferring value from retail holders to themselves.)
Since the judge was not moved at the hearing to approve the disclosure statement by arguments regarding discrimination in treatment and the strong approval voting results, I expect the judge will confirm the plan with one possible change.
There still could be a change in the plan and that is the elimination of certain releases, including for management and board members. On March 10, the U.S. Trustee filed an objection to the plan (docket 2665) and was against certain releases..."In particular, extending coverage to the Debtors' officers and directors is particularly inappropriate." Basically, this means that the U.S. Trustee does not want to shield management under the plan from lawsuits brought against it by investors.
Lawyers and Bankruptcy Law
This is from the introduction to my article, "Lawyers Are Determining the Value of BTU, ACI, and ANRZQ", in October 2015:
Lawyers seem to have the biggest impact on the price of securities in the coal industry lately. They hold the knife used to cut the shrinking coal pie. In order to get a handle on what is happening in the coal industry it has become important to read and understand court documents.
This suggestion was ignored by many BTUUQ investors. They valued various securities using standard financial analysis and did not fully incorporate the Ch. 11 bankruptcy code and bankruptcy case law. While security prices change as commodity prices fluctuate, most judges look at longer term averages and not short-term commodity price changes. They try to be overly conservative in financial estimates/projections to avoid what recently happened with RadioShack - it just filed for bankruptcy again after filing in 2015.
There was an extremely important exception in Peabody's case. When the short-term price of coking coal soared last summer in Australia, it saved the company from being put into "administration" in Australia. Environmental groups were waiting for the expected terrible second quarter financial results and were planning to force Peabody's Australian operations because they would not meet standards to cover massive future mine reclamation expenses.
In 2015, I did not expect Peabody to file for bankruptcy because management had many options to deleverage and because of Australian bankruptcy laws. I even stated this in my October article, "BTU needs to deleverage but most likely will never file for Ch. 11 bankruptcy because of Australian laws." I was wrong on both items. Peabody's management did nothing to avoid bankruptcy and it got lucky with higher coking prices to avoid administration in Australia.
Many investors are not happy with the bankruptcy process with Peabody and other energy companies, but they fail to consider that the Bankruptcy Code and case law apply to almost all companies. The problem is that "one size" does not fit all. When commodity businesses file for Ch. 11 bankruptcy because of low prices and then commodity prices rise during the time they are in bankruptcy, it makes for a very complex process to exit bankruptcy under a fair reorganization plan.
In my opinion, I think that there needs to be stricter enforcement of the 120-day exclusive period by management to file a plan. No more automatic extensions. If a plan is not filed in time, other interested parties should be able to present plans that are officially considered by the court and allow a solicitation for approval of their plan by impaired claims holders.
Self-Bonding
Peabody announced March 6, that the company will not be using self-bonding to cover future mine reclamation expenses, but will instead pay millions for surety bonds.
The State of Wyoming officials bent over backwards to help Peabody avoid bankruptcy by being lenient with it over meeting self-bonding standards. (This was after many asserted that Wyoming pushed Alpha Natural Resources into bankruptcy after it determined that Alpha no longer qualified for self-bonding.) If Peabody now wanted to use self-bonding, some residence in Wyoming, including myself, would be very aggressive in blocking its use of self-bonding. In addition, Wyoming officials are not inclined to allow Peabody to self-bond because it is just an indirect subsidy to hedge funds that will own most of the new company. (Because of the contemptuous way management and certain institutional investors treated retail debt holders under the reorganization plan, it will cost them millions for $1.26 billion surety bond expenses.)
Financial Results 2016
Peabody filed an 8-K on March 10 that reported its financial results for 2016. The fourth quarter adjusted EBITDA was $303.3 million compared to only $53 million during the same period in 2015. The stronger results were impacted by much higher coking prices. While the fourth quarter results were impressive, I doubt that the judge will be moved by just one quarter results.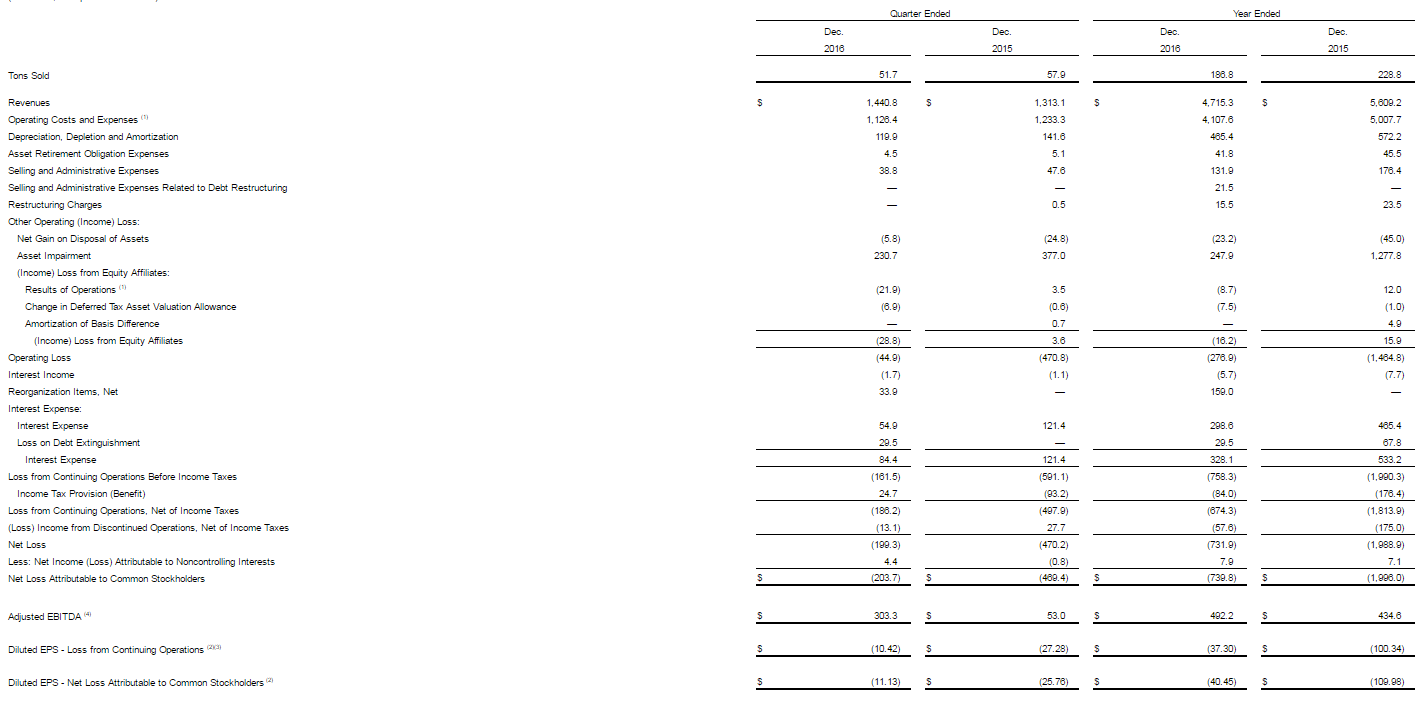 Conclusion
Shares of BTUUQ will be cancelled and there will be no recovery if the plan is confirmed. The shares will be cancelled and trading stopped when the plan actually becomes effective, which is expected the first week of April. Oddly, there still could be an active market for BTUUQ as there was for Linn Energy, LLC (NASDAQ:LINEQ), which had a market capitalization still of over $34 million on the day it exited bankruptcy. I may short BTUUQ because it will be worthless. The debt market for Peabody's notes is currently too illiquid to make any recommendation on the notes. BTUUQ shares are a strong sell.
Disclosure: I/we have no positions in any stocks mentioned, but may initiate a short position in BTUUQ over the next 72 hours.

I wrote this article myself, and it expresses my own opinions. I am not receiving compensation for it (other than from Seeking Alpha). I have no business relationship with any company whose stock is mentioned in this article.
Editor's Note: This article covers one or more stocks trading at less than $1 per share and/or with less than a $100 million market cap. Please be aware of the risks associated with these stocks.