CNX Coal Resources LP Announces Results for the First Quarter 2017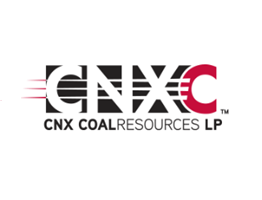 May 1, 2017 - "Despite abnormally soft winter heating demand, the CNXC team delivered very strong operational and financial results during the first quarter of 2017. We were able to achieve near-record sales and production volumes, higher revenue per ton, and solid cost performance." said Jimmy Brock, Chief Executive Officer of CNX Coal Resources GP LLC (the "General Partner"). "The results also reflect the second consecutive quarter of year-over-year earnings growth, strong coverage ratio, and continued reduction in indebtedness, since we completed the acquisition of additional interest in the Pennsylvania mining complex (PAMC) in the third quarter of 2016. I am also pleased to announce that the complex is exceeding the management team's expectations for incremental earnings contribution since the acquisition."
"On the safety front, our central preparation plant continued its excellent performance by working another quarter without an exception. This achievement marks the eighth consecutive exception-free quarter for the plant. The mining operations were also able to improve their safety performance by reducing their number of exceptions by 40% compared to the same period last year. Safety is our top value and we continue to seek further improvement."
Sales & Marketing
In spite of another mild winter, our coal sales improved substantially during the first quarter compared to the year-ago period, as higher natural gas prices and more normal coal inventory levels supported improved demand from our domestic power plant customers. Furthermore, tighter supply/demand fundamentals in the international coal markets also led to increased volumes and pricing for our crossover metallurgical and thermal coal exports.
During the first quarter, sales volumes increased in all three of our primary market areas - domestic thermal, export thermal, and export crossover metallurgical - compared to the year-ago period. Specifically, we posted near-record sales of 1.7 million tons in the first quarter vs. 1.3 million tons in the year-ago period. On the domestic front, Henry Hub spot natural gas prices averaged $3.02/mmBtu for the first quarter, up 51% from the average of $1.99/mmBtu in the year-ago quarter. Moreover, U.S. coal-fired power plant inventories stood at 164 million tons at the beginning of 2017, down 16% from 196 million tons at the beginning of 2016. These factors helped to support solid first quarter shipments of PAMC coal to our domestic thermal coal customers, which were up by about 270 thousand tons year-over-year. On the export front, market conditions were much-improved in the first quarter compared to the year-ago period, with the global coking coal benchmark up by about 250% and the API2 index (for coal delivered into Europe) up by more than 70%. This stronger export pricing drove an increase in our overall revenue per ton, which reached $46.80 in the first quarter, compared to $42.99 for the year-ago period.
The first quarter of 2017 was the second-warmest on record for the lower 48 states. This exerted downward pressure on power prices throughout the quarter, which led to a slowdown in domestic customer shipments and contracting activity during the latter part of the quarter. However, our marketing team continues to work with customers to stay on pace and take advantage of higher natural gas prices that have sustained into the shoulder period. During the first quarter, CNXC was successful in signing an annual contract with a new customer as the end-user looked for an alternative supplier to help transition away from Central Appalachian coal. In the international markets, we continue to ship volumes into the crossover metallurgical coal market, and we increased our first quarter crossover volume by 37% year-over-year. Based on our updated coal sales guidance range, we are approximately 95% contracted for 2017 and 64% contracted for 2018. We believe our contracted position is well-balanced in hedging against market downside risk while allowing us to continue to build out the portfolio strategically and opportunistically as the market evolves.
Looking forward, there is a growing consensus that increasing natural gas exports and modestly increasing domestic demand will tighten the supply/demand balance and drive up natural gas prices, with EIA now projecting that the Henry Hub spot natural gas price will average $3.10/mmBtu in 2017 and grow to $3.45/mmBtu in 2018. Our coal-fired customer plants are expected to dispatch well at these prices. EIA now projects that electric power sector coal consumption will improve by 17 million tons in 2018 relative to 2016 levels as coal recaptures share from gas in the generation mix. Furthermore, EIA projects that year-end power plant coal inventories will remain below 150 million tons in both 2017 and 2018. In the more immediate term, Cyclone Debbie, which made landfall on March 28, 2017, has caused a substantial disruption in coal exports from Australia, with one of the country's key rail lines impaired for approximately one month and recently re-opened at reduced capacity. We expect that this will help to support continued demand for our export products in the near-term, as international metallurgical coal spot prices have risen rapidly, and thermal coal demand could also see some benefit as more crossover tons move into the metallurgical market. We will continue to capitalize on our broad market reach and our low-cost, flexible operations to maximize margins as these market opportunities unfold.
Quarterly Distribution
During the first quarter, CNXC generated net cash provided by operating activities of $17.7 million and distributable cash flow1 of $14.9 million, yielding a distribution coverage ratio of 1.2x1. We note that our distribution coverage ratio calculation is based on the estimated maintenance capital expenditure of $9.0 million, while our actual cash maintenance capital expenditure for the first quarter was $2.0 million. Based on our current outlook for the coal markets and distributable cash flow generated during the quarter, the Board of Directors of the general partner, has elected to pay a cash distribution $0.5125 per unit to all limited partner unitholders and the holder of the general partner interest. The Board of Directors has also approved a full cash distribution of approximately $0.4678 per unit to the holders of the convertible Class A Preferred Units. The distribution to all unitholders of the Partnership will be made on May 15, 2017 to such holders of record at the close of business on May 8, 2017.
Shelf Registration
On February 8, 2017, we filed a shelf registration statement with the Securities and Exchange Commission. Subsequently, the shelf became effective and allows CNX Coal Resources the flexibility to offer and sell, from time to time over a three-year period, in one or more public offerings up to a total aggregate of up to $750 million of: (i) common units representing limited partnership interests of the Company; (ii) preferred units representing limited partnership interest of the Company; and (iii) debt securities. This press release shall not constitute an offer to sell or the solicitation of an offer to buy any of the securities of CNX Coal Resources or its subsidiaries.
Operations Summary
Our operations team delivered strong production volumes for the quarter despite two longwall moves at Bailey mine and tough geological conditions at Enlow Fork mine. With domestic and international demand remaining strong for most of the quarter, our marketing team was successful in lining up a near-record shipment schedule. The operations team took advantage of this opportunity and mobilized additional shifts during the weekends to deliver a strong first quarter production. Looking forward, we expect geological conditions at Enlow Fork mine to improve in the second quarter as we have moved past some of the most difficult geology and production is expected to normalize.
We sold 1.7 million tons of coal during the first quarter of 2017 compared to 1.3 million tons in the year ago period. The average realized price improved by 9% compared to the year-ago period, as the pricing on export shipments improved significantly. Our total cost of coal sold increased to $58.4 million during the first quarter compared to $43.6 million in the year-ago quarter driven primarily by higher coal sales volume. The average cost of coal sold1 in the quarter increased 4.1% to $34.52 per ton, compared to $33.16 per ton in the year-ago quarter. The increase in unit costs was driven by mobilization of additional resources for the development of longwall panels, demanding geological conditions at Enlow Fork mine and increased equipment maintenance compared to year-ago quarter. Despite this increase in our average cost of coal sold, our average cash margin per ton sold1 improved by 10.9% compared to the year-ago quarter due to higher average realized price.
Guidance and Outlook
Based on our current contracted position, production plans and outlook for the coal markets, we are increasing our sales volume and Adjusted EBITDA outlook compared to our previously announced guidance ranges for 2017 as follows:
Coal sales of 6.4-6.9 million tons
Adjusted EBITDA2 of $95-$115 million
Maintenance capital expenditures of $30-$34 million
CNX Coal Resources is a growth-oriented master limited partnership formed by CONSOL Energy Inc. (NYSE: CNX) to manage and further develop all of CONSOL's active coal operations in Pennsylvania. Its assets include a 25% undivided interest in, and operational control over, CONSOL's Pennsylvania mining complex, which consists of three underground mines and related infrastructure.