Iran Coal Mine Explosion Death Toll Rises to 35 as Rescuers Continue Search for Survivors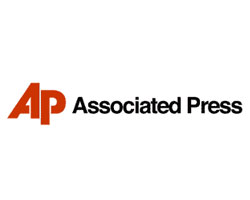 May 4, 2017 - A coal mine explosion that struck northern Iran killed at least 35 people, as rescuers on Thursday worked for a second day to reach those trapped inside after the blast.
The Fars, Mehr and Tasnim news agencies all carried similar reports on Thursday morning. State media did not immediately report on the rise in the death toll in the disaster on Wednesday at the Golestan province mine.
In a live broadcast by state television, Sadegh Ali Moghadam, the provincial director general of disaster management, said 22 bodies had been recovered.

The province will observe three days of mourning after the explosion, Iranian state television reported. Meanwhile, president Hassan Rouhani issued an order demanding his government use all available resources to rescue those still trapped, according to the IRNA news agency.
Provincial spokesman Ali Yazerloo said the blast happened at 12.45pm on Wednesday. Several officials blamed the explosion on accumulated gas and said it was affecting rescue efforts. At least 25 people were in hospital after inhaling the gas during the rescue efforts.

After the blast, ambulances, helicopters and other rescue vehicles raced to the scene as authorities worked to determine the scale of the emergency.
There was confusion about how many miners had been trapped inside, with numbers ranging from dozens to up to 80.
Iranian news agencies posted images online from the scene, showing ambulances and emergency workers gathered at the mouth of the mine. Some showed dazed workers, covered in coal dust, being helped by onlookers or laying on the ground as rescuers rushed past with oxygen bottles.

More than 500 workers are employed at the Zemestanyurt mine, which lies about 15 kilometres from Azadshahr. Golestan sits along Iran's northern border with Turkmenistan and along the shore of the Caspian Sea.
This is not the first disaster to strike Iran's mining industry. In 2013, 11 workers were killed in two separate mining incidents. In 2009, 20 workers were killed in several incidents. Lax safety standards and inadequate emergency services in mining areas often are blamed for the fatalities.
Since Iran's nuclear deal with world powers, the country has begun an effort to renovate some of its coal mines.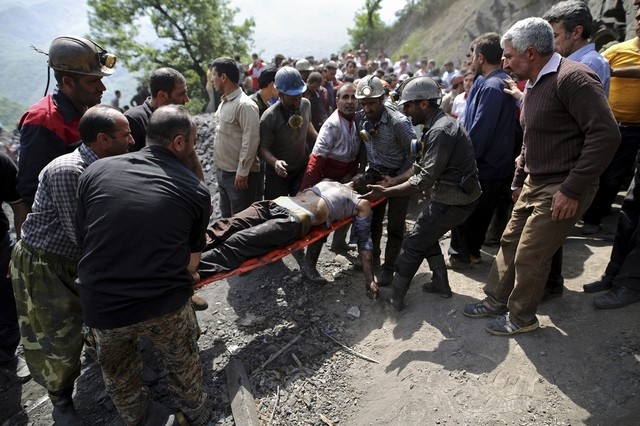 Miners and rescuers carry an injured miner after a coal mine explosion, near Azadshahr in northern Iran. the death toll from the explosion rose to 35 as the search for survivors continued into a second day.
Photo by Mostafa Hassanzadeh, Tasnim News Agency