Peabody Reports Earnings For Quarter Ended March 31, 2017; Revises Financial Targets For Full-Year 2017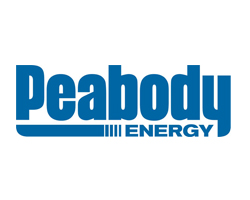 May 4, 2017 - Peabody (NYSE: BTU) announced today that first quarter 2017 revenues, net income and Adjusted EBITDAR all showed substantial increases over the first quarter of 2016. Revenues increased 29 percent to $1.33 billion. Net income attributable to common stockholders increased $287.2 million to $122.1 million, the highest net income in nearly five years, and income from continuing operations net of income taxes rose $292.7 million to $131.0 million. Adjusted EBITDAR increased $304.9 million to $390.0 million.
Peabody today also revised its full-year financial targets to reflect higher metallurgical coal volumes even in the aftermath of Cyclone Debbie in Australia. The company is retaining the Metropolitan hard coking coal mine and its associated 16.67 percent interest in Port Kembla Coal Terminal in the company's portfolio, after proposed purchaser South32 was unable to obtain regulatory clearance and terminated the purchase contract last month.
The company adopted fresh-start accounting under applicable accounting rules as of the April 3, 2017, effective date of the company's plan of reorganization, which is not reflected in these first quarter results. The adoption of fresh-start accounting may materially affect its results of operations following the fresh-start reporting dates, as the company will have a new basis in its assets and liabilities. As a result, certain balance sheet and income statement items will not be comparable to previously reported historical results, including the first quarter 2017 results presented here.
"Peabody's first quarter results were significantly improved over the prior year across the platform, reflecting sharply higher coal demand in the United States and expanded Australian margins for both thermal and metallurgical coal," said Peabody President and Chief Executive Officer Glenn Kellow. "Whilst several temporary issues in Australia prevented the quarter from meeting our full potential, our performance was greatly improved with excellent cash generation from our operations. We look forward to advancing with a strengthened balance sheet, rebounding shipments in Queensland, and retention of the Metropolitan Mine in New South Wales."
First Quarter Results
First quarter revenues rose 29 percent to $1.33 billion (from $1.03 billion in the prior year), driven by a 26 percent increase in Powder River Basin shipments, 17 percent rise in Western sales volumes, and 139 percent and 44 percent average revenue-per-ton increases in Australian metallurgical and thermal coal, respectively.
First quarter 2017 net income attributable to common stockholders increased $287.2 million to $122.1 million, and reflected $93.3 million in lower interest expense associated with the impact of interest under certain debt instruments being stayed during the Chapter 11 proceedings, partly offset by $61.3 million in reduced tax benefits.
Quarterly income from continuing operations net of income taxes increased $292.7 million to $131.0 million, led by a 29 percent increase in revenues that outpaced a 5 percent increase in operating costs and expenses.
First quarter Adjusted EBITDAR rose to $390.0 million, a $304.9 million increase over the first quarter of 2016. Adjusted EBITDAR included approximately $30 million in negative first quarter impacts from Cyclone Debbie in Australia and a $20 million benefit associated with the sale of the company's 37.5 percent interest in the Dominion Terminal Associates in Virginia as part of the company's ongoing portfolio management process.
Within consolidated Adjusted EBITDAR:
U.S. Adjusted EBITDA increased 24 percent to $191.7 million, with improvements led by higher Powder River Basin and Western shipments, partly offset by reduced margins at Midwestern operations and a $13 million benefit related to a contractual resolution with a Southwestern U.S. coal customer. Sales volumes, revenues per ton and costs per ton were all consistent with the company's prior annual financial targets.
Australian Adjusted EBITDA rose to $185.2 million from $5.6 million in 2016, driven by a 139 percent increase in metallurgical coal revenues to $150.22 per ton, as well as a 44 percent increase in thermal coal revenues to $48.65 per ton. Operating costs per ton rose 35 percent in Australian metallurgical mining, led by the impacts of Cyclone Debbie, temporary geologic and operating issues at several operations, and increased royalties due to higher prices.
Trading and Brokerage Adjusted EBITDA increased to $25.4 million from a loss of ($18.8) million in 2016, benefitting from realized profits on hedge positions taken in prior periods.
"With profitable operations across the U.S. and Australian platforms, Peabody looks forward to generating cash, further reducing debt and returning cash to shareholders over time," said Peabody Executive Vice President and Chief Financial Officer Amy Schwetz. "We have a new capital structure and focused capital discipline that is designed to serve shareholders well through all cycles."
Liquidity at quarter end totaled $1.07 billion in cash and cash equivalents, exceeding the company's expected cash at emergence given the strength of cash flows in the quarter combined with lower restructuring costs, even while retaining the Metropolitan Mine. Cash and cash equivalents excluded $80.7 million in current restricted cash, $1 billion in restricted bond proceeds, and an additional $594.0 million in restricted cash and cash collateral associated with the company's coal mine restoration and other activities included in Investments and Other Assets. First quarter operating cash flows totaled $238.4 million. This includes outflows of $89 million related to collateral for U.S. third-party surety bonds and $61 million related to other Chapter 11 payments. Continued management of liquidity will be an ongoing priority for the company. The company expects to use approximately $275 million to $325 million in cash through the remainder of the year for Chapter 11 exit costs and settlements related to the company's plan of reorganization that was effective on April 3.
Industry Fundamentals
Industry fundamentals improved in the first quarter of 2017 relative to the prior year both in the United States and Asia-Pacific regions. First quarter coal shipments rose sharply in the U.S., with seaborne thermal and metallurgical coal prices running well above prior-year levels.
While coal consumption for U.S. electricity generation increased 3 percent year over year through March in response to higher natural gas prices, first quarter heating degree days were 4 percent lower than prior year and 19 percent below the 10-year average, muting electricity demand. Still, with natural gas prices on average 55 percent above the prior year in the first quarter, natural gas generation declined 16 percent. Despite lower-than-expected coal demand, U.S. coal shipments increased 14 percent, limiting coal stockpile draws. For full-year 2017, Peabody projects U.S. coal consumption from electricity generation to increase approximately 30 to 40 million tons compared to 2016 levels.
Within the U.S. policy arena, Peabody remains very encouraged by priorities and strong actions from a federal administration that recognizes coal as an important part of the energy mix and supports coal mining and coal use. Recently, the administration has taken steps to reverse onerous regulations through the repeal of the so-called "Stream Protection Rule" and review of the Clean Power Plan. The Energy Independence executive order was also passed, while the secretary of energy requested a review of the impacts of renewable-fuel subsidies on baseload electricity generation, reliability and costs.
Seaborne metallurgical coal demand remained strong in the first quarter, led by a 6 percent increase in global steel production. Metallurgical coal imports in China rose 6 million tons in the quarter, driven by improved economic growth and a 5 percent increase in Chinese steel consumption on infrastructure growth and new construction. In addition, India metallurgical coal imports increased 4 percent compared to 2016 on strong steel production. Metallurgical coal supply disruptions due to Cyclone Debbie in Australia have led to a sharp rise in spot prices as negotiations for the second quarter metallurgical coal benchmark have been deferred. While loadings to the primary Goonyella rail line in Queensland have now resumed at reduced speeds, the rail carrier advises that, across the industry, approximately 20 million tons will be impacted through June 30.
Regarding global seaborne thermal coal, favorable demand fundamentals were led by a sharp rise in imports in China. Chinese thermal coal imports increased 29 percent in the first quarter over the prior year on domestic coal production constraints and strong thermal generation, which was up more than 7 percent through March. Conversely, India imports declined 22 percent in the first quarter compared to the same period in 2016 on increased domestic supply and elevated stockpiles. While the annual thermal coal settlement is typically negotiated with the Japanese fiscal year beginning April 1, negotiations have been deferred as producers evaluate the impacts of Cyclone Debbie. At quarter end, prompt Newcastle thermal coal pricing was approximately 65 percent above the spot levels of a year ago.
Priorities and Targets
"The emerged Peabody is proceeding with a new balance sheet, improved industry fundamentals and a sharp focus on creating value," said Kellow. "This focus begins with an emphasis on safe and productive operations that are constantly working to move down the cost curve; carries forward with intense management of both the asset and liability side of our balance sheet; and extends to our financial strategies that are aimed at prioritizing higher returns for shareholders."
Peabody's second quarter priorities include:
Working with customers and value-chain suppliers to quickly build metallurgical coal shipments in Queensland along the Goonyella Line, which recently resumed shipments on a slower pace from a four-week outage following damage to the rail line by Cyclone Debbie in late March;
Resuming full shipments at the Metropolitan hard coking coal mine in New South Wales following expected completion of an extended longwall move in late May;
Continuing to export thermal coal shipments at strong capacity levels given high Asian demand. Peabody's Australian thermal coal logistics chain was unaffected by Cyclone Debbie. In addition, Peabody recently received approval for its Wilpinjong Extension Project from the Planning Assessment Commission in New South Wales, Australia. The project aims to extend the life of the mine to 2033, and approval by the commission is a significant milestone in securing the supply of quality coal for domestic and export customers;
Completing the annual review process to optimize mine plans to reflect the more-favorable near-term pricing environment; and
Continuing to manage the company's cash position and formalizing the creation of dividend and capital allocation policies including debt reduction targets.
For the full year, Peabody continues to target increased revenues, earnings and cash flows given increased U.S. volumes and higher Australian coal pricing. The company also is revising full-year targets to reflect retention of the Metropolitan Mine.