West Virginia Senator Joe Manchin Praises Coal Miners for Efforts in Securing Benefits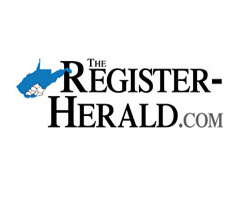 May 7, 2017 - "It took five years to get this legislation passed," U.S. Senator Joe Manchin, D-W.Va., told members of United Mine Workers Local 7604 Saturday afternoon.
He lauded the support of U.S. Sen. Shelley Moore Capito, R-W.Va., and several others, adding it was a bipartisan effort that pushed the legislation. He also praised the miners for not giving up the fight.
Manchin also hosted town hall meetings for coal miners and their families in Fairmont, Matewan and Logan after securing a permanent fix for miners' health care coverage in the spending bill signed by President Donald Trump the previous day.
"We didn't know if we were going to have insurance," said David Kidd, president of UMW Local 7604.
Kidd lauded the efforts of Manchin, Capito, U.S. Representative Evan Jenkins, R-W.Va., and other legislators for securing the health care benefits.
"It was a long time coming," Kidd emphasized.
"They (Congress) took it up to the last minute of the last day," Manchin said. "It's inhumane to make people go through this."
Nearly 23,000 coal miners were set to lose their health care benefits April 30.
The new legislation providing miners' health care benefits was included in Congress' federal spending bill that prevented the government shutdown.
Manchin estimated the cost to provide United Mine Workers' benefits at $1.3 billion.
Manchin referred to the 1946 law, known as the Krug-Lewis Agreement – a deal between President Harry Truman, then-U.S. Secretary of the Interior Julius Krug and John L. Lewis, then-president of the United Mine Workers of America, and accepted by coal operators to end a nationwide strike following the end of World War II.
The senator noted Saturday that it took Congress about 24 hours to bail out the banks and the car industry a few years ago. He also emphasized this new legislation is not a bailout, but owed to miners and their families through the 1946 law which guaranteed health and pension benefits for miners.
He lauded the miners for traveling to Washington D.C. numerous times to tell their stories directly to congressmen, sharing stories about how the loss of benefits would impact their lives as well as the lives and wellbeing of their wives, widows and families.
It put a face on the issue for congressmen, Manchin said.
"Without you, this would not have been possible," Manchin told the miners of their efforts.
"If you hadn't showed up, it would never have happened."
Manchin said the coal miners had provided the energy for World War I, World War II and the Industrial Revolution.
"We feel like the returning Vietnam veterans," Manchin said of the disrespect shown to coal miners.
He also noted that what Peabody Coal did by creating Patriot Coal "was criminal." Manchin said Patriot Coal was created to deliberately fall into bankruptcy in an effort to keep from paying miners their health and pension benefits.
He said the bankruptcy laws will also have to be changed to prevent similar occurrences by any company in the future.
Manchin also vowed to re-introduce legislation this week that will permanently guarantee miners' pensions. He estimated those costs at about $2.2 billion.
"It will be a long-time fight," Manchin said.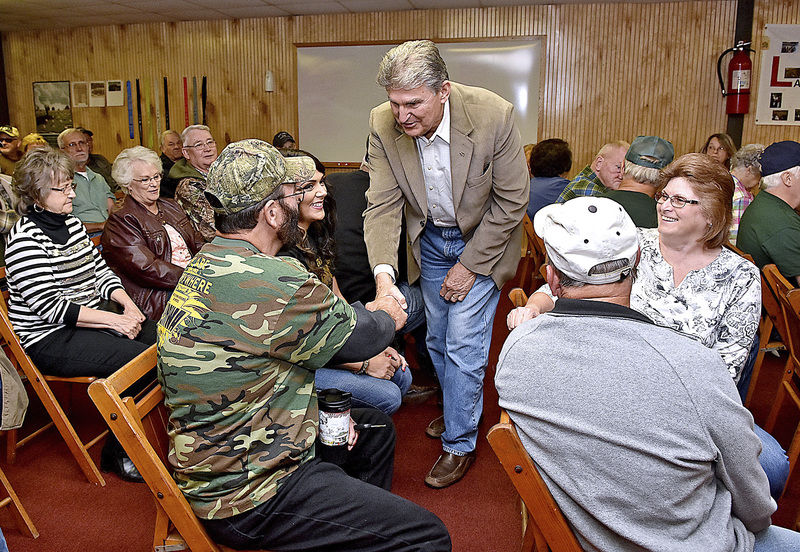 Senator Joe Manchin greets union coal miners and their families as he arrives for a town hall style visit to the United Mine Workers of America Local 7604 headquarters in Oceana, WV.