US EIA Says Gas Prices Could See Modest Boost From Exports, Demand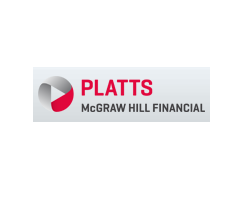 By Jasmin Melvin and Valarie Jackson
May 10, 2017 - US Energy Information Administration projections for natural gas prices are headed up year on year, the agency said Tuesday in its monthly outlook.
The 12-month moving average domestic gas consumption, coupled with exports at the end of last year, began to outpace the average supply of US gas from production and imports, a trend EIA expects to continue through 2017. That trend, EIA said, will put "modest upward pressure on prices."
The agency, in its May Short-Term Energy Outlook, raised its forecast for second-quarter Henry Hub natural gas spot prices 12 cents to $3.16/MMBtu. The Q3 forecast also edged up to $3.21/MMBtu, 15 cents above EIA's April estimate.
The agency put prices for full-year 2017 at an average $3.17/MMBtu, up 7 cents from the prior-month's estimate. Prices averaged $2.51/MMBtu in 2016.
Gas prices are expected to average $3.43/MMBtu in 2018, EIA said, lowering by 2 cents its estimate from April 2.
Higher gas prices are generally positive for the coal industry.
"US coal production is expected to rise 5% this year and about 1% in 2018 on higher coal-fired electricity generation, which would be the first back-to-back annual increase in coal output since 2010-11," EIA Deputy Administrator Howard Gruenspecht said Tuesday in a statement.
EIA added in its report that "after declining by 1.7% in 2016, energy-related carbon dioxide emissions are projected to decrease by 0.7% in 2017 and then increase by 2.3% in 2018."
The agency said that "energy-related CO2 emissions are sensitive to changes in weather, economic growth and energy prices."
EIA's report contended that "new natural gas export capabilities and growing domestic natural gas consumption contribute to the forecast" rise in the Henry Hub natural gas spot price between 2017 and 2018.
EIA lowered its Q2 gas consumption estimate by 1.04 Bcf/d to 63.80 Bcf/d, while ticking up its Q3 estimate by 200 MMcf/d to 66.37 Bcf/d.
Gas demand is expected to slip from 75.13 Bcf/d for full-year 2016 to an average 73.38 Bcf/d in 2017, as consumption by the electric power sector declines, but rebound in 2018 to an average 76.49 Bcf/d, according to EIA's outlook.
Meanwhile, Dominion's Cove Point LNG export facility in Maryland has targeted a late 2017 start, followed by 2018 in-service dates for Sempra's Cameron LNG project in Louisiana and Kinder Morgan's Elba Island facility in Georgia.
Those projects, along with Cheniere's Sabine Pass export terminal in Louisiana, which began operating in late 2015 with first exports in February 2016, are projected to boost US LNG exports from 510 MMcf/d in 2016, to 1.9 Bcf/d in 2017 and 2.79 Bcf/d by 2018, EIA said.
On the production front, EIA is eyeing an uptick in output for both 2017 and 2018, reversing production declines seen in 2016.
The agency raised by 990 MMcf/d to 78.47 Bcf/d its US natural gas marketed production estimate for Q2. The May outlook also raised its Q3 production forecast by 1.12 Bcf/d to 80.59 Bcf/d.
EIA added it expects full-year 2017 production to average 79.42 Bcf/d, a upward revision of 1.1 Bcf/d from its prior estimate, reflecting a 2.7% rise over 2016 output levels.
"US marketed natural gas production is expected to increase almost 5% next year," Gruenspecht said, referring to projections that full-year 2018 production would average 83.09 Bcf/d, up 270 MMcf/d from EIA's month-ago estimate.
While LNG imports are on the decline, gas imports from pipelines are expected to rise to 8.06 Bcf/d in 2017 from 7.96 Bcf/d in 2016. Pipeline imports are expected to continue to rise in 2018 to 8.55 Bcf/d, EIA projected.