Export Met Coal Prices Fall, But Remain Attractive for US Producers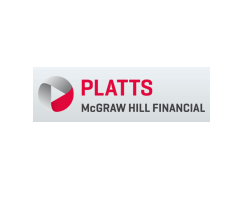 By Jim Levesque and Valarie Jackson


May 11, 2017 - Export coking coal prices are continuing to slide for the second time in less than a year from a massive increase, and where prices end up will do a lot to determine how large a role US producers will play in the seaborne market, Ted O'Brien, of Xcoal Energy and Resources, said Thursday.


During his presentation at the 46th annual Eastern Fuel Buyers Conference in Orlando, Florida, O'Brien said the market is seeing values fall further after a spike in late March caused by railroad damage from Cyclone Debbie in Australia.


With trains unable to reach ports, seaborne spot prices were pushed to $315/mt from $150/mt in the span of only 13 days, but have slid since and dropped another $40 in the past two days to about $200/mt.


He noted the market had seemed to be settling at a $150/mt price mark following a spike last year to above $300/mt before "another perfect storm" disrupted Australian supply.


Overall, the US is on pace for coking coal exports to top 20 million st this year from 16 million st in 2016. If pricing falls to $140/mt, it would still be a "very healthy price" for most US suppliers, O'Brien said. He noted pricing at $110/mt to $115/mt would bring many US mines into the market and pricing at $130/mt would bring on "a lot" of US supply.


A faster-than-anticipated return of supply into the market will put pressure on pricing, O'Brien said, as Australian producers are expected to "aggressively sell" into the latter half of the second and third quarters.


The emergence of China as an exporting country also might depress pricing. O'Brien said China was the most active seller after the recent price spike, with 2.8 million mt pushed into the market. Of that, only 10% was produced in China with the bulk of volume coming from traders who bought coal at lower prices and turned it around for profit.


There are "market dynamics in place to temper" optimism in forward prices O'Brien said, adding that the today is an "example of how tight the market can be and how volatile it has become."


S&P Global Platts Thursday assessed Premium Low Vol hard coking coal FOB Australia at $200/mt, down $18 from Wednesday, and low vol hard coking coal FOB US East Coast at $200/mt, down $5 from Wednesday.