Warrior Met Coal Announces First Quarter 2017 Results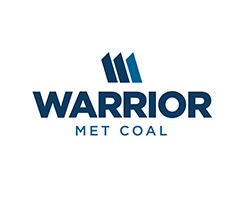 May 18, 2017 - Warrior Met Coal, Inc. (NYSE:HCC) today announced results for the first quarter ended March 31, 2017. Warrior is the leading dedicated U.S. based producer and exporter of high quality metallurgical coal for the global steel industry.
"We are pleased with our strong performance in this first quarter reporting as a newly listed company," commented Walt Scheller, CEO of Warrior Met Coal. "Over the past year, we have established Warrior as the premier and only 'pure-play' met coal producer in the U.S. Warrior's unique value proposition is based on two principal factors: the strength of our met coal assets, and our competitive positioning as a formidable operator in the era of 'new coal.'" Warrior began trading on the NYSE on April 13, 2017.
Operating Results
Mine No. 4 and Mine No. 7 were both operational during the first quarter of 2017, with one longwall at Mine No. 4 and two longwalls at Mine No. 7. Both mines continued to ramp up production toward the Company's historical annual production level of approximately 8 million short tons. Warrior produced 1.6 million short tons of met coal in the first quarter 2017 which was 33% better than expected, and included the move of one longwall operation. "There is significant growth potential embedded in Warrior's existing operations," added Mr. Scheller. "We have improved our productivity and advance rates as our workforce continued to skill up, and we will commit our catch-up capital spending to realize nameplate production capacity in our two mines of about 8 million short tons per year."
Financial Results
Total revenues were $254.0 million for the first quarter of 2017, including $241.1 million in mining revenues, which consisted of met coal sales of 1.1 million short tons at an average selling price of $213.89 per short ton. During this period, the Company reported net income of $108.3 million, or $2.06 per share. Adjusted Net Income for the first quarter 2017 was $117.2 million, or $2.22 per share and Adjusted EBITDA for the quarter was $135.5 million.
Cost of sales for the first quarter of 2017 were $106.1 million, or 41.8% of total revenues and includes mining costs, transportation and royalty costs. Cash cost of sales (free-on-board port) per short ton was $93.75 in the first quarter that reflects higher volumes and realized pricing, which increases wage, transportation and royalty costs. Selling, general and administrative expenses for the first quarter 2017 were $5.2 million, or 2.0% of total revenues. Depreciation and depletion costs for the first quarter 2017 were $14.6 million, or 5.7% of total revenues and primarily consists of depreciation of machinery and equipment and depletion of mineral interests. Transaction and other costs associated with the Company's initial public offering were $9.0 million for the first quarter of 2017. Warrior incurred interest expense of $0.6 million, and recognized income tax expense of $1.9 million for the first quarter of 2017.
Cash Flow and Liquidity
The Company generated strong cash flow from operating activities in the first quarter of 2017 of $65.6 million, net of a $58.1 million build in working capital. The working capital use of cash primarily reflects higher sales volume and realized pricing in accounts receivable as well as higher than expected inventory levels from higher coal production in the first quarter of 2017. Capital expenditures for the first quarter 2017 were $11.4 million, resulting in free cash flow of $54.2 million. Cash flows used in financing activities were $190.8 million which reflected the payment of a special dividend distribution of $190.0 million in the first quarter of 2017 prior to Warrior's initial public offering.
The Company's available liquidity as of the end of the quarter was $95.9 million, consisting of cash and cash equivalents of $13.5 million and $82.4 million available under our Asset-Based Revolving Credit Agreement.
Capital Allocation Programs
On May 17, 2017, Warrior's Board of Directors adopted a policy of paying a quarterly cash dividend of $0.05 per share. The initial quarterly dividend will be paid on June 13, 2017 to stockholders of record on May 30, 2017.
In addition to the regular quarterly dividend and to the extent that the Company generates excess cash that is beyond the then current requirements of the business, the Board may consider returning all or a portion of such excess cash to stockholders through a special dividend or implementation of a stock repurchase program. Any future dividends or stock repurchases will be at the discretion of the Board and subject to consideration of a number of factors including business and market conditions, future financial performance and other strategic investment opportunities. The Company will also seek to optimize its capital structure to improve returns to stockholders while allowing flexibility for the Company to pursue very selective strategic growth opportunities which can provide compelling stockholder returns.
Company Outlook
The Company expects to continue to ramp up production at its mines in 2017 from the levels achieved in 2016. Given the positive results of the first quarter, including production that was 33% higher than our plans, the Company has updated its internal plans and established the following guidance for 2017:

Coal sales 5.9 - 6.3 million short tons
Coal production 6.1 - 6.5 million short tons
Cash cost of sales (free-on-board port) $89 - $95 per short ton
Capital expenditures $97 - $117 million
Selling, general and administrative expenses $26 - $29 million
Factors that may affect outlook include:
- Quarterly HCC benchmark pricing
- Number of longwall operation moves and timing of those moves between quarters. The following are the expected longwall moves for the remainder of 2017: Q2 - 0 moves, Q3 - 1 move, Q4 - 2 moves.
- Excludes transaction or other non-recurring costs
The Company does not provide reconciliations of its outlook for cash cost of sales (free-on-board port) to cost of sales in reliance on the unreasonable efforts exception provided for under Item 10(e)(1)(i)(B) of Regulation S-K. The Company is unable, without unreasonable efforts, to forecast certain items required to develop the meaningful comparable GAAP cost of sales. These items typically include non-cash asset retirement obligation accretion expenses, mine idling expenses and other non-recurring indirect mining expenses that are difficult to predict in advance in order to include a GAAP estimate.
Warrior Met Coal is a large scale, low-cost U.S. based producer and exporter of premium hard coking coal ("HCC"), operating highly efficient longwall operations in its underground mines located in Alabama. The HCC that Warrior produces from the Blue Creek coal seam contains very low sulfur and has strong coking properties and is of a similar quality to coal referred to as the benchmark HCC produced in Australia. The premium nature of Warrior's HCC makes it ideally suited as a base feed coal for steel makers and results in price realizations near the HCC benchmark. Warrior sells all of its met coal production to steel producers in Europe, South America and Asia.