EIA's Short-Term Energy Outlook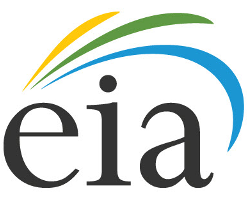 July 11, 2017 - Highlights of EIA's most recent Short-Term Energy Outlook are as follows:
Benchmark North Sea Brent crude oil spot prices averaged $46 per barrel (b) in June, a $4/b decrease from the May average and the lowest monthly average since November of last year when prices averaged $45/b.
Brent crude oil prices are forecast to average $51/b in 2017 and $52/b in 2018, $2/b and $4/b lower than projected in last month's STEO, respectively. Average West Texas Intermediate (WTI) crude oil prices are forecast to be $2/b lower than the Brent price in both 2017 and 2018. NYMEX contract values for October 2017 delivery that traded during the five-day period ending July 6 suggest that a range of $36/b to $60/b encompasses the market expectation for WTI prices in October 2017 at the 95% confidence level.
U.S. regular gasoline retail prices averaged $2.35 per gallon (gal) in June, down 4 cents/gal from the average in May. During the April-through-September summer driving season of 2017, U.S. regular gasoline retail prices are forecast to average $2.38/gal, 15 cents/gal higher than last summer. U.S. regular gasoline retail prices are forecast to average $2.32/gal in 2017 and $2.33/gal in 2018.
U.S. crude oil production averaged an estimated 8.9 million barrels per day (b/d) in 2016 and is forecast to average 9.3 million b/d in 2017. EIA forecasts production to average 9.9 million b/d in 2018, which would mark the highest annual average production in U.S. history, surpassing the previous record of 9.6 million b/d set in 1970.
Dry natural gas production is forecast to average 73.3 billion cubic feet per day (Bcf/d) in 2017, a 1.0 Bcf/d increase from the 2016 level. Forecast dry natural gas production increases by an average of 3.1 Bcf/d in 2018.
Natural gas storage injections typically occur from April through the first half of November. EIA projects that natural gas inventories will be 3,940 Bcf at the end of October 2017, which would be 2% higher than the five-year average but 2% lower than the record high end-of-October level from 2016.
Henry Hub natural gas spot prices are forecast to average $3.10 per million British thermal units (MMBtu) in 2017 and $3.40/MMBtu in 2018, compared with a 2016 average of $2.51/MMBtu, which was the lowest annual average price since 1999.
EIA expects the share of U.S. total utility-scale electricity generation from natural gas to fall from 34% in 2016 to 31% in both 2017 and 2018 as a result of higher expected natural gas prices and higher electricity generation from renewable sources. Coal's forecast generation share rises from 30% in 2016 to 31% in both 2017 and 2018. Nonhydropower renewables are forecast to provide 9% of electricity generation in 2017 and nearly 10% in 2018. The generation share of hydropower is forecast to be about 7% in both 2017 and 2018. The nuclear share of generation remains just under 20% in both 2017 and 2018.
After declining by 1.7% in 2016, energy-related carbon dioxide (CO2) emissions are forecast to decrease by 0.6% in 2017 and increase by 1.7% in 2018. Energy-related CO2 emissions are sensitive to changes in weather, economic growth, and energy prices.



To read the full report, please visit: http://www.eia.gov/forecasts/steo/.