Citi Lowers 2017 Newcastle Thermal Coal Price Forecast on Weakening Demand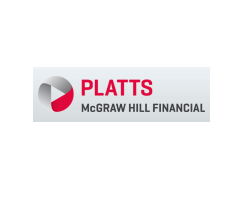 By Deepak Kannan
July 13, 2017 - Citi lowered its 2017 forecast for Newcastle thermal coal on expectations of weakening demand and said that the global seaborne market could become more volatile in the longer run.
Citi now expects Newcastle 6,000 kcal/kg NAR price for 2017 to average $76/mt FOB, down from its previous forecast of $78/mt FOB.
Prices could see some support in the summer because of inventory restocking at power plants in China and India, Citi said in a note dated July 12.
"Thermal coal fundamentals should loosen, especially after summer," Citi analysts said. "Weather risks this year appear to be less conducive to supply disruptions and price spikes."
Thermal coal prices spiked during the latter half of 2016, mainly due to China cutting its number of working days for mines to 276 days annually from 330 days. Unseasonal rains also impacted production at major supplier Indonesia. However, China eased its production policy later in the year and all mines are now allowed to produce on a 330-day basis.
The price of FOB Kalimantan 4,200 kcal/kg GAR coal, which is a popular grade bought by China, India and other importers, jumped to as high as $50.20/mt FOB in November compared with $26.40/mt FOB at the start 2016, but started losing steam after China eased its production policy, S&P Global Platts data showed. Platts assessed this price at $40.50/mt FOB on Thursday.
"While [Chinese] reforms are still ongoing, production cuts have eased," Citi analysts said. "The global seaborne coal market could become more volatile in the longer run, as seen in the past year when prices doubled or nearly tripled within a year because of low production capacity, Chinese government policies and supply disruptions due to weather."
"As much as the world generally talks about the importance of spare capacity in oil, there is a lack of spare capacity in coal, which could make price spikes more likely," Citi said.
China, India Demand
The full-year average for Chinese 5,500 kcal/kg NAR thermal coal price should be between Yuan 570/mt and 590/mt, possibly averaging about Yuan 535/mt in the fourth quarter, equivalent to Newcastle 6,000 kcal/kg NAR price of $68/mt FOB, the analysts said. Platts assessed the FOB Qinhuangdao 5,500 kcal/kg NAR price at Yuan 622/mt Thursday.
"The Chinese government appears to prioritize raising coal supply and lowering prices," they said.
Coal prices could see support in Q3 if temperatures and summer power burn in China were higher than normal, so that power plants could buy more coal to replenish their usually thin margin of coal inventories, Citi said.
Chinese plants typically keep 15 to 20 days of coal supply, unlike the US, where utilities historically keep more than 50 days of supply, Citi noted. The potential decline in Indian demand for imported thermal coal is also impacting the seaborne market, the analysts said.
Citi expects Indian coal imports to decline to about 155 million mt in fiscal year 2020 (April 2019-March 2020), from about 179 million mt in fiscal year 2017. OF this, thermal coal imports in FY 2017 stood at 135 million mt.
The Indian government has set a target of producing 1 billion mt of coal at state-owned producer Coal India Limited by 2019-2020. However, the fiscal year 2018 target was lowered to about 600 million mt from 660 million mt, because of weaker-than-expected demand.
"There are structural bottlenecks to a complete shift to reliance on domestic-produced coal," the analysts said.
Australia, Indonesia Exports
The analysts see only a moderate growth in exports from Australia, while Indonesian supply is expected to weaken only after 2019.
In its recent report, Australia's Department of Industry, Innovation and Science said it expects Australia's export volumes for fiscal 2017-18 (July-June) to fall to 201 million mt from 202.4 million mt in fiscal 2016-17, declining further to 199 million in fiscal 2018-19.
Falling costs for solar and wind projects could also give tough competition to coal and natural gas many years sooner than previously expected, Citi said.
For Indonesia, thermal coal exports should remain strong this year, but may face challenges from rising domestic demand from 2019 onwards, Citi said.
"Increasing domestic demand places a limit on export growth of Indonesian coal," Citi said, adding that state-owned utility PLN may require 85 million mt of coal this year, compared with 73 million mt in 2016.
At an industry gathering in May this year, Indonesian government officials said they expect Indonesian exports to fall to 292 million mt in 2017 from 308 million mt in 2016, declining further to 160 million mt by 2019.
Funding Difficulties
Many governments, including China, intend to curb the use of coal, or at least the growth of coal demand, principally due to environmental concerns, Citi said.
Citi maintained its 2018-2020 forecast for Newcastle 6,000 kcal/kg NAR at $60/mt FOB.
"Structurally, it is unlikely for prices to average above $80/mt for months or years because coal demand should fall structurally," Citi said.
Financing from major international organizations and banks for coal-fired power generation projects could continue to dwindle while capital costs and capacity factors of alternatives, such as renewable energy, continue to improve, squeezing coal demand, the analysts noted.
"Many banks have significantly reduced financing activities related to coal because of changes in market fundamentals and their own policies, a sharp contrast versus the pre-2015 period."
However, financing restrictions have not deterred coal deals from occurring, Citi said.