Glencore Establishes Mates in Mining Suicide Support Group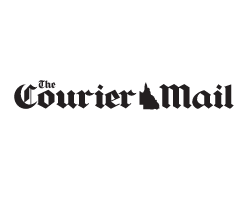 By Michael Madigan
July 15, 2017 - Swiss mining giant Glencore is establishing an Australian beachhead in the fight against suicide with a radical program already under way in the historic mining town of Clermont, southwest of Mackay.
Glencore, along with the NSW Coal Services Health and Safety Trust, is a driving force behind Mates in Mining, which encourages workers to ask each other a confronting question still regarded as taboo: "Are you contemplating suicide?''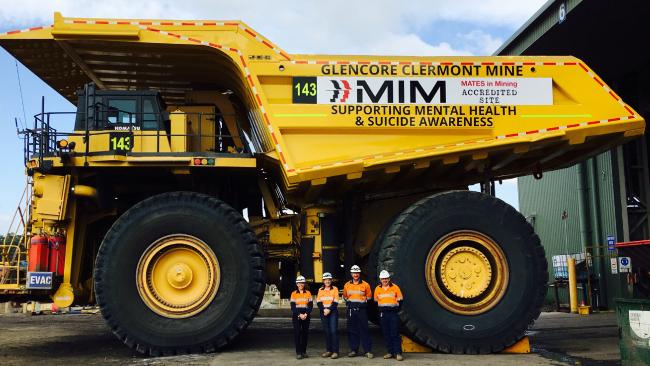 Workers at Glencore's Clermont Mine
The program fuses together workers, unions and employers in tackling an issue that's at crisis proportions among men working in construction and mining.
Glencore is backing the charity, which is soon to be rolled out across the nation, while other mining companies such as BHP and Rio Tinto have in-house programs to deal with the issue.
Mates in Mining already has a member of the CFMEU on its national board, and uses the skills of ordinary workers to monitor their colleagues' well-being.
Glencore spokesman for coal assets Australia Allyn Hamonet said the program was breaking new ground with an overwhelmingly positive response from workers.
"What many people don't realize is that people employed in mining are accustomed to look out for each other's safety,'' he said. "This program simply builds on that natural impulse.''
The Sunday Mail is running a four-week series on suicide following revelations up to 12 Queensland construction workers a month either take their own lives or incur serious injury in an attempt to do so.
The mining industry puts employees under great pressures, with workers often isolated for long periods.
One of the few dedicated examinations of the issues, a 2015 West Australian parliamentary inquiry, cited three studies suggesting mental stress for the fly-in, fly-out worker was about 20 to 30 percent higher than the national average.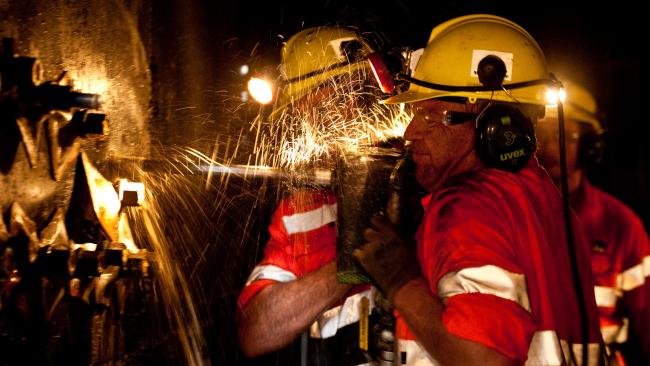 The mining industry puts employees under huge pressure. They are often underground for hours at a time.
"FIFO takes an individual regularly away from home, puts him in isolation from his family and other social supports, subjects him to fatigue and then controls his life within the camp environment,'' the inquiry report said.
In Clermont and other Queensland mining towns, the challenges are sometimes even more complex as settled communities, often with inter-generational commitments to their town, face the stresses that come with a mine becoming central to a community's ­financial survival.
Glencore accredited Clermont as a Mates in Mining charity last year in a program that has partnered with the University of Newcastle's Centre for Resource Health and Safety.
Health safety and training manager Jon Noble said workers were given basic instruction on mental health issues. Others with the capacity to be a "connector" get more advanced training.
"The connectors work side-by-side with colleagues but are trained to detect those signs that a colleague might be in distress,'' Mr. Noble said.
"They are actually taught to ask the question: 'Are you contemplating suicide?' "
Workers found to be suffering serious issues are then directed to professionals who can offer counselling or more advanced assistance.

At a more credentialled level are "assist workers", trained in basic first aid and the skills required to talk to someone in immediate danger of taking their own life.
Glencore Australian general manager for health, safety and training Kylie Ah Wong said the program was already successful and would eventually roll out across Australia, impacting up to 5000 direct employees and more than 2500 contractors.
"We are getting fantastic feedback but what is most important is continuing to refresh and update and monitor this program so it can continue to assist as many people as possible," she said.