Thurmond, West Virginia Hosts Fourth Annual Train Day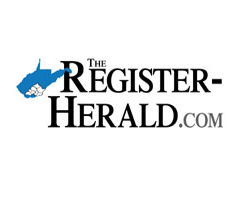 By Andrea Lannom
July 17, 2017 - Although Thurmond has a population ranging from about five to 12 full-time residents, the Fayette County, West Virginia town sees hundreds of people walking the streets for its Train Day.
This is the fourth year for Train Day, the largest one-day event for the town. Last year, the event brought nearly 700 people. It's hosted in collaboration with the National Park Service, the Thurmond Performance Team, the National Coal Heritage Area and Operation Lifesaver.
Melissa McCune, of Thurmond, explained the town typically has about five year-round residents. The population fluctuates with National Park Service staff in the summer, volunteers and seasonal residents. This summer, the town has 12 residents, McCune said.
"This event helps bring life back into the town, even if it's just for one day," McCune said. "We want to be able to share the history of the town and not let it fade away or just let it become a brochure or a kiosk."
McCune said inspiration came from a small group called the Thurmond Performance Team.
"They wanted to do an event in the summertime to promote Thurmond as a train town," she said. "They wanted to be able to pass on the history for future generations so it doesn't get lost."
Eve West, north district interpreter with the National Park Service, said the event highlights the town's railroad history.
"We do Train Day at Thurmond because Thurmond was the epicenter of activity here on the C&O Rail Line during the days when coal mining was in its heyday at the turn of the century," West said. "Thurmond Depot was the busiest depot on the C&O line. It served over 70,000 passengers in one year. Because of that, it's a huge part of its history. This was really the epicenter of activity, and an awful lot of money exchanged hands here in Thurmond back when it was a boomtown."
West said the event is good for bringing people to the area.
"There are a lot of people from the area who have really never been to Thurmond or if they've been here, it's been years since they've been here," West said. "It draws them out and brings them to the area to see what's here."
The event is free, except for the food, where proceeds benefit the Veterans of Foreign Wars in Hico. Many people walked the streets, lining up for historic walking tours and standing beside a private rail car on display for a souvenir photo. Some of the kids were decorating train whistles or taking part in the junior ranger badge program.
People also got up close to a train from the R.J. Corman Shortline, where they commented on the size of the train and posed for photos.
Chris Lassak, an engineer with R.J. Corman Railroad, explained the branch line is 16 miles long and runs from Thurmond up to Pax. The main commodity hauled on this line is coal from the mine in Pax. The line runs an average of six to eight coal trains a month, he said.
"We were friends with the people in Thurmond and we were asked to participate to see if we could promote train safety and show people that this is still an active branch line," he said. "This is a controlled environment to stand next to the train and a chance to teach safety in conjunction with Operation Lifesaver. ... With us bringing our engines down, it shows the people that this is not an abandoned line. It's an active train line along with CSX that you can see the trains that have gone through here. We want people to be vigilant that we are still coming down through here."
Roger Lipscomb, chairman of the board for Operation Lifesaver, said his organization is a nonprofit that promotes railroad safety primarily around railroad tracks. He said he has ties in Thurmond.
"This is special to me because there are less than 20 people who live here so to come down here and see all the people line up and see that many people come back, even if it's just for a day, it's something to see," he said.
Lipscomb, who is a railroad inspector, said he wanted to give people information on how to be safe around rail lines.
"I have people out there all the time who see damages caused by collisions or deaths from trespassing on railroad tracks," he said. "To come into rural areas like this and other areas and watch the kids getting involved and understanding about train safety — that's the personal things I like to see happen."
Melanie Dragan, Thurmond's mayor, said the event helps show appreciation for locals who live and work on the railroad. She said she hopes the event will open up other opportunities for the town.
"I'm hoping by calling people's attention to this, then maybe we could do something with the Park Service and open up some commercial buildings so people may be able to sell their wares or maybe get artisans in the area," Dragan said.
Dragan and McCune said they expected Saturday's event to draw even more people than last year. They said they hope the event will continue to grow.
Josh Stowers, of Charleston, was one of the many people who came to Train Day Saturday. He said this was his first time at the event.
"I wanted to bring my little boy," he said. "It's something we can all do together. I wanted to show him the history of not just the train stations but how important railroads and coal are to West Virginia and to keep that history alive. They say the people here keep history alive. You hear stories, and no matter how many stories you've heard in the past, you always pick up more history.
"I think it's something great, and I hope it continues to grow and bring more people into the southern part of the state to learn about who we are and the history here," he said.