CNX Coal Resources LP Announces Results for the Second Quarter 2017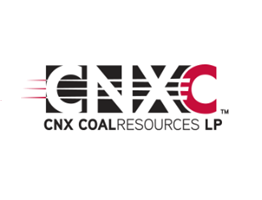 August 1, 2017 - CNX Coal Resources LP (NYSE: CNXC) has reported financial and operating results for the quarter ended June 30, 2017.
Management Comments
"The second quarter of 2017 was a very strong operational quarter despite soft demand in most of our markets compared to the first quarter. This was the third consecutive quarter in which the Pennsylvania Mining Complex (PAMC) produced above a 27 million ton (6.75 million tons for CNXC's 25% undivided interest) annualized run rate. The quarter once again demonstrated our ability to deliver solid results under changing market conditions." said Jimmy Brock, Chief Executive Officer of CNX Coal Resources GP LLC (the "General Partner"). "The second quarter results continue our track record of delivering strong operational and sales performance, year-over-year earnings growth, significant cash generation and continued debt reduction, despite an inconsistent industry backdrop. With the second quarter results, we have achieved a leverage ratio below 2.0x, a key financial goal that we laid out in December 2016 for year-end 2017."
Sales & Marketing
CNXC had another solid sales quarter, delivering 1.7 million tons of coal to 42 different end users. During the quarter, we contracted additional tons for 2018, bringing our total contracted position to 68% of expected sales volumes for 2018 based on the midpoint of 2017 sales guidance. With over two-thirds of our 2018 volume contracted, we are very well-positioned heading into the upcoming utility contracting season, enabling us to be selective in constructing our portfolio to drive a higher weighted average realization and capture strategic customer plants. We continue to proactively work with customers to keep our coal competitive in the market place.
The CNXC marketing team was also successful in contracting significant volumes of coal for the 2019-2021 period. These new sales commitments are for volumes beyond the normal course of renewing or extending our existing contracts. While much has been discussed about the shrinking duration of utility contracts, our marketing team demonstrated our ability to enter into longer term (3+ years out) commitments with the right partners. Approximately 30% of the PAMC's 2019 planned production is now sold. We have built a solid base upon which to construct our future sales book.
As stated in previous releases, PAMC continues to grow its market share in traditional and non-traditional markets. During the second quarter, CNXC expanded its sales portfolio by adding three new international thermal customers and one new domestic metallurgical customer. These new avenues are a culmination of the strategic marketing efforts of our team and improvements in the sulfur content of coal produced by PAMC.
In the international markets, we have taken advantage of more than 50% year-over-year improvement in spot thermal coal prices during the second quarter to maintain strong export volumes and substantially improve our export realizations relative to the year-ago quarter.
For the remainder of 2017, as mines and railroads return from their annual maintenance shutdown periods, we expect demand for our production to increase in the domestic markets. It is also noteworthy that the U.S. Energy Information Administration's (EIA) latest inventory report indicated a weaker-than-expected stockpile build at coal-fired power plants, which is a positive development for coal producers. Power plant coal inventories ended the month of May at approximately 165 million tons, the lowest May inventory level since 2014 and approximately 28 million tons improved from May 2016 levels. With summer weather now upon most of the nation, we expect that power demand should increase coal and gas consumption, which will continue to draw down stockpiles and potentially improve pricing dynamics for coal. Looking forward, EIA is projecting that the Henry Hub spot natural gas price will average $3.10/mmBtu in 2017 and grow to $3.40/mmBtu in 2018. Our coal-fired customer plants are expected to dispatch well at these natural gas prices.
Operations Summary
Our operations team continues to deliver strong production volumes. For the second quarter, CNXC produced 1.7 million tons of coal, compared to 1.5 million tons in the year-ago quarter. More importantly, our productivity, as defined by tons per employee-hour, increased by 7% compared to the year-ago quarter. We sold 1.7 million tons of coal during the second quarter of 2017 compared to 1.5 million tons during the year-ago period. Our average realized price improved by 10% compared to the year-ago period, as the pricing on export shipments improved significantly. Export shipments accounted for approximately 31% of our total sales volume.
Our total cost of coal sold increased to $59.0 million during the second quarter, compared to $53.2 million during the year-ago quarter, driven primarily by higher coal sales volume. The average cost of coal sold1 in the quarter increased by 1.0% to $34.79 per ton, compared to $34.46 per ton in the year-ago quarter. Our average cash margin per ton sold1 improved by 23.9% compared to the year-ago quarter due to a higher average realized price.
Quarterly Distribution
During the second quarter of 2017, CNXC generated net cash provided by operating activities of $23.1 million and distributable cash flow1 of $11.6 million, yielding a distribution coverage ratio of 1.0x1. Our distribution coverage ratio calculation is based on the estimated maintenance capital expenditure of $9.0 million, while our actual cash maintenance capital expenditure for the second quarter was $3.4 million. Based on our current outlook for the coal markets and distributable cash flow generated during the quarter, the Board of Directors of the general partner, has elected to pay a cash distribution of $0.5125 per unit to all limited partner unitholders and the holder of the general partner interest. The Board of Directors has also approved a cash distribution of approximately $0.4678 per unit to the holder of the convertible Class A Preferred Units. As previously announced on July 27, 2017, the distribution to all unitholders of the Partnership will be made on August 15, 2017 to such holders of record at the close of business on August 7, 2017.
Guidance and Outlook
Based on our current contracted position, production plans and outlook for the coal markets, we are maintaining our sales volume and Adjusted EBITDA outlook for 2017:
Coal sales of 6.4-6.9 million tons
Adjusted EBITDA2 of $95-$115 million
Maintenance capital expenditures of $30-$34 million