President Trump Talks Coal, Economy and Healthcare at West Virginia Rally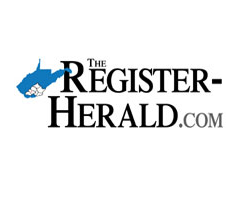 By Andrea Lannom
August 4, 2017 - President Donald Trump entered the Big Sandy Superstore Arena in Huntington, West Virginia Thursday evening to a crowd chanting "U.S.A." and later spoke about coal mining, the economy, healthcare and more to thousands of his most enthusiastic supporters.
He was speaking to an enthusiastic and supportive crowd in a state that he carried in the general election with nearly 70 percent of the popular vote.
"I'm thrilled to be back in the beautiful state of West Virginia," Trump said. "I'm proud to stand before you and celebrate the hard-working people who are the absolute backbone of America."
This was Trump's second visit to the Mountain State in less than two weeks. Last week, Trump addressed more than 40,000 Boy Scouts, leaders and volunteers at the Summit Bechtel Reserve in a speech that touched repeatedly on politics. The following day, the Boy Scouts distance themselves from the president's speech and apologized to its members and their parents.
Many people in the audience Thursday sported red "Make America Great Again" hats. The crowd also held up signs with a variety of slogans, including "Women for Trump" and "Trump Digs Coal."
Trump talked about his campaign promises regarding coal, saying he has kept his promise.
"I made you a promise during the campaign. You all remember. Many of you were here," Trump said. "I think more people are here with thousands outside than I had in the campaign. As you've seen, I've kept that promise. As president, we are putting coal miners back to work. I have ended the war on beautiful clean coal."
Back in June, West Virginia University released a report saying although the coal industry is stable in the short term, it is declining in the long term. The baseline forecast calls for statewide coal production to be about 89 million short tons this year and remain in the upper 80 million ton range into the early 2020s.
However, the report said, demand for West Virginia coal will continue to fall over the long term, dropping below 80 million tons by 2030. Factors include the declining use of coal by domestic power plants, low natural gas prices, stricter emissions standards, weak export demand and declining productivity from southern West Virginia.
Trump holding sign
President Donald J. Trump holds a sign from a person in the full capacity crowd at the Big Sandy Superstore Arena for his rally.
By Kevin Goldy | CNHI News
Trump also touched on economic growth, which he said had surged to 2.6 percent nationwide in the second quarter.
Earlier this week, the U.S. Department of Commerce's Bureau of Economic Analysis said real gross domestic product increased in 32 states and the District of Columbia for the first quarter. Texas saw the highest at 3.9 percent growth. West Virginia followed at 3 percent GDP growth. According to the bureau, mining grew 21.6 percent nationally and contributed to growth in 48 states. It was the leading contributor to growth in West Virginia, Texas and New Mexico.
"Nobody thought that number would happen," Trump said. "We had 3 percent growth in West Virginia. I wonder how that happened? Three percent growth. West Virginia is leading the average. When was the last time we heard that?"
Trump also told the crowd about his desire to replace the Affordable Care Act or "Obamacare."
"I've been working every day to heed and honor the will of the millions and millions of voters who came out and voted for us," the president said. "Not for me. They voted for us.
"That's why I repeat again tonight that Congress must do its job. They must keep their promise, live up to their word and repeal and replace Obamacare," he said.
President Trump said he believes the country should defend its borders by building the wall on the southern border, which he said will combat the drug epidemic.
"I believe strongly that this nation must defend and protect its borders," Trump said. "We take care of our own citizens and put America first."
Trump also addressed Russia's alleged hacking of the election, calling it a "total fabrication."
The Wall Street Journal reported hours ahead of Trump's appearance that Special Counsel Robert Mueller has impaneled a grand jury in Washington as part of an investigation into potential coordination between the Trump campaign and Russia.
"The Russia story is a total fabrication," Trump said. "It's just an excuse for the greatest loss in the history of American politics. It just makes them feel better when they have nothing else to talk about. What prosecutors should be looking at is Hillary Clinton's 33,000 emails.
"Are there any Russians here tonight?" Trump asked. "They can't beat us at the voting booths so they're trying to cheat you out of a future, a future you want. They're trying to cheat you out of leadership you want with a fake story that is demeaning to all of us and most importantly, demeaning to our country and demeaning to our Constitution."
Trump ended with his slogan, "Make America Great Again," which the crowd chanted with him.
"We are going to make America wealthy again. We will make America proud again. We will make America safe again. And we will make America great again," Trump said, joined by the crowd.