Colorado Senator Michael Bennet Bill Aims to Offset Coal Bust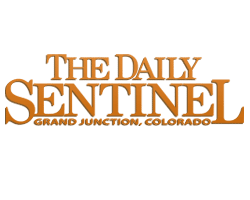 By Dennis Webb
August 9, 2017 - Six Colorado counties would be among 90 nationwide that would benefit from legislation proposed by U.S. Sen. Michael Bennet to assist communities struggling economically due to the slowdown in the coal mining industry.
Bennet, D-Colo., last week introduced the Coal Community Empowerment Act, which his office said seeks to encourage investment, workforce training, economic growth and job creation.
It would designate 90 counties as Coal Community Zones, making them eligible for incentives provided by the bill. In Colorado, Delta, Gunnison, Las Animas, Moffat, Rio Blanco and Routt counties would be designated for assistance.
Designated counties either have lost at least 50 coal mining jobs since 2011 out of a total employed workforce of no more than 20,000, or have at least 5 percent of their employed workforce in coal mining, making them vulnerable to potential continued drops in coal demand.
"Colorado's coal communities have been hit hard economically by a long-term decline in coal demand that has accelerated over the last decade," Bennet said in a news release. "… We have an obligation to provide our coal communities with the support they need to implement the strategies they've developed, so they can thrive again in today's economy."
According to Bennet's office, the measure would feature a suite of provisions, including:
A $3,000 hiring credit for employers that hire individuals who live or work in a coal community;
$300 million in additional new-markets tax credits for financing projects in coal communities;
A $1 billion allocation of private activity bonds to allow for low-cost loans to build facilities in these communities;
Tax incentives for building or revitalizing commercial buildings;
Doubling, to $1 million, the amount a small business can immediately expense in coal communities for certain capital investments.
It also would let students in coal communities apply for grant-funded support accounts that would fund education and training, providing an amount equivalent to up to the maximum Pell Grant, which is currently $5,920. It would offer grants to colleges and nonprofits to create or expand career training programs, and provide grants to local businesses to train and hire workers.
Bonnie Petersen, executive director of the Associated Governments of Northwest Colorado, said Bennet has been working on the bill for quite a while and he talked with AGNC when he was first beginning to discuss it.
"He's definitely looking for opportunities to try to encourage investment and retraining and other opportunities for coal-reliant communities to be able to be successful as coal tends to diminish in terms of market demand and utilization for electricity generation," she said. "He's looked for some interesting ideas that may indeed be helpful in terms of keeping or retraining the workforce as we see changes in the coal marketplace."
"… They've come up with quite a number of ideas proposed in the legislation that, should the legislation be passed, may be attractive to keep small businesses in communities that might be impacted and retain workforce there."
She said some of the ideas are extensions of tax incentive and other ideas that help attract investment and create jobs. Whether they'll help coal areas isn't known, she said.
"But we do know that if these are not offered there would not be incentives like this for small businesses to operate in coal-reliant communities," she said.
She said her organization's members continue to support energy resource development, but also recognize the possibility for continued decline in coal markets and the need to diversify economies.
"A bill like this is certainly one that can help with that diversification through the region," she said.
Moffat County Commissioner Frank Moe said he's not familiar with Bennet's bill, but the county should have some opportunities to help its economy diversify thanks to overregulation of the coal industry by the federal and state governments.
"We are energy (industry) supporters but we also know that we need to diversify our economy," he said, adding that the county has been putting a major emphasis on doing that.
John Kinkaid, a former Moffat County commissioner who lost his bid for re-election last year, expressed delight about Bennet's bill. While still in office, he had met with Bennet's office as it was being worked up, and said Bennet came up with a lot of good ideas, like the $3,000 hiring credit. But Kinkaid had lost track of where the measure stood after losing his re-election bid, and thought it might fall through the cracks.
"I'm very happy that they chose to keep moving forward on this because it's going to be critical," he said.
"… I'm hoping this will be oxygen for our local Moffat County economy and help us diversify."
He said he hopes it will do the same for Delta County as well. That county has been hit in recent years by the loss of hundreds of coal mining jobs.
Kinkaid, who was both elected and ran for re-election as an independent, supported Bennet's re-election bid last year as a result of the support Bennet had shown for coal communities. He said he got a lot of flak for backing Bennet, and thinks it's part of why he lost his bid for re-election in what is a heavily Republican county.
"If this (bill) passes, I'm OK with losing the election in November. This will serve the greater good," he said.
Petersen was hesitant to even guess at the chances of Bennet's measure passing.
"It's just an interesting Congress that's going on right now. I just couldn't really give you a good prognostication there because I don't know what bills may or may not have chances back in (Washington) D.C.," she said.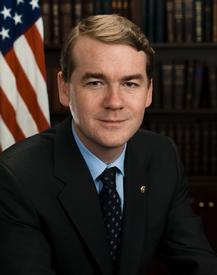 Michael Bennet