Coal Receives Good News and Bad News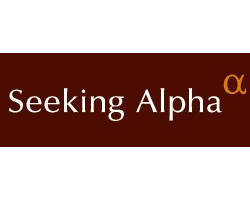 By Michael Wald
September 1, 2017 - The Department of Interior has ordered a halt to a $1-million study of the potential health risks of surface coal mining on communities in West Virginia that was being conducted by a National Academies of Science, Engineering, and Medicine (NASEM) committee, according to a report in Nature magazine.
"The Trump administration is dedicated to responsibly using taxpayer dollars in a way that advances the department's mission and fulfills the roles mandated by Congress," DOI spokeswoman Heather Swift said in a statement to Nature.
This good news for both Arch Coal (ARCH) and Peabody Energy (BTU), but has a greater impact on Arch Coal (whose mines are located in the U.S. with some mines in West Virginia) than on Peabody Energy, with mines in the Midwest and Western U.S. but also with significant mining operations in Australia.
Other U.S. producers impacted will be Cloud Peak Energy (CLD) and Alpha Natural Resources (OTCPK:ANRZQ).
Overall, U.S. year-to-date coal production is showing improvement, totaling 499.3 million short tons (mmst) in mid-August, 14.2% higher than the comparable year-to-date coal production in 2016, according to the Energy Information Administration.
Coal Continues to Compete With Natural Gas
The Financial Times found that when natural gas fell below $2 per million British thermal units last year, coal-fired power plants provided only 30% of U.S. power, but that percentage increased to 32% as gas prices rose to around $2.90.
As of August 30, the price is at $2.943, although it has trended down since around mid-May.
Average weekly coal commodity spot prices as of August 25 were unchanged from the prior week.
Southern Company's (SO) decision to suspend start-up and operations activities involving the lignite gasification portion of its Mississippi Power Kemper County energy facility remains a blow to the coal industry, which had hoped that success would provide a path for clean coal, greater acceptance of coal by electric utilities, and make coal more competitive with natural gas.
Good Sales But Tougher Competition in China
Coal exports from the United States are far above where they stood a year ago. In June 2017, the U.S. exported 7,317,176 short tons compared to 3,275,897 in July 2016. Much of that coal was destined for China.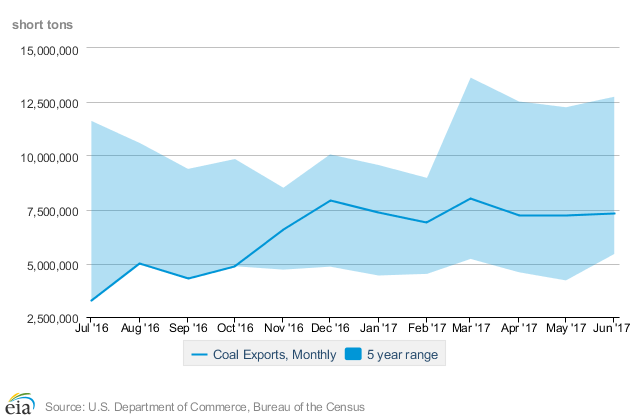 At the same time, Bloomberg News reports that the Chinese government has approved the merger of Shenhua Group Corp., the country's top coal miner, with China Guodian Corp., the country's leading electricity generator. The new company formed will be known as China Energy Investment Corporation and will account for about 13 percent of the country's power-generating and coal-mining capacity, according to Citigroup Inc.
This puts greater price pressure on non-Chinese coal producers, since it is assumed that China Energy Investment Corp. will give first preference to utilizing its own coal resources in preference to buying from outside the country.
The effect will be felt more heavily by Peabody Energy, which is more focused on Asia, than on Arch Coal, which depends on Asia for a smaller portion of its business.
Also affected will be large international mining companies in which coal is only one of their commodities, including BHP Billiton Limited (BHP) and Rio Tinto PLC (RIO). Neither offer the coal pure-play possibilities of Arch or Peabody, so the threat of new competition coming from the merger will have a lesser effect on them.
Who is in a Better Position? Arch Coal or Peabody Energy
Both companies have returned from bankruptcy, and investors who still believe there is a good news story in coal have to decide on which company will provide a more profitable future.
Peabody Energy has the older reputation, the larger market capitalization ($2.08 vs. $1.96 billion), and is more Asian-focused.
Peabody Energy has significant sites both in the U.S. Midwest and West, as well as in Australia.
It has announced that it believes its recent emergence from bankruptcy should shield it from lawsuits brought by coastal California communities against fossil fuel companies over rising sea levels and global warming.
Arch Coal is does its mining in the U.S. with sites located in Wyoming, Colorado, Illinois, West Virginia, Kentucky and Virginia.
Its export focus is more on Europe, which accounted for almost half of its 2015 sales, rather than Asia, which only supplied about a quarter of the company's sales.
Arch Coal is currently profitable, with an approximate P/E of 32 and a forward dividend yield of 1.8%.
Since Arch Coal is also a defendant in these same lawsuits as Peabody Energy and has also emerged from bankruptcy, the same legal reasoning may apply to both companies. Other defendants include Exxon Mobile (XOM) and Chevron Corp. (CVX).
I want to also offer a word about Cloud Peak Energy. Although it is not as large as Arch Coal or Peabody, its shares have been badly beaten down in the market and currently would have to be characterized as a speculative investment.
(Yes, some will say that all coal companies are speculative stocks these days, but I still see Arch and Peabody as energy investments and more than a short-term speculation.)
It Comes Down Not to Economics, But to Geographical Considerations
Coal remains under siege, and without a sudden spike in natural gas prices, coal's long-term future is uncertain even without consideration of environmental concerns.
But that does not mean that it won't be a viable and needed commodity over the next 10 to 20 years. While I don't expect to see new coal-fired facilities built in the U.S., existing plants will continue to operate even as older facilities are phased out.
The same is true for Europe, although in developing countries, such as India, I expect to see new coal-fired plants. Coal will not disappear overnight and will stay in the mix of energy resources.
If you believe that the political situation in the U.S. will allow continued support for a domestic coal industry at least for the next decade, and that Europe will continue to need coal (both metallurgical and thermal), even as electric utilities move away from coal, then Arch Coal will be your preference.
On the other hand, if you have faith that the Chinese economy will continue to grow and not implode, and you believe that the Chinese will continue to need imports despite their domestic coal resources; then you have to admit that Peabody Energy has positioned itself to serve the Asian market.
Politics, rather than economics, may be the key driver.