Westmoreland Coal - A Review Part 1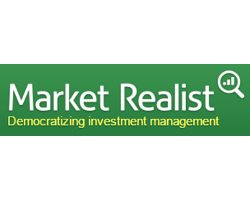 By Alexis Tate
September 1, 2017 - Westmoreland Coal (WLB) is one of the oldest coal companies in the United States. The company started mining coal in 1854 in Westmoreland County in Pennsylvania—hence its name. It moved its headquarters to Colorado in 1995.
Currently, WLB is the sixth-largest coal producer in North America. Westmoreland has 17 coal mines in the United States and Canada, a 50% stake in an activated carbon plant and char production facility, and two coal-fired power generation units. WLB owns and operates 29 draglines, making it the largest dragline operator in North America.
An Overview of Westmoreland Coal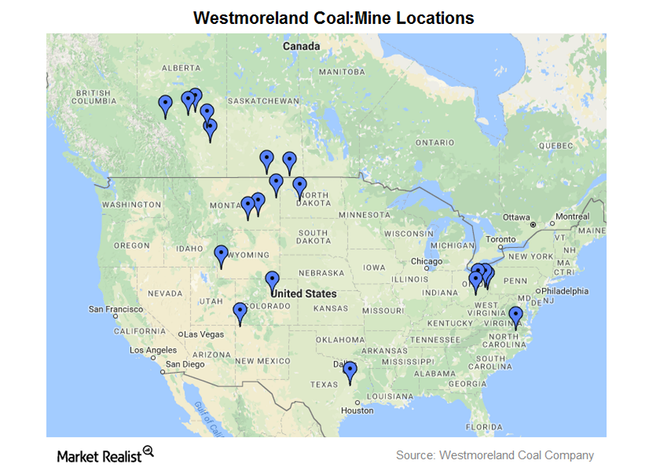 Of its 17 mines, 13 are surface mines and produce thermal coal. US coal operations are located in Montana, Wyoming, North Dakota, and Texas. The Canadian coal operations are located in Alberta and Saskatchewan. WLB also owns a thermal coal export mine.

Westmoreland and the Stock Market
Westmoreland started trading on the NASDAQ Global Market under the ticker WLB on May 2, 2011.
Series Overview
In this series, we'll analyze Westmoreland Coal's (WLB) business model. We'll explore how the company has expanded its business, and evaluate its key operational metrics and financial position. After reading this series, you'll understand what sets Westmoreland Coal apart from competitors Alliance Resource Partners (ARLP), Peabody Energy (BTU), CNX Coal Resources (CNXC), and Cloud Peak Energy (CLD) in the coal (KOL) mining business. We'll wrap up this series by analyzing the company's valuation and factors that could drive it in the future. We'll look at the company's business model in the next part of this series.
How Westmoreland Coal's Business Model Differs from Peers'
Business Model
Westmoreland Coal (WLB) has a different business model than American coal producer (KOL) peer Arch Coal (ARCH), Alpha Natural Resources (ANRZQ), and Peabody Energy (BTU).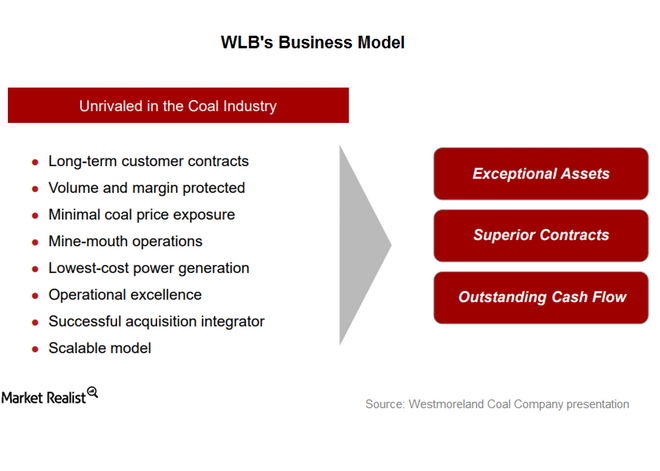 Westmoreland Coal's contracts are long term and cost protected. According to company filings, its weighted average contract life (contract life weighted by tonnage) extends to 2022.
Low-Cost Supplier
Westmoreland Coal is the most economic supplier. The company supplies coal to power plants close to its mines using cost-effective means such as conveyor belts. Most of its customers' power plants were designed to use WLB coal. In this way, the company has a logistic advantage over competitors.
High-Margin Reclamation
Since most of Westmoreland Coal's contracts are cost-protected contracts—contracts that ensure the return of cost of extraction and a fair return—its cash flow is highly predictable.
MLP Operations
Long-term cost-protected contracts are suitable for an MLP structure. In October 2014, Westmoreland Coal acquired the general partner of one of its subsidiaries and entered the MLP space. MLP status provides certain tax benefits. The net income of an MLP isn't taxable. Instead, partners pay taxes on distributions received from the MLP. In the next parts of the series, we'll take a detailed look at the cost-focused operations of Westmoreland Coal's various segments and other activities.
A Look at Westmoreland Coal's US Operations
Westmoreland Coal (WLB) has three operating segments: Coal-US, Coal-Canada, and Coal-WMLP. The Coal-US segment operates six surface mines in the western United States producing sub-bituminous and lignite ranks of coal. This segment produced 22.4 million tons of thermal coal in 2016, up from 21.8 million tons in 2015. Its US operations have access to 355 million tons of proven reserves.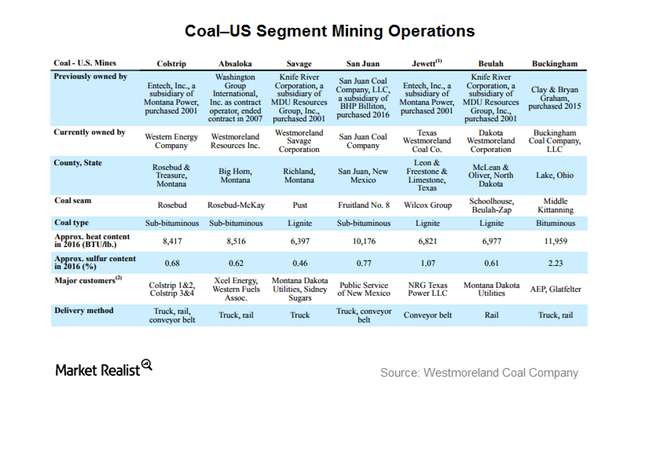 Sub-Bituminous Mines
Of the company's seven mines in the United States, three mines produce sub-bituminous coal. These include the Colstrip and Absaloka mines in Montana, and the San Juan mine in New Mexico. Peabody Energy (BTU) and Cloud Peak Energy (CLD) are two other coal producers (KOL) located in the region.
The Colstrip and Absaloka mines' coal contains 8,500 British thermal units per pound. The San Juan mine produces higher-quality coal, with a heat content of around 10,000 British thermal units per pound.
Colstrip and San Juan customers are close to the mines. Westmoreland transports coal to these customers using conveyor belts—the most economic mode of transportation over a short distance. The company transports coal to Absaloka customers through BNSF Railway.
Lignite Mines
The Savage mine in Montana, the Jewett mine in Texas, and the Beulah mine in North Dakota produce lignite, which is considered the lowest quality coal due to its low heat content.
Trucks and rail are used to transport coal from these mines. The Jewett mine's supply agreement was terminated in December 2016. It used to transport coal by conveyor belt.
Bituminous Mine
The Buckingham mine is the only Coal-US segment mine that produces bituminous coal. It is transported to customers by Norfolk Southern Railway. In the next part, we'll look at WLB's Canadian operations.
Westmoreland Coal's Canadian Operations: An Overview
Westmoreland Coal (WLB) acquired seven surface mines in Alberta and Saskatchewan, a stake in an activated carbon plant, and a char plant in Canada from Sherritt International in 2014. As of January 1, 2016, WLB's Canadian operations are grouped as one entity, Prairie Mines & Royalty ULC.
Its Canadian operations hold total reserves of ~390 million tons. Coal reserves in Canada are operated by provincial governments. WLB has gained access to the reserves either through freehold ownership, provincial crown leases, subleases, or third-party leases. Most the coal produced is sold to Canadian utilities to produce electricity.

Westmoreland Coal's Canadian Operations: An Overview

Surface Mines
The Canadian operations include seven mines:

Estevan (Saskatchewan)
Boundary Dam (Saskatchewan)
Poplar River (Saskatchewan)
Genesee (Alberta)
Paintearth (Alberta)
Sheerness (Alberta)
Coal Valley Mine (Alberta)
Of these mines, six are operational, five serve customers in the vicinity using conveyor belts, and one (Coal Valley) focuses on the seaborne coal market.
Carbon Plant
WLB co-owns an activated carbon plant with Cabot. The plant, which was initially commissioned in June 2010, is located at WLB's Estevan mine. The activated carbon produced is sold to coal-fired power producers to be used for mercury removal from flue gas emitted into the atmosphere.
Char Plant
Approximately 100,000 tons of lignite char is produced annually at its char plant, using coal from the Estevan mine. The char is then sold to manufacturers of barbecue briquettes in the United States.
Mining Methods
Westmoreland's Canadian operations contain six operational surface mines. The company uses dragline excavators to extract coal from these mines. This method of mining is simple and cost effective.
Overall, the company's operations are cost competitive with those of peers (KOL) Arch Coal (ARCH) and Alpha Natural Resources (ANRZQ). Next, we'll look at WMLP's operations.
Westmoreland Resource Partners
Westmoreland Coal's (WLB) Ohio and Wyoming mines are operated under the Coal-WMLP segment. Westmoreland Resource Partners trades on the NYSE (New York Stock Exchange) under the ticker WMLP.
Westmoreland Coal acquired WMLP in 2014. It is a low-cost producer and marketer of high-value thermal coal to US utilities and industrial users. It is also the largest producer of surface-mined coal in Ohio. WMLP primarily markets its coal to large electric utilities with coal-fired, base-load scrubbed power plants under long-term coal sales contracts.
WMLP markets are in the Midwest, Northeast, and Rocky Mountain region. In 2016, ~77% of WMLP's revenue was from coal sales to American Electric Power (AEP) (38%), PacifiCorp Energy (29%), and East Kentucky Power Cooperative (10%).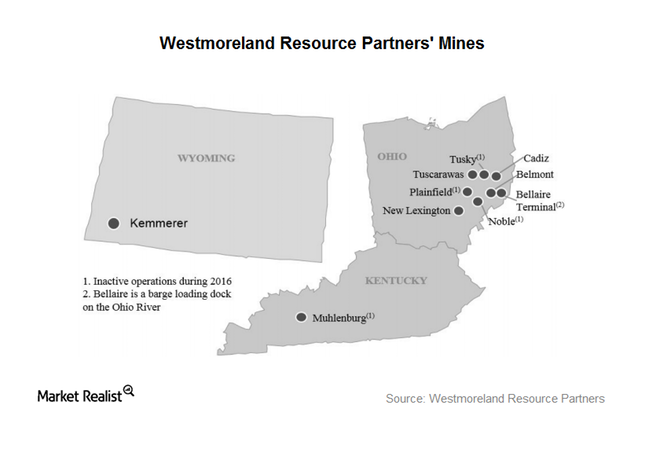 WMLP operates four surface mining complexes in Ohio and one surface mine in Wyoming. Three mines in Ohio and one in Kentucky were non-operational during 2016.
Ohio Operations
In Ohio, WMLP has a river terminal on the Ohio River, two washing facilities, two rail loadout facilities and a tipple facility. WMLP owns and operates six augers and uses highwall mining methods.
The Ohio operations have a coal supply agreement with American Electric Power until 2018 and East Kentucky Power Cooperative until 2020.
Wyoming Operations
In 2012, Westmoreland Coal acquired its Kemmerer mine from Chevron (CVX) and the mine was operated under the Coal-US segment. In August 2015, the Kemmerer mine was shifted to the Coal-WMLP segment.
Naughton Power Plant, a Kemmerer mine customer, is in close proximity. Therefore, the company transports coal by conveyor belt. The Kemmerer mine's industrial customers include Tronox, W. W. Grainger, and Tata Chemicals North America. These industrial customers are supplied by Union Pacific rail and truck.
Coal producers (KOL) Cloud Peak Energy (CLD) and Peabody Energy (BTU) are among the largest coal extractors in Wyoming. We'll discuss the company's contract positions in detail in the next part of this series.
Long-Term Contracts: Boon or Curse for Westmoreland Coal?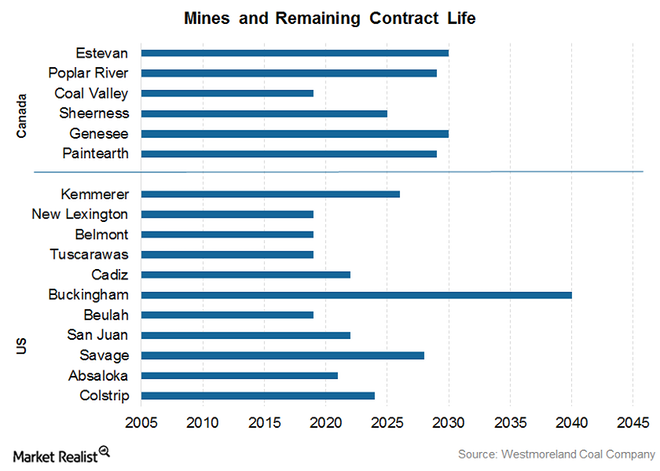 Most of Westmoreland Coal's (WLB) contracts are long term, spanning up to 40 years, unlike those of other coal producers (KOL) such as Alliance Resource Partners (ARLP), Cloud Peak Energy (CLD), and Peabody Energy (BTU), which generally have short-to-medium term contracts. The reason behind this long contract duration is that a lot of power plant customers are designed specially to use coal from WLB's mines.
San Juan Acquisition
Westmoreland Coal (WLB) acquired the San Juan mine from BHP Billiton (BHP) on January 31, 2016. It supplies coal to the San Juan Generating Station operated by PNM.

Jewett and Beulah Mine Termination
The Jewett mine supplied coal to NRG Texas Power (or NRG) until December 31, 2016. The coal supply agreement was terminated two years early. During 2015 and 2016, WLB supplied 3.4 million tons and 3.7 million tons of coal, respectively, to NRG, with operating losses of $6.3 million and $61.2 million. Reclamation has started, in which NRG is responsible for the mine's capital and reclamation expenditure. WLB expects to maintain positive cash flow at the Jewett mine during the multiyear reclamation process.
The Beulah mine used to supply ~2.5 million tons of coal annually to the Coyote Electric Generating Plant. However, the plant did not renew its coal supply agreement with the Beulah mine in May 2016. Currently, the Beulah mine supplies coal by rail to R.M. Heskett Station.
ROVA Operations Ceased
On March 1, 2017, Westmoreland Coal ceased operations of its fourth operating segment, Power. These operations included two coal-fired power plants in North Carolina with a total capacity of 230 megawatts, collectively called Roanoke Valley Power Facility (or ROVA). Westmoreland expects to generate cash savings of $13 million through March 2019. Next, we'll look at WLB's customer base.