Retired Coal Executive Joins Tennessee Valley Authority Board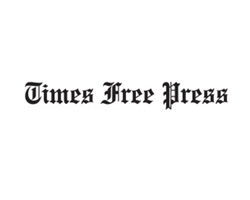 By Dave Flessner
January 11, 2018 - Kenneth Allen, a retired coal executive from White Plains, Ky., today officially assumed his role as a member of the Tennessee Valley Authority (TVA) board of directors after taking the oath of office in a ceremony in Bowling Green, Kentucky.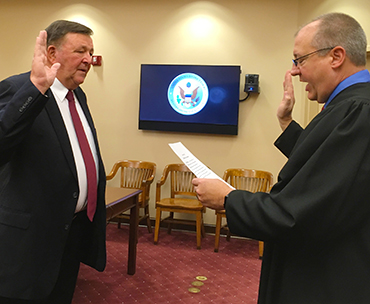 Kenneth Allen being sworn in as TVA board member.
Allen, one of our new board members confirmed last month by the U.S. Senate for the 9-member panel, will serve a term that extends through May 18, 2021.
Allen was nominated by President Donald Trump and endorsed by Senate Majority Leader Mitch McConnell, R-Ky., who said Allen "understands the challenge of the coal industry in our state" and will bring that perspective to the TVA board.
Allen most recently served as the Executive Vice President of Operations and Chief Operating Officer at Armstrong Coal Company. During a 50-plus-year career, he served in a variety of increasingly senior roles, including as President and Operations Manager of Bluegrass Coal Company.
"I have been employed in the coal industry for five decades and I am very proud of that," Allen said in an earlier statement. "But I also recognize the changes in our environment and I recognize the changes in our culture across the country. TVA has done a great job in the diversity of its power supply."
TVA has shut down 30 of the 59 coal-fired generators it operated five years ago and is slated to shut down three more in Memphis by the end of this year. The share of TVA electricity generated by coal has dropped by more than half from its peak reached in the 1980s.
Allen in he past was critical of President Obama's climate change and air pollution controls on coal plants, which helped to cut coal consumption by U.S. utilities.
Allen attended classes at Madisonville Community College, the University of Evansville, the University of North Carolina and the Darden School of Business at the University of Virginia.
Allen is one of four newly confirmed appointees to the TVA board of directors along with James "Skip" Thompson of Decatur, Ala., Jeff W. Smith of Knoxville and A.D. Frazier of Mineral Bluff, Ga. At the next TVA board meeting on Feb. 16 in Chattanooga, they will join current TVA Chair Richard Howorth of Oxford, Miss., and Directors Virginia Lodge and Eric Satz of Nashville and Ronald Walter of Memphis.
President Trump has yet to fill the remaining vacancy on the TVA board, which oversees America's biggest government utility.