UMWA Gets $3 Million Grant for Pennsylvania Center to Retrain Miners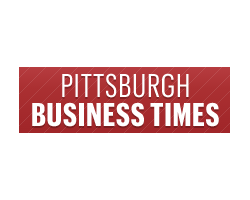 By Paul J Gough
January 12, 2018 - A $3 million state grant will allow a United Mine Workers of America training facility in Greene County to build the skills of laid-off coal miners and others seeking new jobs.
Pennsylvania Gov. Tom Wolf and other state and local officials were on hand for the announcement Thursday morning at the UMWA Career Centers in Prosperity, about five miles north of Waynesburg. It will transform the mine-training center at a time when the coal industry, and not just in Greene County, has seen tough times. It was just last week that Mepco announced that it would be closing the 4 West Mine in Greene County starting in the spring with the loss of about 370 jobs.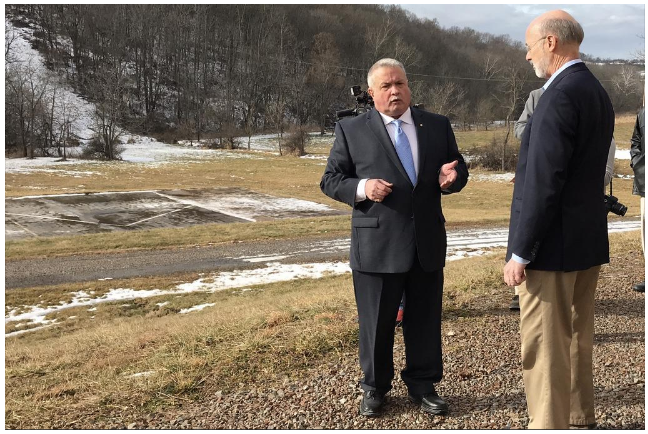 Clemmy Allen, left, executive director of the UMWA Career Centers in Prosperity, Greene County, talks to Gov. Tom Wolf about plans for the center with RACP funding.
Photo by Paul J. Gough

The funds to the UMWA career center from the Redevelopment Capital Assistance program will transform the center from one that has traditionally built the skills of miners to training for commercial drivers license, coding, diesel mechanics and jobs that will include advanced manufacturing.
The program will "make sure that (for) the really good people here we give them the opportunity to upgrade their skills to adapt to what the changes are (in the economy), said Wolf.
While the facility has traditionally been the site of training in fire safety and other skills for coal miners, the funds will go toward dismantling the 40,000-square-foot simulated mine and replacing it with a new concrete floor, classroom space, computer land and a study area. Also scheduled for removal is a tin smoke mine that will make way for a commercial driving license (CDL) training pad.
The state said an estimated 400 workers will receive training in the first phase; CDL training and coal miners skills can translate directly to the natural gas industry that is also strong in Greene County. The CDL training will begin in the late spring or early summer.
"We are focused primarily on dislocated miners and their families but this facility will be available to anyone who wants to come in and do advanced manufacturing (training), computer coding, CDL and the diesel mechanic school," said Clemmy Allen, executive director of the UMWA Career Center in Prosperity.
State Sen. Camera Bartolotta, R-Washington County, said that the training done here will make a big difference to the laid-off miners and their families in Greene County. Between the impending 4 West closure and a 2015 shutdown of the Emerald Mine, hundreds of coal miners have lost jobs and in some cases have had to leave the county to find work.
"We want them to stay here, we want their kids and grandkids to stay here," Bartolotta said. "This facility is a catalyst for that to start happening again."
Petra Mitchell, president and CEO of Pittsburgh-based Catalyst Connection, said it was possible that apprenticeship programs could be offered at the center.
The funding also includes an addition and roof repairs to the building, which is shared with the Greene County ARC.
Robbie M. Matesic, executive director of the Greene County Department of Economic Development, said having the skills training at the facility means that Greene County residents won't have to drive to Pittsburgh or Westmoreland County to be retrained.

"This is enormously important for us," Matesic said.