CONSOL Coal Resources LP Announces Results for the Fourth Quarter 2017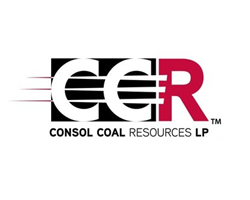 February 6, 2018 - CONSOL Coal Resources LP (NYSE: CCR) today reported financial and operating results for the quarter and year ended December 31, 2017.
Fourth Quarter 2017 Results
Highlights of the CCR fourth quarter 2017 results include:
Cash distribution of $0.5125 per limited partner unit for the fourth quarter;
Net income of $11.3 million;
Adjusted EBITDA1 of $28.2 million;
Distribution coverage ratio1 of 1.2x;
Leverage ratio improves to 2.0x compared to 2.5x on December 31, 2016;
Introducing 2018 Adjusted EBITDA guidance of $90-$110 million.
Management Comments
"The fourth quarter of 2017 marked an important milestone in the history of our company. On November 28, 2017, our then-sponsor (currently known as "CNX Resources Corporation" or "CNX") completed the separation of CONSOL Energy Inc. ("CEIX"), a pure-play coal company trading on the New York Stock Exchange under the ticker CEIX, which includes a world-class coal mining complex located in Pennsylvania, a strategic coal export terminal and an abundance of undeveloped reserves. As part of that separation, CNX also transferred its ownership interest in CCR into CEIX. We believe this is an exciting development for our unitholders as we now have a coal-focused sponsor and a single management team that is well-positioned to drive better strategic alignment among the two entities," said Jimmy Brock, Chief Executive Officer of CONSOL Coal Resources GP LLC (the "general partner"). "This morning we are reporting strong fourth quarter operating and financial results that include a healthy distribution coverage ratio, improved leverage ratio, and continued cash margin expansion. Heading into 2018, I am pleased to announce that we are off to a very strong start for the year with a robust sales book and an improved pricing outlook."
Sales & Marketing
Our Sales and Marketing team sold 1.6 million tons of coal during the fourth quarter of 2017, bringing our full-year (FY) 2017 sales to 6.5 million tons. This marks our second consecutive year of sales volume growth, an increase of 6% from 2016 and 14% from 2015. We achieved this growth in spite of mild peak season weather earlier in 2017, as well as geology, permitting, and logistical challenges that we expect will ease going forward and provide us with additional volume in 2018. FY 2017 average revenue per ton sold was up 5% versus FY 2016, driven largely by improved pricing in the thermal and crossover metallurgical export markets we serve.
The fourth quarter of 2017 saw continued strengthening trends in both the domestic and export markets. On the domestic front, PJM West day-ahead power prices averaged almost $3.50/MWh, or 12%, higher during the fourth quarter than during the third quarter, driving an uptick in average revenue per ton under our netback contracts. Overall, our domestic average revenue per ton was up by 5% compared to the third quarter, and by nearly 4% versus the year-ago quarter. More importantly, power plants have continued to exercise discipline in managing their coal inventory levels. The latest report from the U.S. Energy Information Administration shows that power plant coal stockpiles were down by approximately 27 million tons (or about 16%) at the end of November 2017 compared to the end of November 2016, and many of our top domestic customers in the Northern Appalachian (NAPP) rail market reported coal inventories below target levels as of the end of January 2018. We believe that these more balanced inventory levels will help to improve domestic coal demand in 2018.
Export average revenue per ton sold in the fourth quarter of 2017 was improved by an even greater amount than domestic average revenue per ton sold, when compared with the trailing and year-ago quarters, as demand and pricing remained strong in both the thermal and metallurgical coal markets. This strength has been driven by a number of factors, perhaps the most noteworthy during the fourth quarter being low coal stockpiles and restrictions on petcoke in India, which helped to drive an increase in demand for NAPP coal in particular. Continued pull from Asia has taken some traditional supply away from the Atlantic market as well, and helped to bolster further gains in Atlantic seaborne pricing, with the prompt month API 2 index pricing (for thermal coal delivered into northern Europe) averaging 8% higher during the fourth quarter compared to the third quarter.
Contracting Progress Through 2020
We capitalized on the uptick in demand and pricing for NAPP coal in 2017 to carry out significant portfolio building for future years. We are now greater than 95% contracted for 2018, 70% contracted for 2019, and 24% contracted for 2020 assuming an annual production rate of approximately 6.75 million tons going forward. This contracted position includes a mix of sales to our top domestic customers, to the export thermal market, and to the export metallurgical market, maintaining our diversified market exposure and providing a solid revenue base for meeting our financial objectives.
Against the strong export backdrop highlighted before, we succeeded in concluding a multi-year contract for a significant piece of our coal export sales volume for the second quarter of 2018 through the first quarter of 2020. The newly contracted export volumes consist of approximately 70% thermal coal and 30% crossover metallurgical coal sales. Approximately 50% of this volume is already priced, and the remaining 50% is contracted and collared. The contract demonstrates the global attractiveness of our high-quality and versatile coal assets.
Operations Summary
CCR achieved record production of 6.5 million tons in 2017, which compares to 6.2 million tons in 2016 and surpassing the previous record set in 2014. Furthermore, our Harvey mine produced at a record-setting level of 1.2 million tons for CCR's share in 2017, surpassing its previous high mark of 0.9 million tons set in 2015. The overall production performance is even more encouraging when considering that our Enlow Fork mine experienced challenging geological conditions for the better part of the second half of 2017, and one of the Bailey longwalls was idled for one month due to the permit issue we previously disclosed in September.
CCR produced and sold 1.6 million tons during the fourth quarter of 2017, compared to 1.8 million tons in the year-ago quarter. The reduced production compared to the year-ago period was primarily driven by planned longwall moves, the previously disclosed permitting issue at Bailey, inconsistent mining conditions at Enlow Fork and rail/logistics issues during the month of December. Although total coal revenue decreased by $8.2 million to $72.1 million, our total cost improved by $5.1 million to $67.5 million versus the fourth quarter of 2016. Average cash margin per ton sold1 for the fourth quarter of 2017 expanded by $2.21, or 13%, to $19.06 per ton compared to the year-ago period, driven by higher average revenue per ton and lower cash cost of coal sold. Our average revenue per ton increased to $46.36 from $45.05 in the year-ago quarter due largely to higher average revenue per ton on export shipments and higher netback prices on certain contracts compared to the year-ago period. Our average cash cost of coal sold per ton1 was improved versus the year-ago quarter driven by reduced subsidence expense and lower power/utility-related spending.
Quarterly Distribution
During the fourth quarter of 2017, CCR generated net cash provided by operating activities of $11.9 million and distributable cash flow of $17.7 million, yielding a distribution coverage ratio of 1.2x1. Our distribution coverage ratio calculation is based on the estimated maintenance capital expenditures of $8.9 million, while our actual cash maintenance capital expenditures for the fourth quarter was $7.2 million. Based on our current outlook for the coal markets and a strong distribution coverage ratio, the board of directors of the general partner has elected to pay a cash distribution of $0.5125 per unit to all limited partner unitholders and the holder of the general partner interest. As previously announced on January 25, 2018, the distribution to all unitholders of the Partnership will be made on February 15, 2018, to such holders of record at the close of business on February 8, 2018.
2018 Guidance and Outlook
Based on our current contracted position, coal market outlook and production expectations, we are providing the following financial and operating performance guidance for 2018.
Coal sales volumes - 6.55-6.80 million tons
Coal average revenue per ton - $45.75-$47.50
Cash cost of coal sold per ton2 - $29.50-$30.75
Adjusted EBITDA - $90-$110 million
Capital expenditures - $31-$36 million
Fourth Quarter Earnings Conference Call
A conference call and webcast, during which management will discuss the fourth quarter of 2017 financial and operational results, is scheduled for February 6, 2018 at 11:00 AM EDT. Prepared remarks by members of management will be followed by a question and answer session. Interested parties may listen via webcast on the Events page of our website, www.ccrlp.com. An archive of the webcast will be available for 30 days after the event.
Participant dial in (toll free) 1-855-656-0928
Participant international dial in 1-412-902-4112
CONSOL Coal Resources (NYSE:CCR) is a master limited partnership formed in 2015 to manage and further develop all of CONSOL Energy, Inc.'s (NYSE:CEIX) active coal operations in Pennsylvania. CCR's assets include a 25% undivided interest in, and operational control over, the Pennsylvania mining complex, which consists of three underground mines - Bailey, Enlow Fork and Harvey - and related infrastructure. For its ownership interest, CCR has an effective annual production capacity of 7.1 million tons of high Btu North Appalachian thermal coal.