Budget Deal Expands Tax Credit That Could Benefit North Dakota Energy Industry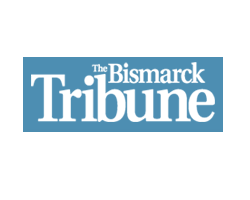 By Amy Dalrymple
February 11, 2018 - The budget deal approved by Congress and signed into law Friday, Feb. 9, includes the expansion of a tax credit that supporters say will help North Dakota's energy industry develop carbon capture technology and reduce emissions.
The two-year budget bill includes provisions that are identical to legislation introduced by Sen. Heidi Heitkamp, D-N.D., that enhances and extends the tax credit known as Section 45Q.
The tax credit provides an incentive for carbon capture utilization and storage, such as projects that use carbon dioxide for enhanced oil recovery.
Heitkamp, in an interview this week, said the tax credit Congress first created in 2008 had been too narrowly crafted to be effective. She said she introduced the FUTURE Act with co-sponsors from opposite sides of the political spectrum to improve the tax credit and encourage innovation.
"If we're going to have a future for coal and new coal development, we've got to get new technology," Heitkamp said.
The budget bill extends the tax credit for 12 years and increases the credit to $35 per ton for carbon that is captured and used for enhanced oil recovery, and $50 per ton of carbon that is captured and stored in a geologic formation deep underground.
North Dakota industry leaders say there is huge potential to recover more oil from the Bakken using carbon dioxide for enhanced oil recovery, but making the projects economically feasible has been a challenge.
Dale Niezwaag, vice president of government relations for Basin Electric Power Cooperative, said the new legislation removes hurdles that make the tax credit more accessible to industry.
"It helps open the door to be able to put technology together," Niezwaag said.
Projects under development in North Dakota could benefit from the tax credit, such as the Allam Cycle, which uses pressurized carbon dioxide rather than steam to generate power more efficiently, and Project Tundra, which would capture carbon from the flue gas at the Milton R. Young Station near Center.
In addition, Red Trail Energy in Richardton, a western North Dakota ethanol plant, is researching injecting carbon deep underground in order to market ethanol in California and other areas with low carbon fuel standards.
"We've got a number of things on the drawing board kind of waiting to pencil out economically," Heitkamp said.
North Dakota Gov. Doug Burgum was one of six governors who signed a letter earlier this week urging Congressional leaders to approve the expansion of the 45Q tax credit.
"Carbon capture provides a long-term, low-carbon path for production and use of America's abundant coal, oil and natural gas resources," said the letter signed by Burgum and governors of Montana, Wyoming, Kansas, Oklahoma and Pennsylvania.
Brad Crabtree, vice president for fossil energy at North Dakota-based Great Plains Institute, based in North Dakota, said the tax credit provides a significant incentive for companies to invest in carbon capture.
"This is vital to the future of North Dakota's coal industry and its coal-based power industry," Crabtree said.
Heitkamp initially introduced the FUTURE Act in 2016 and reintroduced it in July 2017, with co-sponsors Sens. Shelley Moore Capito, R-W.Va., Sheldon Whitehouse, D-R.I., and John Barrasso, R-Wyo.
"Today's bipartisan victory shows that Congress can achieve results by putting differences aside and working on real solutions," Heitkamp said in a statement Friday.
Sen. John Hoeven, R-N.D., said Congress also needs to approve his Regulatory Certainty Act, which aligns tax guidelines with existing federal regulations to make the tax credit more workable.
"Carbon capture is technologically viable, we can do it. We've got to get it commercially viable," Hoeven said.
Hoeven also introduced bipartisan legislation this week to extend the refined coal tax credit, which incentivizes power plants to pre-treat or refine coal to improve efficiency and decrease emissions. Heitkamp cosponsored the bill.
CoalZoom.com - Your Foremost Source for Coal News