AK Steel Applauds President Trump's Announcement of a 25 Percent Tariff on Imported Steel Under Section 232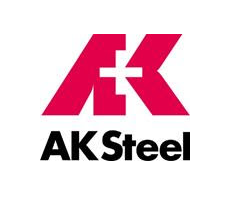 March 12, 2018 - AK Steel said that the company strongly supports President Trump's announcement today that imports of steel products will be subject to a 25% tariff.
"We thank the President and his Administration, on behalf of AK Steel and our many thousands of employees, for identifying and understanding the unfair trade practices that have plagued the domestic steel industry for decades, and for having the vision and fortitude to take meaningful action to address them," said AK Steel Chief Executive Officer Roger K. Newport.
The President's action follows a Section 232 investigation initiated by the Department of Commerce in April 2017 that concluded that foreign steel imports threaten to impair U.S. national security. AK Steel Chief Executive Officer Roger K. Newport and leaders of other steel companies in the United States joined President Trump at the White House last week to discuss Section 232 remedies.
"We support President Trump for taking the bold action of imposing a 25% global tariff on steel to defend America's steel industry and its workers from imports that threaten our national and economic security," said Roger Newport. "Nowhere is this threat more evident than in electrical steel where AK Steel is now the only domestic producer of electrical steel for electrical transformers. Years of surging imports and the subsequent market volatility caused the only other U.S. producer to exit the market in 2016. This action by the President could not come soon enough as the surge of electrical steel imports continued throughout last year, with imports nearly doubling in 2017 when compared to 2016."
AK Steel is the only steel manufacturer in North America that produces carbon, stainless and electrical steels. AK Steel looks forward to continuing to work with the Administration and the Department of Commerce to address the need to cover downstream electrical steel products that are critical to our nation's electrical grid infrastructure, which is vital to the national security of the United States. This is important to curb any potential future circumvention of the remedy that would render it ineffective.
AK Steel is a leading producer of flat-rolled carbon, stainless and electrical steel products, primarily for the automotive, infrastructure and manufacturing, electrical power generation and distribution markets. Through its subsidiaries, the company also provides customer solutions with carbon and stainless steel tubing products, die design and tooling, and hot- and cold-stamped components. Headquartered in West Chester, Ohio (Greater Cincinnati), the company has approximately 9,200 employees at manufacturing operations across seven states (Alabama, Indiana, Kentucky, Michigan, Ohio, Pennsylvania and West Virginia), as well as in Canada and Mexico.
CoalZoom.com - Your Foremost Source for Coal News