Westmoreland Reports Fourth Quarter and Full Year 2017 Results
April 2, 2018 - Westmoreland Coal Company (Nasdaq:WLB) today reported its fourth quarter and full year 2017 financial results and provided an update on its capital structure evaluation. In light of ongoing discussions with Westmoreland's creditors in connection with the Company's capital structure review, Westmoreland will not host a conference call for investors this quarter.
"Cash flow generated by our business exceeded expectations in 2017 as we benefited from our safe and efficient operations and meeting our customer requirements under the long-term sales contracts," said Interim President and Chief Executive Officer, Michael Hutchinson. "As we previously noted, we are working diligently to improve our capital structure so it better matches our cash flow profile."
Gary Kohn, Westmoreland's Chief Financial Officer, stated, "Together with our financial and legal advisers we are designing an improved capital structure for Westmoreland Coal and all of our subsidiaries. Our aim is to create a capital structure that better aligns with our cash flow and allows for an improved balance sheet. During the restructuring process, we have remained focused on safety and on providing our customers with the level of service they have come to expect from Westmoreland."
Safety
Westmoreland's safety metrics for the year ended December 31, 2017 are shown below: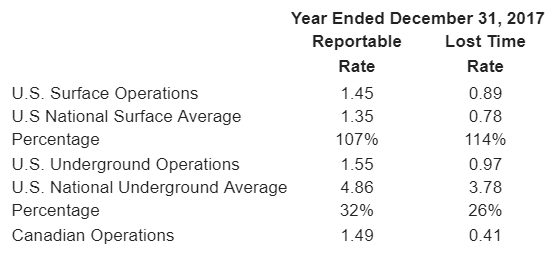 Balance Sheet, Cash Flow and Liquidity
Westmoreland finished the year with $103.2 million in cash and cash equivalents, up from $60.1 million at December 31, 2016. At December 31, 2017, the company had an undrawn $50 million revolving credit facility, of which $28.7 million, net of letters of credit and borrowing base restrictions, was available for borrowing.
Free cash flow generated in 2017 was $129.6 million, which was the result of strong operations, favorable year-end working capital, and a net $13.4 million of released bond collateral. Bond collateral returns were previously included in cash from investing activities, but are now included on several lines of cash from operating activities on the cash flow statement. As a result, bond collateral return is included in free cash flow generation. Capital expenditures totaled $35.0 million, and net cash from loan and lease receivables was $50.5 million. Included in cash flow provided by operations were cash uses for interest expense of $98.1 million and for asset retirement obligations of $43.4 million.
Gross debt plus capital lease obligations at December 31, 2017 totaled $1.1 billion, down $70.7 million from year end 2016. Outstanding gross indebtedness, cash on hand and net debt as of December 31, 2017 was as follows:

Consolidated and Segment Results
Consolidated Adjusted EBITDA in the fourth quarter was $86.0 million, down 4% from the record high quarterly Adjusted EBITDA of $89.1 million in the same period of the prior year. Full year consolidated Adjusted EBITDA of $269.3 million, including an incremental $37.1 million from the early Capital Power repayment, was down slightly from the previous year.
The Coal - U.S. segment fourth quarter Adjusted EBITDA was up 18% to $43.9 million. Full year 2017 Adjusted EBITDA was up 2% to $129.3 million. These improvements were driven by high-margin reclamation work at the Jewett mine and performance from San Juan. Also reflected in the year-over-year comparisons are the 2016 coal supply contract expirations at the Jewett and Beulah mines.
The Coal - Canada segment fourth quarter Adjusted EBITDA was down 41% to $18.9 million. Full year 2017 Adjusted EBITDA was up 2% to $90.0 million. The year-over-year fourth quarter comparison was negatively impacted by the accelerated Capital Power receipt in the first quarter of 2017 due to the loss of financing income after the payment was made. Results in the Coal - Canada segment were also affected by the now-resolved dragline issues at Estevan and the cost overruns due to operational issues at Coal Valley earlier in the year.
The Coal - WMLP segment had fourth quarter Adjusted EBITDA of $15.8 million, a 25% decrease from the prior year, and full year Adjusted EBITDA of $68.7 million, a 13% decrease. Operations at the Coal - WMLP segment were negatively impacted by ongoing Ohio open-market pressures and the Kemmerer pit flooding in the first half of 2017.
The Power segment Adjusted EBITDA of $14.4 million in the fourth quarter and $11.3 million for the full year 2017 benefited from the acceleration of non-cash deferred revenue associated with the exit of the power supply contracts at ROVA.
Corporate Update
Westmoreland expects to file its annual report on Form 10-K today containing an audit opinion with an explanatory paragraph referring to Westmoreland's conclusion that substantial doubt exists regarding its ability to continue as a going concern. Delivery of financial statements with such an audit opinion constitutes a breach of certain covenants under the revolver and the San Juan term loan. If accelerated, default under the revolver can cause a cross-default to the Westmoreland term loan and senior notes. Westmoreland has obtained waivers from the specific lender groups with respect to the potential event of default, as well as certain other matters. The waivers provide Westmoreland with additional time to continue negotiations with lenders regarding changes to the capital structure. Substantially all of Westmoreland's debt is now classified as current as of December 31, 2017.
Westmoreland has suspended the search for a permanent Chief Executive Officer until the conclusion of the capital structure negotiations.
About Westmoreland Coal Company
Westmoreland Coal Company is the oldest independent coal company in the United States. Westmoreland's coal operations include surface coal mines in the United States and Canada, underground coal mines in Ohio and New Mexico, a char production facility, and a 50% interest in an activated carbon plant. Westmoreland also owns the general partner of and a majority interest in Westmoreland Resource Partners, LP, a publicly traded coal master limited partnership (NYSE:WMLP).
CoalZoom.com - Your Foremost Source for Coal News