FirstEnergy Solutions Begins Bankruptcy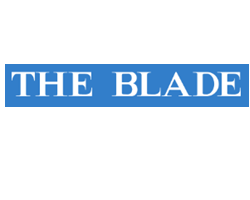 By Tom Henry
April 3, 2018 - Attorneys for FirstEnergy Solutions and six affiliated debtors appeared in U.S. Bankruptcy Court today to begin Chapter 11 proceedings before Judge Alan M. Koschik, a move that parent company FirstEnergy Corp. sees as a necessary step for it to remain viable and start anew.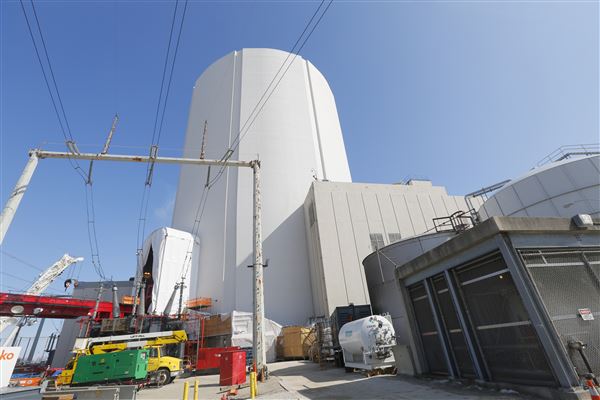 The Shield Building where the steam generator goes for installation and containment at the Davis-Besse Nuclear Power Station.
FirstEnergy is one of America's largest utilities. It for years had owned the Davis-Besse nuclear plant east of Toledo, the Perry nuclear plant east of Cleveland, the twin-reactor Beaver Valley nuclear complex west of Pittsburgh, and one of the nation's largest coal-fired power plants, the Sammis plant in eastern Ohio, as well as the much smaller Bay Shore power plant in Oregon, which in 2012 shut down its last three coal-fired units but has continued producing electricity from one unit that has operated on petroleum coke from the nearby BP-Husky refinery since 2000.
The parent corporation moved ownership and operation of those and other plants to FES a while back, in anticipation of the bankruptcy proceedings now getting under way. FirstEnergy's plan is to have the bankruptcy apply to those plants — all deemed unprofitable in today's changing global energy market — so the parent corporation can strengthen its bottom line and focus exclusively on electricity transmission.
Records show dozens of motions filed within the first 48 hours after the bankruptcy filing, many considered "First Day Motions."
"There are some important motions, but they are not unusual for a Chapter 11 bankruptcy," Thomas Mulligan, a New York-based public relations consultant handling bankruptcy communications for FES, said.
In his order granting an expedited hearing, Judge Koschik said notifications were to be made to a consolidated list of creditors holding the 50 largest unsecured claims, as well as the Bank of New York Mellon Trust Co., UMB Bank, Wilmington Savings Fund Society, MetLife Capital, the Internal Revenue Service, the Securities and Exchange Commission, the U.S. Environmental Protection Agency, the Nuclear Regulatory Commission, the U.S. Department of Energy, the Federal Energy Regulatory Commission, the Ohio Attorney General's Office, the Pennsylvania Attorney General's Office, attorneys general in Illinois, Maryland, Michigan, New Jersey, and numerous others.
Meanwhile, a Chicago-based group of environmental lawyers, the Environmental Law & Policy Center, has filed a petition with the NRC to "affirm FirstEnergy's legal responsibility as parent company guarantor to demonstrate that it can pay the costs of decommissioning the Beaver Valley 1 & 2, Davis-Besse, and Perry nuclear plants."
The ELPC said it believes FirstEnergy has fallen far off pace of what it needs to successfully dismantle the plants and restore the sites they've been on at some point in the future. It cited findings of a watchdog group, the Callan Institute, which describes itself as one of the nation's largest, independently owned investment consulting firms.
"As FirstEnergy is financially stressed and its FirstEnergy Solutions subsidiary verges on bankruptcy, the Nuclear Regulatory Commission must require these companies to demonstrate financial assurances that they can and will pay for the full costs of decommissioning and cleaning up their nuclear plants," Howard Learner, ELPC executive director, said. "Let's not risk another taxpayer bailout with FirstEnergy's management leaving the public holding the bag for necessary decommissioning costs."
Viktoria Mitlyng, spokesman for the NRC's Midwest regional office near Chicago, said decommissioning funds are audited by specialists in the agency's headquarters once every two years.
FirstEnergy passed its last audit, which was done in 2017, she said.
"As far as the NRC's concerned, there's no shortfall in decommissioning," Ms. Mitlyng said.
She said the NRC was verbally notified by FES of its decision to prematurely close the nuclear plants over the next three years unless a buyer is found.
The anticipated closure date for Davis-Besse is now listed as May 31, 2020, by PJM Interconnection LLC, the Pennsylvania-based operator of the 13-state regional electric grid that includes Ohio — one of the nation's largest electric grids.
That information is posted online on an updated PJM page that lists future deactivations within the grid's operator's service area.
Closure dates for Perry and Beaver Valley Unit 1 are May 31, 2021. For Beaver Valley Unit 2, it is Oct. 31, 2021.
FES is expected to file a formal notification in writing within 30 days, Ms. Mitlyng said.
The market has been changed radically by a worldwide surge in fracking brought on a little more than a decade ago by a revolutionary horizontal drilling technique that allows the oil and gas industry to recover fuel from previously inaccessible areas. The Washington-based Nuclear Energy Institute has said it is especially hard for nuclear plants to compete in deregulated electricity markets, which Ohio and Michigan have had since 1996.
Earlier this year, FirstEnergy announced investments of more than $10 billion in its regulated businesses, which include 10 electric distribution utilities that serve six million customers in Ohio, Pennsylvania, New Jersey, West Virginia, Maryland, and New York — one of America's largest investor-owned electric systems. The corporation's transmission lines span some 24,000 miles.
Public records of the bankruptcy proceedings can be followed online free of charge at cases.primeclerk.com/FES. They also can be followed through U.S. Bankruptcy Court's PACER System, which requires a fee.
CoalZoom.com - Your Foremost Source for Coal News