MSHA Seeks Feedback on Powered Haulage Safety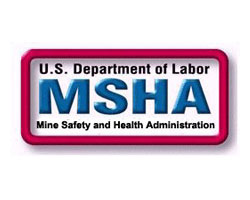 By David Zatezalo
April 4, 2018 - Our Quarterly Training/Stakeholder call for April will focus on powered haulage safety – a priority issue for MSHA. We have seen far too many miners injured and killed in recent accidents that could have been prevented by following proper safety procedures.
Specifically, we will emphasize safety regarding:
Large powered haulage vehicles striking smaller vehicles
Seatbelt usage in powered haulage vehicles
Conveyor belt safety, including disconnecting power and using crosswalks safely
During the call, our safety experts will describe recent accidents involving these problem areas as well as technological solutions that encourage safe behavior.
We also want to hear from you. Tell us in advance about effective strategies and systems that are being used by operators, miners, trainers and safety consultants. We will feature your ideas on a webpage and in materials to be distributed before the call. We may even ask you to join a quick discussion on the call.
We chose these priority areas because we have seen far too many preventable injuries and fatalities associated with them.
In 2017, three miners were fatally injured after they failed to buckle up. A review of fatalities since 2007 found 35 such fatalities at mine operations.
In 2017, four miners were fatally injured after their vehicles were struck by large haul trucks with limited visibility. We found 23 such fatalities recorded since 2003.
Four miners were killed in the past 12 months because they attempted to perform maintenance on an energized conveyor belt or improperly attempted to cross a conveyor belt.
Powered haulage consistently accounts for the largest share of recordable injuries among MSHA's 21 accident classifications. Reducing powered haulage accidents should reduce overall injuries and fatalities in mining.
Please send your comments and ideas to Wycinsky.David@DOL.gov.
We will be in touch soon with more information about the call. As always, thank you for your interest in promoting mine safety and health.
CoalZoom.com - Your Foremost Source for Coal News