North Dakota Political Rivals Tout Records on Coal at Industry Gathering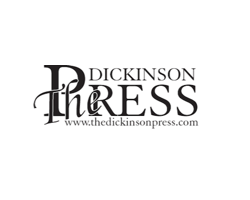 By Amy Dalrymple
April 6, 2018 - North Dakota political rivals Sen. Heidi Heitkamp and Rep. Kevin Cramer shared a stage Thursday at the Lignite Energy Council annual meeting, each touting their backgrounds in representing North Dakota's coal industry.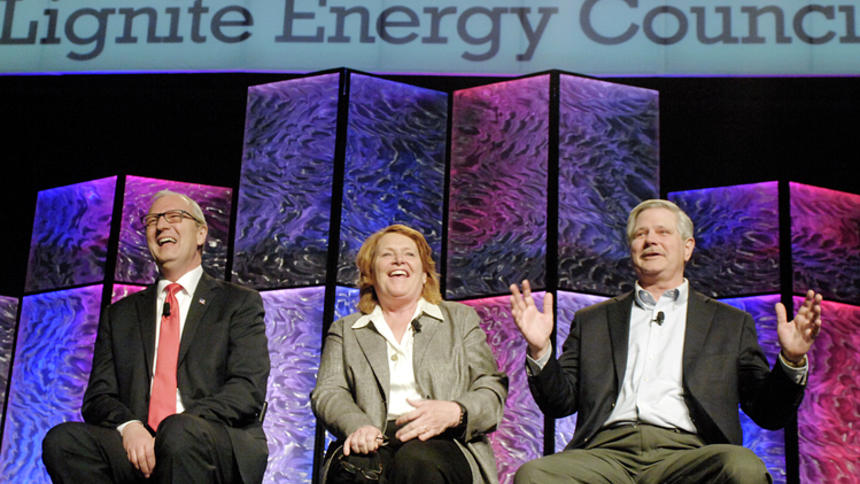 Rep. Kevin Cramer, R-N.D., left, Sen. Heidi Heitkamp, D-N.D., and Sen. John Hoeven, R-N.D., share a light moment on statge during a question and answer session during the Lignite Energy Council's annual meeting at the Bismarck Event Center on Thursday, April 5.
Photo by Mike McCleary, Bismarck Tribune
The discussion, which also featured Sen. John Hoeven, was not a debate or a campaign event, but Heitkamp and Cramer each highlighted their experiences at the state and federal levels to advocate for coal.
Heitkamp, a Democrat who is seeking re-election to the U.S. Senate, emphasized that she works to build bipartisan support for the coal industry. For example, she highlighted her work to extend and expand the Section 45Q tax credit that aims to help the industry develop carbon capture technology.
"I think this is a problem that's bigger than Democrat or Republican politics," Heitkamp said of securing a future for coal. "This is a problem of reliable, redundant electricity into the future."
Heitkamp reminded the conservative-leaning crowd that she spent 12 years on the board of Dakota Gasification Co., served as tax commissioner and served on the North Dakota Industrial Commission as attorney general before going to Washington, D.C.
Cramer, a Republican expected to receive his party's endorsement to challenge Heitkamp, mentioned his experience regulating the industry as a member of the Public Service Commission and learning about innovations by serving on the state Lignite Research Council.
Cramer touted his introduction of the CO2 Regulatory Certainty Act, which aims to make it more workable for industry to claim tax credits for carbon dioxide sequestration by aligning IRS rules with EPA and state rules. Hoeven, a Republican, has introduced companion legislation.
The ultimate goal that all three members of North Dakota's delegation support is to reduce emissions from coal-fired power plants by capturing carbon dioxide and using it for enhanced oil recovery.
Cramer said the carbon dioxide should not be considered a waste product, a comment that drew applause from the crowd.
"CO2 is a commodity like other commodities. It's got value in the marketplace," Cramer said. "And we prove it in North Dakota."
Cramer said there are some in Washington who don't support a technology that would enhance the life of a coal mine and an oilfield. He said the left wants to get rid of nuclear and coal.
Sue Gustafson, marketing director for Bilfinger Westcon, asked Heitkamp how she as a Democrat helps change that opinion in Washington.
Heitkamp said she brings people together from both sides of the aisle to educate them about the importance of coal as a reliable, redundant energy source.
In an interview after the discussion, Gustafson said she plans to support Cramer.
"I think that Heidi likes to play on both sides of the fence," Gustafson said. "When she's with our people, I think she says one thing. And I think when she's with her people, she probably says something else."
Heitkamp said in an interview that the Senate has accomplished many things for the fossil fuel industry as a result of her participation and leadership.
"The last thing that the coal industry needs is to lose a coal advocate within the Democratic caucus," Heitkamp said.
CoalZoom.com - Your Foremost Source for Coal News