U.S. Coal Mogul Murray Wants to Run Power Plants Too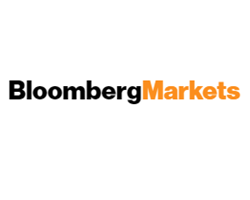 By Tim Loh
April 11, 2018 - Murray Energy Corp. Chief Executive Officer Bob Murray wants to buy coal-fired power plants to shore up his mining company.
An acquisition could happen as early as this year, allowing the company to mine coal, transport it to plants and then burn it to generate power, Murray said on the sidelines of the Bloomberg New Energy Finance Future of Energy Summit in New York.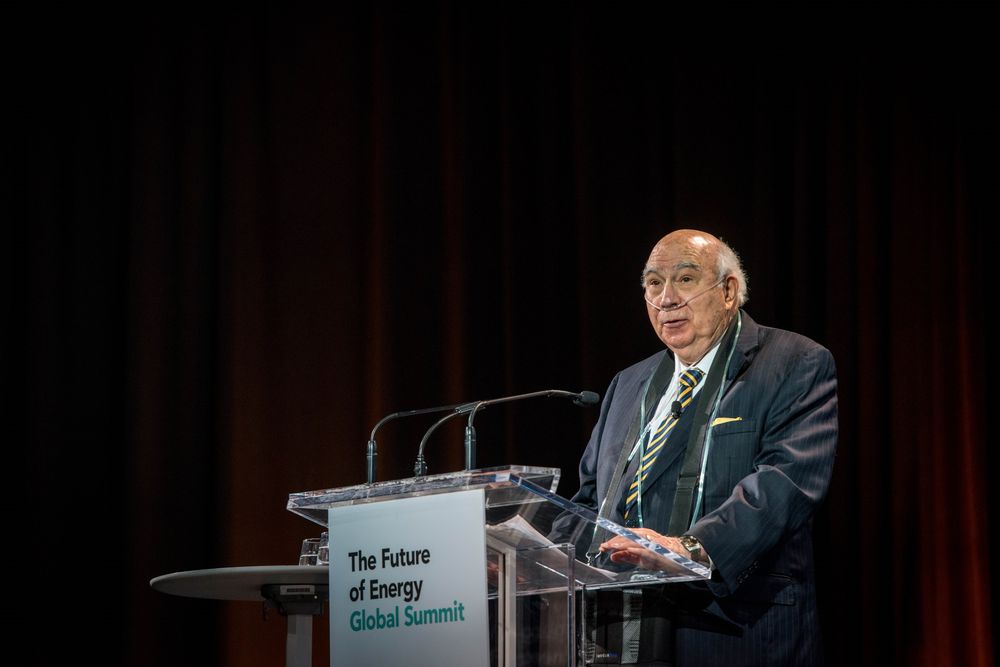 Murray Energy CEO Bob Murray speaks at Bloomberg New Energy Finance Future of Energy Summit in New York on April 10.
Photo by Craig Warga
"It'd be the culmination of my life's work," he said. "It's a new concept. If you control the fuel supply, you can price it how you want it."
Murray has mulled such a purchase for at least 15 years but has come close only twice -- both in the past couple of years. The problem has been money, as utilities typically sell off the sites' capacity payments when they close coal fired plants. That creates cash-flow problems for a potential buyer that could fester for several years.
He has his eye on five different plants, including some of the assets of bankrupt FirstEnergy Solutions -- the W.H. Sammis plant in Ohio and Bruce Mansfield facility in Pennsylvania, both of which are for sale. Also attractive is FirstEnergy Corp.'s Pleasants Power Station, he said. The West Virginia facility is scheduled to close in early 2019.
"If you can dig coal out of the ground, you sure as heck can run a power plant," he said. "We can run power plants better than the utilities can."
FirstEnergy
The possibility of going after FirstEnergy assets is an about face from last summer, when Murray said his company might get dragged into a restructuring by FirstEnergy Solutions. He dismissed that possibility Tuesday.
Murray Energy is in a better position this year as its overseas sales have boomed. The company plans to export 22.5 million tons of coal this year, almost a third of its overall production and the most ever. Much of the credit goes to Javelin Global Commodities, a joint venture Murray helped form in 2015 with, among others, former Goldman Sachs Group Inc. employees. The London-based trader has the potential to grow as global coal demand continues to shift toward Asian markets.
Murray -- who has three sons in their 40s working for the company -- said that in 10 years, Murray Energy could own as many as five coal-fired power plants and produce 110 million tons of thermal coal a year, about a sixth of his forecast for annual U.S. production then. He's not sure if U.S. thermal coal output will have fallen below 650 million tons a year by then, as that will depend on whether the leaders of America's utilities get behind coal.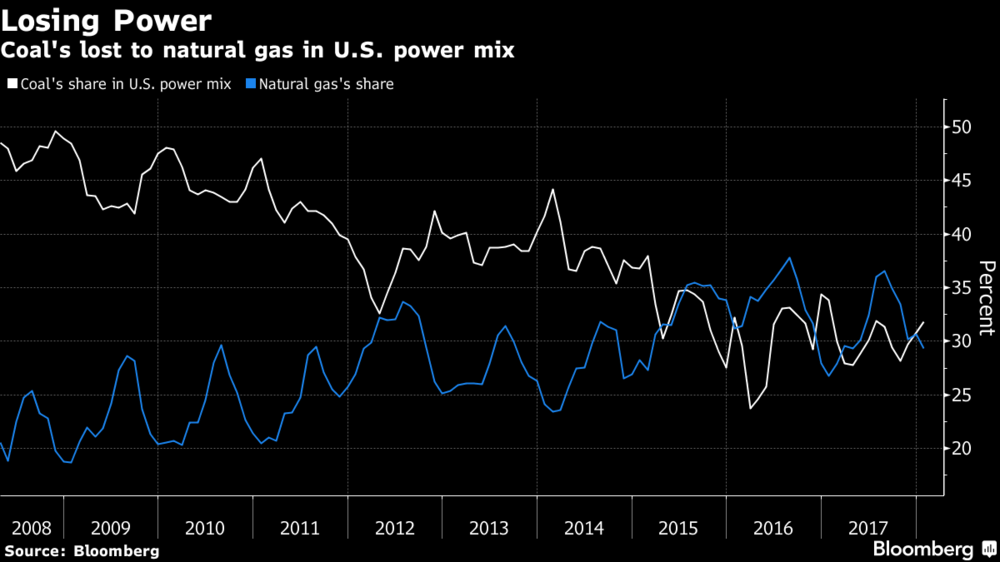 But if coal slips below 25 percent of the country's power mix, "people are going to freeze in the dark," he said. It's expected to account for 29 percent of utility-scale power generation in 2018, according to government forecasts.
To keep the lights from going out, Murray expects the U.S. government to declare a power-grid emergency so impressive in scale that it would trigger payments to keep some coal and nuclear power plants online.
That controversial action -- under Section 202(c) of the Federal Power Act -- is the "only option right now," he said.
CoalZoom.com - Your Foremost Source for Coal News