Thousands Gather in England for Tribute to Mining Heritage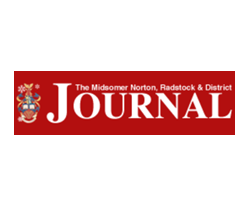 By Stan Bull
April 12, 2018 - There was much excitement last Friday with the arrival of a 36-foot mechanical statue, unveiled at the Somer Valley campus of Bath College in Westfield, England, during a performance which included music, pyrotechnics and live singing.
Known as the Man Engine, the mechanical structure, which resembles a giant coal miner, was created in 2016 to mark the tenth anniversary of the Cornwall and West Devon Mining Landscape being added to the UNESCO list of World Heritage Sites.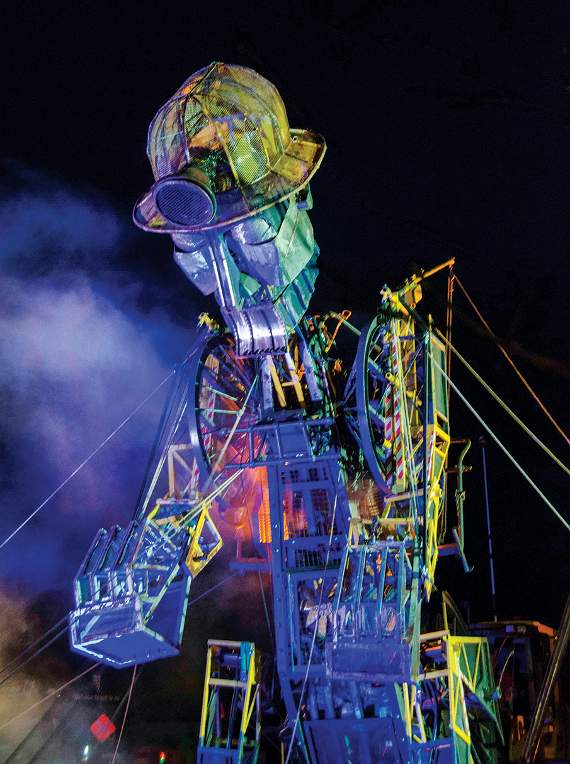 Man Engine
Over the previous weeks, the Man Engine has been touring across the UK, visiting towns and villages known for their mining history, such as Blaenavon, Parc Bryn Bach in Tredegar, Merthyr Tydfil, Pontypridd, Swansea, Pendeen, Pool, Wadebridge and Tavistock.
Two performances took place locally on Friday: a family-friendly matinee dubbed 'The Afternooner', which saw the engine come to life first, and an evening performance dubbed 'The Afterdarker', which included fireworks and pyrotechnics.
Both performances were narrated by filmmaker, actor and educational consultant, Will Coleman, Founder and Director of Golden Tree Productions. Coleman and his team created the Man Engine in 2016, and have been responsible for its tour throughout the South West.
As compere, Will told the large audience gathered outside the college campus the story of the Levant Mine disaster in 1919, where 31 miners were killed by a man engine which crashed and fell down the mine shaft.
Accompanied by a young actor climbing a tall prop-ladder, Will told the story of William Crago, a nine-year-old miner who worked in the South Caradon Mine before moving to America.
Once the Man Engine had been fully unveiled – moving its head and arms via a team of engineers – Will presented a cast iron trophy to Radstock Museum, to celebrate Radstock's mining history.
Daisy Walsh, Commercial Director of Bath College, told The Journal this week: "We were delighted to host the Man Engine at Bath College.
"Somer Valley Campus was the perfect location to host this impressive machine, as it is the home of our Engineering Provision covering apprenticeships and 16+ learners, and also our Construction Centre.
"It was lovely to see the local community from Radstock and the surrounding area enjoying a family day out and taking advantage of having such an exciting event on their doorstep.
"We thought the Man Engine show was so impressive and really brought the mining history of the area alive."
April 9th also saw the anniversary of the Norton Hill Pit disaster in 1908, when an underground explosion killed ten miners. Nineteen were saved, with rescue workers making their way through rubble overnight to try and save those lost. Those that died included 25-year-old newly-wed, Gilbert Jones, Ernest Jones and his sixteen-year-old brother, Stanley, and the youngest, fourteen-year-old Harry Sage, who had recently left school to begin work as a powder boy.
CoalZoom.com - Your Foremost Source for Coal News