Higher Prices Help CONSOL to Strong Quarter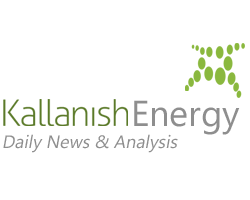 May 4, 2018 - CONSOL Energy reported Thursday during the first quarter the company sold fewer tons at a higher price than the year-ago three-month period.
The Cecil Township, Pa.-based coal mining company sold 6.6 million tons of coal at average revenue per ton of $52.98, compared to 6.8 million tons at average revenue per ton of $46.80 in the year-ago period.
The improvement was largely driven by greater-than-expected revenue on our netback contracts, which reflected strong power prices in the western portion of power grid PJM Interconnection, Kallanish Energy reports.
Revenue per ton also benefited from improved pricing under our non-netback domestic contracts and from continued strength in export markets.
Offsetting these improvements were January winter weather-driven challenges that affected rail and port logistics and limited further upside to shipments.
"We believe inventories at several of our key Northern Appalachian, rail-served power plants (customers) now stand below 20 days. This gives us tremendous confidence in our ability to ship all of our contracted coal despite recent softness in natural gas prices," CONSOL said.
CONSOL's first-quarter production totaled 6.7 million tons, down from 6.9 million tons in the first quarter of 2017.
The company is 95% contracted for 2018 shipments, and 74% and 26% contracted for 2019 and 2020, respectively, assuming an annual production run rate of 27 million tons.
"Overall, global coal demand growth continues to improve, tying to overall broadening and accelerating economic growth," according to CONSOL. "On the export front, while demand in Europe has modestly softened, growth in India has more than compensated for this."
CONSOL reported first-quarter profit of $62.41 million, up from $40.95 million in the year-ago quarter. Revenue jumped to $410.26 million, from $372.22 million one year ago.
CoalZoom.com - Your Foremost Source for Coal News