Don Blankenship Speaks on Senate Run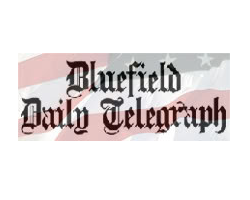 By Charles Boothe
May 4, 2018 - Don Blankenship mixes no words when he says he will win the Republican nomination on May 8 to run against incumbent U.S. Sen. Joe Manchin (D-W.Va) in November.
"We are double digits ahead," he said Thursday afternoon during a stop at the Bluefield Daily Telegraph after talking to his pollster.
Don Blankenship
Blankenship, a Matewan native who lives in Williamson, is running against Rep. Evan Jenkins (R-3rd District) and state Attorney General Patrick Morrisey, neither of which, he says, has ever created a job and does not understand business or West Virginia.
The former chairman and CEO of Massey Energy, Blankenship made headlines in 2010 after an explosion at a Massey mine resulted in the death of 29 coal miners. He later faced several felony charges related to the explosion but was eventually exonerated of those in federal court and convicted in on only one misdemeanor in 2015, which carried a prison term of one year that he served out in a California prison.
Blankenship does not downplay the tragedy, but openly says he became an "American political prisoner" because of a combination of the Obama Administration's "war on coal," media bashing and the Department of Justice (DOJ) "threw away every rule in their manuals when they came after me."
"They lied about the explosion," he said, covering up that natural gas was the cause.
"The miners were dealing with something they did not expect, did not prepare for and had no training to deal with," he said, with natural gas coming out in "huge volumes."
Coal miners would never intentionally put themselves at risk, he said, adding that the mine had just been through a quarterly inspection and declared "in good shape" and "the mine was as good as any coal mine in the United States."
"Everyone wanted me to say I am responsible, but I am not," he said. "But I am taking responsibility for making sure it doesn't happen again," which is one of the reasons he said he is running for office.
Politicians would "trap themselves" if they started doing the things that should be done in adding the training, he said, because they didn't report the truth at the time.
A motion was filed last month in U.S. District Court in Charleston to erase the misdemeanor conviction of conspiring to willfully violate safety standards.
Blankenship said that if he is elected he will fight for three basic changes related to mine safety.
Mine Safety and Health Administration (MSHA) should be divided into two separate programs, he said, with regulations and investigations being different entities, not rolled into one.
"It (a mining accident) may be their (MSHA) failure," he said, but they can't investigate themselves and reach a fair conclusion.
Another change is the way bureaucrats create the regulations, he said, and they often have the "Barney Fife syndrome," with lower levels of training from the experts in the field but the power to tell them what to do. More input on what regulations work and don't work from the highly trained people in the field should be included in decisions.
The third change is bringing in the latest in technology.
"The government is always behind on technology," he said, pointing out the effectiveness of using fiber optic cable to be able to continuously monitor the atmosphere inside a mine, a move that has not yet been made.
Blankenship, who worked as a coal miner during the summers to help pay for his degree in accounting from Marshall University, said he wants to go to Washington because West Virginia needs a businessman, not another politician.
"We are last in good things and first in bad things," he said of the state''s national rankings. "I think I can make a difference and it's my responsibility to try."
Understanding the history of the coal industry and the business climate in the state is an important part of the equation, he said, adding that West Virginia "was a little spoiled" when energy severance taxes were keeping money flowing.
Leaders of the UMWA (United Mine Workers of America) and politicians "never adjusted to the reality of competition" from states like Wyoming and from the natural gas industry, he said, and would not accept the streamlining of jobs in the coal mines to maintain operations.
"I could not change the union's attitude," he said "The workers understood (and wanted to work), the UMWA did not. They would not adjust to the economy and the numbers."
Blankenship said some people thought he was "mean" as he streamlined operations, but "I made the decisions the math told me to make. I was saving jobs … we streamlined operations to survive … you run out of money in the coal business, you're done."
But regulations handed down from the EPA (Environmental Protection Agency) and the Obama Administration helped exacerbated the problems, he added.
"Between Obama and the natural gas revolution, it knocked us out in Southern West Virginia."
Not only that, the state did not work to attract non-energy companies, he said, and "onerous" laws related to businesses have hurt any progress.
"They (companies) go to places where it's easiest to do business," he said. "That is one of the things we have changed some (making the state more business friendly), but we need more changes."
Blankenship said the state has to develop a reputation for being open for business, not just put up a sign that says so.
"They don't care about what kind of sign you put up," he said. "You have to create the atmosphere to bring the jobs."
All of this, along with the decline in union membership and union power, has helped spur a shift from Democratic political dominance to Republican in the state, he said.
In 2016, the state gave Pres. Donald J. Trump his biggest win, 67 percent of the vote.
Blankenship, who worked his way up in the business world from being an accountant at Massey Energy to running the company ("I was the only bean counter who had been a coal miner."), supported Trump, saying the President is using the same ideas he has expounded for years.
"Some say I am more like Trump than Trump is," Blankenship said, adding that he likes Trump's plans but not some of his behavior.
"I am with him on the policies, but I am much more mild-mannered, low key," he said. "I have problems with some of the stuff that is supposed to have gone on with women. I have problems with so many tweets."
He said he empathizes with Trump's own dealings with the DOJ in the Russia investigation, though.
"I can understand Trump's frustration but I don't think he deals with it in the manner he should," he said. "But once they latch onto you, it becomes a game of who can win."
Blankenship said the President has the potential to be "as important to us as any president we have ever had" in the realm of getting the country back on a sound financial footing.
"At some point, we have to take in (money) as much as we take out," he said. "Business is necessary for a prosperous society."
Blankenship said Trump's tariffs present an example of how the country's economy can be helped, pointing out that they will lead to more steel being manufactured here because the tariff's can help make it cost-effective for companies to manufacture products in the United States rather than China.
"Tariffs will drive U.S. steel production up and Wyoming and McDowell counties will be the beneficiaries," he said.
China and other countries have also benefitted from political reactions to climate change, he said.
"The hoax is not CO2 (carbon dioxide) emissions," he said. "The hoax is you are doing exactly the opposite (to get the desired result)."
That is, companies simply relocated to other countries. "They went to China and no controls," he said. "They didn't lower the emissions, they increased emissions."
Trump's immigration policy is also in line with Blankenship's.
"You have to control your borders," he said. "They are not coming here to make it a better country."
Immigrants can come and be welcome, he said, but they have to be screened. "The door is not just open (for anyone). That's not the way it works. You just can't let people in."
Blankenship also agrees with Trump that people should work if they receive public assistance, even if it's some sort of work for the government.
"You might be on welfare, but you will show up for work if you get a check. Politicians won't do that because they won't get elected. They are career politicians. We should judge our success on how few people are on welfare, not how many people are on it."
Blankenship said politicians get to Washington and "they do whatever they want to," pointing in particular to Senate Majority Leader MItch McConnell, who is against tariffs.
"His family does business in China, making a lot of money," he said, adding that scenario would change with tariffs.
Blankenship said he has a "Ditch Mitch" hat that he wears.
As far as Manchin is concerned, Blankenship considers him a friend.
"I like Joe Manchin personally," he said. "We have ridden motorcycles together and socialized. But in his heart he is a politician."
He said politicians are different than managers, who learn to make tough decisions and live with them.
"Politicians are always looking to see if their positions will be well received by the public," he said. "I won't be a very good politician. It won't be easy, but I can fix West Virginia. But Joe can't because he doesn't approach it as a problem, he has to position himself within the problems, not to attack them, but to be reelected."
Blankenship, who grew up helping his single mom run a service station, said he got experience at a young age, between 12 and 14 years old, on how to run a business and balance the books, eventually increasing the value of Massey "36-fold" during his tenure running the company from 1988 to 2010.
He also spent 10 years as an accountant for food service companies, including Flowers Bakery.
"I oversaw the mining of more coal than anybody in the history of the Appalachians," he said, with 119 mining sections at one time.
But Blankenship said he knows the reality of the industry and predicts, if the state makes the right moves, coal production could rise to about half of what it once was.
However, the potential is there for growth in the state, especially with natural gas.
"Low cost fuel is a tremendous advantage," he said, referring to the state's abundant supplies of natural gas. "West Virginia has a better chance of full employment and the need for more workers than any state."
But it has to be a business-friendly state, he added, suggesting state lawmakers go to Richmond and copy Virginia's business job environment laws.
That would be a quick fix, he said, since Virginia ranks first in business attraction.
Whether it's the economy, anti-business environment or the opioid crisis, he said these problems have been around for many years.
"Look who has been in power," he said. "What did they do when the crisis was evident?"
Blankenship, a widower and father of two grown children, said he has had obstacles to overcome when he started his campaign for the nomination, including a media bias that has painted a picture of him as being a "bad guy."
"I have been able to get the 'who Don Blankenship is' out there," he said. "They may not vote for the guy they think I am, but they will vote for who I am. When I am live and in front of people they will see an all-together different Don Blankenship than is portrayed in the media."
Blankenship said he has worked on charities behind the scenes and understands the needs of the people in the state.
"That motivates you to do what I am doing."
Blankenship said he still recalls the words of his mother, who said, "You tell the truth, you do the right thing and you avoid biases."
CoalZoom.com - Your Foremost Source for Coal News