Cowdenbeath, Scotland's Football Club Remain in the Scottish Professional Football League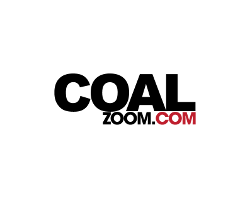 May 15, 2018 - The Scottish soccer team, with the 137-year connection to coal, Cowdenbeath FC, remains in the Scottish Professional Football League (SPFL) after a dramatic 3-2 win over Highland League champions, Cove Rangers.
The match took place at Central Park, Cowdenbeath. In Ladbrokes League 2, the team at the bottom with the fewest points goes into a playoff with the top team of the league below. The first leg resulted in a goalless draw.
The second game was a spirited affair resulting in 5 goals and 3 red cards. Harvey Swann's early penalty for Cowdenbeath was quickly cancelled out by Mitch Megginson and the prolific striker then got a second goal firing Cove Rangers ahead before the break.
Swann's free-kick levelled things up shortly after half-time and Brad Smith scored the winner for "The Miners" with 20 minutes left in front of 1,762 fans. Cove Rangers had Paul McManus, Scott Ross and Eric Watson sent off in stoppage time as tempers frayed in a high-pressure match.
Cowdenbeath is a Scottish coal mining town that had a profound relationship with its local football (soccer) team. Cowdenbeath Football Club's fortunes rose and fell with the fortunes of the coal industry. When coal mining flourished, Cowdenbeath FC performed wonders on the field of play, mixing with the elite players of their day; when coal mining went into decline, the club's fortunes on the park showed a corresponding slide down the football leagues.
The crucial years from 1870 to the turn of the century saw the founding of Cowdenbeath's coal industry, football club and town. As the demand for coal soared, and Cowdenbeath Coal Company merged into the Fife Coal Company, the town became more prosperous and the football club began to flourish. So right from the start, the foundations of the burgeoning coal industry, the expansion of the town of Cowdenbeath and the development of Cowdenbeath FC were fundamentally interlinked.
Almost all of the Cowdenbeath team were coal miners, and the football club's other nickname was 'The Miners'. On Saturday match days, Cowden players would rush straight from the colliery to the football stadium. They didn't even have time to have a shower. If a player went down injured during the game and his football top had to be removed, his body would be covered in coal dust. These were tough men and, with a proud history, they are tough today.
Cowdenbeath FC, the home of "The Miners", located in Fife, Scotland, is seeking support from members of the United States coal industry. (See articles in Other News section.)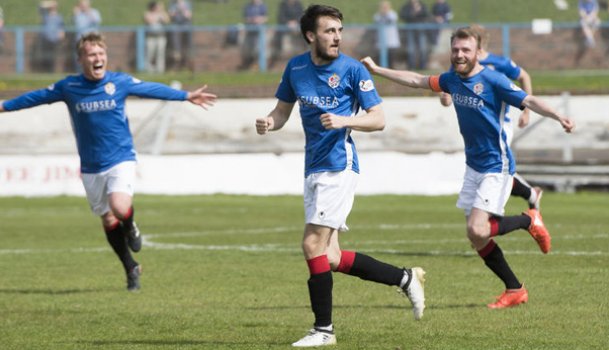 Cowdenbeath FC Players Celebrate Their Great Win
CoalZoom.com - Your Foremost Source for Coal News