Scott Pruitt: 'If We Really Care About Clean Air' We Should Export More American Coal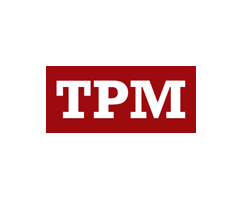 By Matt Shuham
June 3, 2018 - EPA Administrator Scott Pruitt has a novel proposal for improving global air quality: burn more American coal.
In an interview with Pruitt published Wednesday, the Washington Free Beacon's Elizabeth Harrington noted President Donald Trump's affinity for the term "clean coal" and asked "How is coal doing?"
Pruitt pointed to "the demand for Powder River Basin coal," referring to the basin straddling Wyoming and Montana that accounts for a large chunk of American coal production, as an example of exported American coal.
"I was in Wyoming recently," he continued. "And if we really care about clean air, we would allow Indonesia to buy our coal from Wyoming, because it's far cleaner than what they're using now."
Indonesia's air quality has certainly suffered as a result of coal-fired powered plants. So has America's.
Pruitt, meanwhile, has prioritized eliminating or weakening a number of air and water quality regulations despite the protests of public health advocates. And he's developed close relationships with the coal industry over the years.
A former coal lobbyist, Andrew Wheeler, currently serves as the EPA's second-in-command.
"So we need to be exporting LNG [Liquid Natural Gas], and we need to be exporting coal to the rest of the world," Pruitt continued. "We need to be sharing with them our technology to access natural gas through hydraulic fracturing and horizontal drilling. Those are things that will help air quality across the globe."
"What most people don't realize," he added, "is that the challenges we have domestically with respect to air quality, a lot of it is because of what happens internationally. And if those countries would simply adopt what we're doing here, air quality in the United States would be better, and it would be better in those areas as well."
"So we should share that information. We should partner in that regard, not be about agreements in Paris that put us at a disadvantage and penalize certain sectors of our economy."
CoalZoom.com - Your Foremost Source for Coal News