New "Oil Analysis Fundamentals" Training Course from Spectro Scientific Provides Information and Techniques that Increase Machinery Life and Uptime
September 4, 2018 - Spectro Scientific, one of the world's largest suppliers of oil, fuel, and processed-water analysis instrumentation and software, has introduced a new "Oil Analysis Fundamentals" training course. Presented in partnership with Noria Corporation, a leader in lubrication and oil analysis training, consulting, and publications, the course provides comprehensive information regarding lubricant analysis and its critical role in increasing machinery life and uptime.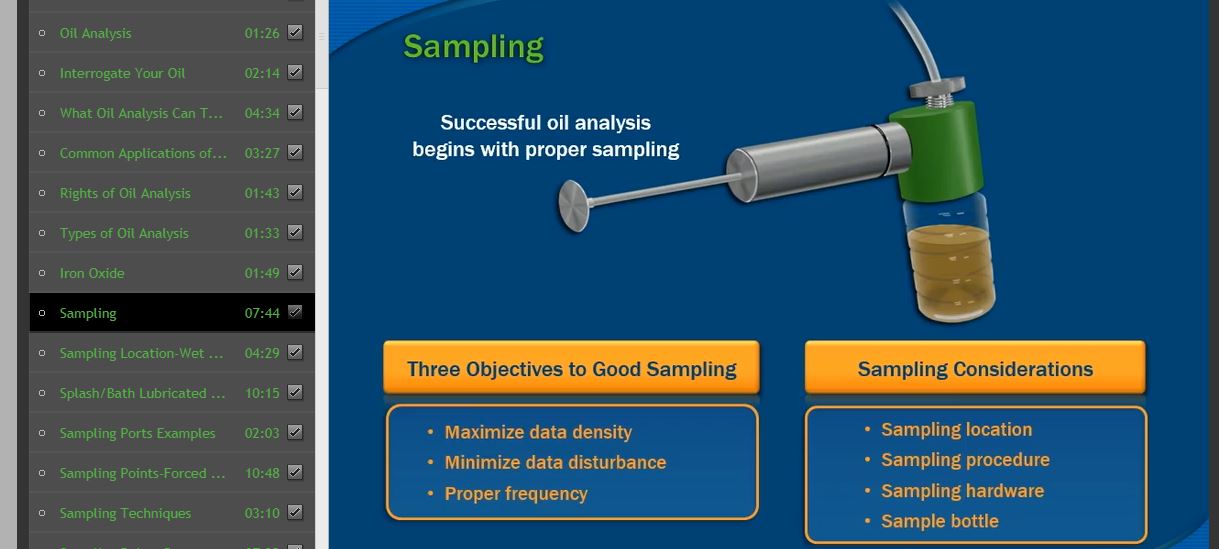 Oil Analysis Fundamentals is an online training class that defines oil-sampling frequencies, describes sampling methods and equipment retrofitting, and summarizes basic oil analysis techniques. The course also discusses lubricant care and maintenance including contamination control techniques, lube room storage and management, and ways to keep lubricants cool, dry and clean and thereby maximize performance and extend lubricant life.
The course consists of six modules, each followed by a quiz that reinforces important points and confirms participant understanding of the material provided. At the end of the course, participants receive a certificate of completion that can be printed or saved to file. Spectro notes that this basic overview of important oil analysis fundamentals is not intended to replace machinery lubrication courses available for certification through the International Council for Machinery Lubrication (ICML). Details on ICML certification are available at https://icmlonline.com.
Spectro Scientific Senior Vice President Yuegang Zhao said, "In addition to providing world-leading fluid analysis instrumentation and software, Spectro wants to help end users understand the basics of oil analysis processes and also make them aware of ways they can maximize the performance and working life of their lubricants. Our new Oil Analysis Fundamentals course is a convenient and accessible introduction to analytical techniques and fluid maintenance concepts."
CoalZoom.com - Your Foremost Source for Coal News