Analysis: Summer 2019 TTF Price Decline Brings Coal-to-Gas Switching Into Focus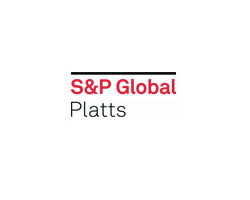 By Henry Edwardes Evans, Antoine Simon, Andreas Franke and Fabio Reale
January 10, 2019 - Healthy natural gas storage levels and strong LNG deliveries into Northwest Europe continue to pressure the TTF Summer 2019 gas contract, with implications for the fossil-fired power generation mix.
The contract has been falling faster than the coal switching price (CSP), indicating improved conditions for gas-fired power plants, an analysis by S&P Global Platts showed.
The contract delinked from the CSP mid-December, recording a new low Monday of Eur20/MWh ($23/MWh) , its lowest point early August and below a Summer 2019 CSP of Eur20.85/MWh.
The CSP has been tracking the TTF lower, but not quite at the same rate, having peaked at Eur23.21/MWh mid-December.
Meanwhile, the spot and month-ahead CSPs were close to parity with TTF gas prices, while in forward months the TTF was below the CSP for March through to October.
The CSP has been seen as a floor to European gas contracts, notably in Germany which has significant coal-to-gas switching potential, and where a higher CSP relative to gas can drive combined cycle gas turbine demand.
"The continental CSP used to be a fairly strong floor/anchor for TTF this summer, but we really broke through mid-December with contracts moving below the CSP," S&P Global Platts Analytics' senior gas analyst, Gilles Heyberger, said.
The market allowing the TTF to fall below the CSP meant it already assumed higher gas generation this summer "all things being equal -- low power demand or high renewable output could mitigate this," he said.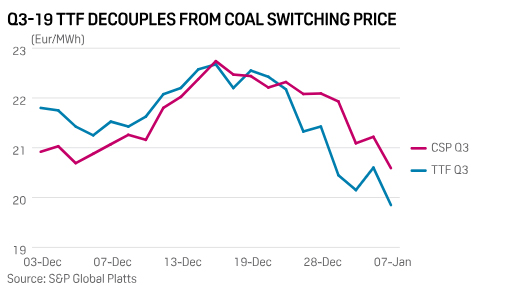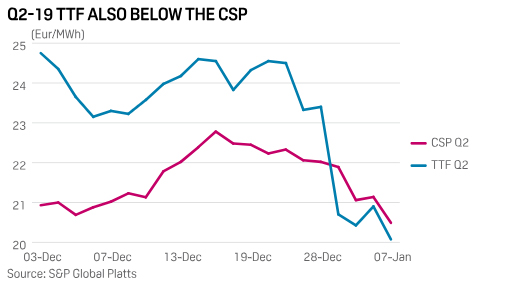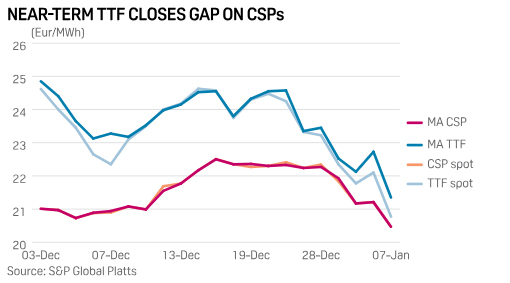 Switching Potential
In theory, Germany has about 19 GW (85 million cu m/day) of coal-to-gas switching potential over the summer. About 6.5 GW are higher efficiency (45%) and unlikely to be crowded out of the market by cheaper gas, while around 2 GW are set to close by 2021.
There are, however, 10.7 GW of mid-efficiency hard coal plants that could be displaced by gas. This plant generated 31.6 TWh last year.
Average German hard coal output in Q2 2018 was 5.9 GW, rising to 7.7 GW in Q3 2018 and 9.6 GW in Q4 2018.
Elsewhere in CWE, most of the Netherlands' remaining 4.6 GW of coal capacity is high-efficiency (45%), but 1.2 GW of older units are at risk of switching -- at RWE's Amer 9 unit (it can be co-fired with subsidized biomass until planned closure in 2024) and at Vattenfall's Hemweg 8 unit.
There is no coal capacity left in Belgium, while 4 GW of France's remaining four coal plants are set for closure by 2022, with 2018 output down 40% to 5.8 TWh.
German Mid-Efficiency Coal Units With No Closure Plan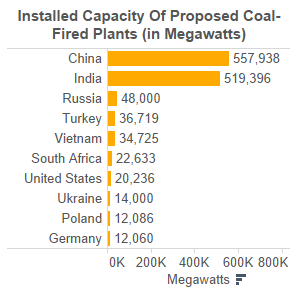 Source: Companies, S&P Global Platts
Stocks Ahead of Recent Years
As happened last year, a late cold snap could rapidly change the picture with heating demand burning through stocks.
European stocks were last seen at 68% full, up from 63% and 60% in the past two gas years, data from Gas Infrastructure Europe showed.
"It looks like thermal generation will be more gas-fired this summer but maybe, just maybe, winter is actually arriving. Certainly it is in eastern and southern Europe. A cold Q1 could change the balance," an Italian trader said.
Even with a somewhat colder forecast for end-January, however, "there is still a lot of gas in store, still LNG is coming [to Europe] and the JKM is down," a Dutch gas trader said.