Watch: Steam Locomotives on England's Tanfield Railway - National Coal Board Day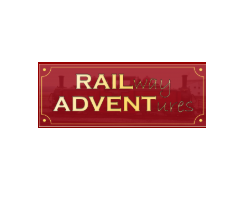 February 6, 2019 - In England, the Tanfield Railway beckoned on Sunday, February 3 as their Freight in February kicked off with the National Coal Board Weekend.
There were two locos in steam in the form of National Coal Board Robert Stephenson and Hawthorns Austerity No. 49 and Keighley Gasworks Dept No. 2.
There were also 2 sets out with No. 49 on an NCB Box Van and 4 small coaches.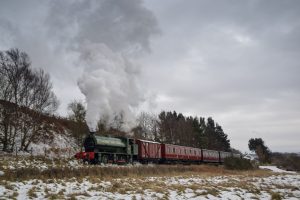 No. 49 climbs into Andrews House
No. 2 was on a mixed freight supposed to be 'NCB' style, formed of a coal hopper, 1 plank wagon, another coal hopper and a brake carriage as the railway has no operational brake vans.
National Coal Board No. 49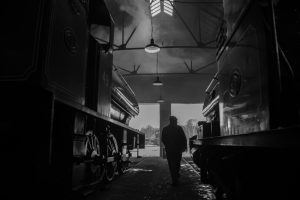 No. 49 and No. 2 on shed at Marley Hill
No. 49 was built at Robert Stephenson and Hawthorns Newcastle works as No. 7098 in 1943. The locos first port of call was Melbourne Military Railway in Derbyshire where she was put into storage. The loco then flirted with different military railways in storage until 1946 when she went on loan to the Ministry of Fuel and Power at their Swannington opencast in Leicestershire.
She served only 1 year here when she was moved up North to a Blue Bell disposal point. The loco finally fell into NCB ownership in 1959 and she was moved to Backworth sheds and gained the No. 49! She was eventually bought through the Robert Stephenson and Hawthorn Locomotive Trust and finally arrived at Tanfield in 1980 and was first returned to steam in 2004. The loco has recently emerged from an overhaul.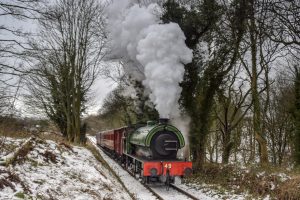 No. 49 climbs out of Tanfield
Keighley Gasworks Dept No. 2
Built in 1911 at Forth Bank Works, Newcastle the loco is first recorded to have worked for the Ministry of Supply's Royal Ordnance Factory in Dumfries, Scotland. This factory was then taken over by ICI Ltd. and the loco was transferred to Grangestone Factory in Girvan.
The locos then flitted around Scotland until 1976 when the loco arrived at Marley Hill on the Tanfield Railway. She was first used in the 1980s and is a popular loco at the railway. The loco has since been in and out of service and has seen loan spells to Locomotion at Shildon. Her recent overhaul ended in 2013.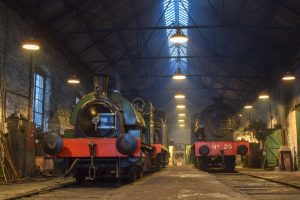 No. 2 stands by No. 20 on shed at Marley Hill
Overall, the event was a great day out with both locos performing magnificently! With the lineside been virtually open to the public (as long as you are sensible), it opened up a lot of photo opportunities and the fully open sheds allowed for authentic photos to be taken.
The snow also added to the scene. The line is easily walkable with footpaths running alongside most of the line. Although it was cold (sometimes a bit too cold) it was a thoroughly enjoyable line and one of the best I've been to for photographs.