American Resources Corporation Announces Full Exercise and Closing of Underwriters' Over-Allotment Option in Connection with its Underwritten Public Offering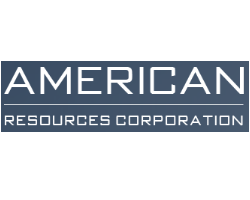 March 8, 2019 - American Resources Corp. (NASDAQ: AREC), a publicly traded extraction, processing, transportation and seller of metallurgical coal and pulverized coal injection (PCI) to the steel industry, announced today the closing of the issuance of an additional 150,000 shares of Class A common stock pursuant to the exercise in full of the underwriters' over-allotment option in connection with its underwritten public offering. The additional shares were sold at $4.00 per share, generating additional gross proceeds of $600,000 to the Company and bringing the total gross proceeds of the offering to $4,600,000.
Maxim Group LLC acted as the sole book-running manager for the offering.
The securities were sold pursuant to a registration statement on Form S-1, which was declared effective by the United States Securities and Exchange Commission ("SEC") on February 14, 2019. A final prospectus relating to this offering was filed with the SEC on February 15, 2019.
The offering is being made only by means of a prospectus. Copies of the prospectus related to this offering may be obtained from Maxim Group LLC, 405 Lexington Ave, New York, NY 10174, Attn: Prospectus Department or by Tel: (800) 724-0761. Investors may also obtain these documents at no cost by visiting the SEC's website at http://www.sec.gov.
This press release shall not constitute an offer to sell or the solicitation of an offer to buy, nor shall there be any sale of these securities in any state or jurisdiction in which such offer, solicitation, or sale would be unlawful prior to registration or qualification under the securities laws of any such state or jurisdiction.
American Resources Corporation is a supplier of raw materials to the rapidly growing global infrastructure marketplace. The company's primary focus is on the extraction, processing, transportation and selling of metallurgical coal and pulverized coal injection (PCI) to the steel industry. The company operations are based in the Central Appalachian basin of eastern Kentucky and southern West Virginia where premium quality metallurgical products are located.
The company's business model is based on running a streamlined and efficient operation to economically extract and deliver resources to meet its customers' demands. By running operations with low or no legacy costs, American Resources Corporation works to maximize margins for its investors while being able to scale its operations to meet the growth of the global infrastructure market.