Bankruptcy Beginning of the End for PRB Coal Powerhouse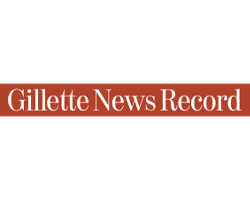 May 13, 2019 - For Sam, a 15-year veteran haul truck driver at Cloud Peak Energy Corp.'s Cordero Rojo mine south of Gillette, coal mining is more than a job. It's his family's lifeblood.
Coal mining is his passion and has provided his family a comfortable life. It's also doing the same for Sam's extended family who also mine coal for Cloud Peak Energy at Cordero Rojo and at the company's flagship Antelope mine just south of Wright in southern Campbell County.
A coal shovel loads a haul truck at Cordero Rojo mine south of Gillette. The mine is owned by Cloud Peak Energy Corp., which filed for Chapter 11 bankruptcy Friday and announced its plans to sell all its assets.
"I'm very proud to say I'm a coal miner and that we work for Cloud Peak Energy," said Sam, which is not his true name. Sam asked to not be identified because he didn't have permission from the company to talk with the Gillette News Record.
"It's provided for my family and now it's providing for my children and their families," he said.
Other Cloud Peak workers have young families that they thought would have security for future generations with good-paying jobs, benefits and, hopefully, opportunity for their children to get into mining as well, Sam said.
It's the Wyoming version of the American Dream, where hard work pays off and even without a college degree, someone can earn more than $80,000 a year and have a secure career.
It's also the dream Sam's family and hundreds of others that depend on Powder River Basin coal powerhouse Cloud Peak Energy are afraid of losing.
The End of Cloud Peak Energy
Buckling under the financial pressure of carrying nearly $400 million of debt and a shrinking market for Powder River Basin coal, Cloud Peak Energy filed for Chapter 11 bankruptcy Friday afternoon, signaling what is expected to be the beginning of the end for one of the largest coal producers in the United States.
In its bankruptcy filing in a Delaware court, Cloud Peak announced its intention to sell "all of its assets" and that it expects its three PRB mines "will continue normal operations throughout the process."
Communicating with employees Friday after the filing, the company was more direct, telling them that bids for its assets are due by June 26 and that by the end of July, "Cloud Peak will be no more," Sam said.
"It makes me pretty sad," he said, adding that it's too soon to assume the worst and that Cloud Peak's 1,250 employees will all lose their jobs. "We'll see what the summer holds."
He said the bankruptcy wasn't unexpected and that workers have been preparing for it for awhile.
"What I keep telling my children is (stuff) happens," Sam said. "We made it through the worst time when the other bankruptcies hit. These other companies came out of their bankruptcies smelling like roses.
"The simple truth is we can't compete right now (at Cloud Peak) and it's going to be what it's going to be."
There's Bankruptcy, Then There's This Bankruptcy
Sam was referencing the bankruptcies of the nation's two largest coal producers, Peabody Energy and Arch Coal Inc., which both filed for Chapter 11 bankruptcy reorganization in 2016. Both of those companies emerged from their bankruptcies having shed billions of dollars in debt and are treading water at their Powder River Basin mines despite a shrinking market for Wyoming coal.
The difference with Cloud Peak Energy's filing is that it doesn't intend to reorganize and emerge from bankruptcy as a continuing business mining coal, said Robert Godby, director of the Center for Energy, Economics and Public Policy at the University of Wyoming.
Because Cloud Peak's assets are priced to sell, the uncertainty involves who eventually buys them and whether they'll still produce at the same or higher levels as now, he said.
Cloud Peak Energy owns the Cordero Rojo and Antelope mines in Wyoming and Spring Creek mine in Montana. Each has its unique challenges, Godby said.
"The real question here is will there be buyers for all those mines?" he said. "They have different qualities of coal, different customer bases. … There is not a core of assets they're looking to reorganize around. They're looking to spin off to any potential bidder. The bottom line is they have a variety of assets. Some of them are more valuable than others."
Maximizing that value for Cloud Peak debtholders is the priority, said Colin Marshall, the company's president and CEO.
"Over the past several months, Cloud Peak Energy has thoroughly evaluated strategic alternatives to address the challenging market conditions in our industry," he said in a statement. "We believe, at this time, that a sale process in Chapter 11 will provide the best opportunity to maximize value for Cloud Peak Energy."
He also said vendors and suppliers will continue to be paid in full during the bankruptcy as mining continues, subject to court approval.
What that means for the 363 employees at Cordero Rojo and the 603 at Antelope is that their jobs are safe for now, Godby said.
"The good news is, at least in the short term, is the mines are going to continue operating as best they can," he said.
Whether that will still be the case after the sale is "the $64,000 question."
Mounting Debt
Friday's bankruptcy filing came a day after Cloud Peak gave Campbell County a check for more than $617,000 for the last half of its 2018 property taxes. It hasn't, however, paid $8.3 million owed for the last half of 2018's ad valorem taxes on coal production, witch also were due Friday.
Whether the county will see any part or all of that payment now that bankruptcy has been filed is in limbo as creditors line up at court, Godby said.
"The county may not get all of its production tax from this," he said, adding that any ultimate sales of mines could include negotiations with the county to satisfy that debt.
Reacting to the filing, the Sheridan-based environmental watchdog group Powder River Basin Resource Council urged the state to make sure Wyoming's interests in reclaiming mined land are protected, along with Cloud Peak's employees.
"In light of Cloud Peak's bankruptcy filing, we hope the company remains committed to paying employees' and retirees' pensions and health care benefits as well as paying their county ad valorem taxes and continuing their reclamation efforts," said Bob LeResche, the organization's vice chairman. "Anything less than that would mean Cloud Peak has failed their own miners and the Wyoming communities that have long supported them."
Friday also was the final deadline for the company to make a $1.8 million interest payment on some of its long-term debt. It already had missed a May 1 deadline to make a $17.4 million interest payment on more outstanding debt.
Including massive write-offs associated with the Cordero Rojo mine, Cloud Peak posted a $718 million loss for 2018. In Friday's filing with the U.S. Securities and Exchange Commission, it was revealed the company wasn't doing any better in 2019, posting a nearly $50 million loss for the first quarter of the year.
It also outlined that the company has more than $928 million in assets and more than $634 million in debt.
That comes on top of a difficult year that saw Cloud Peak's mines deal with lower production, higher costs and some unexpected acts of nature that impacted its bottom line.
'I Saw the Writing on the Wall'
When Barry began working for Cloud Peak Energy five years ago, he thought he'd finally found the last job he'd ever hold.
"I thought it was going to be my end-of-career job," said Barry, who also asked not to be identified. "A lot of the people there who I made friends with are thinking about retirement and now they're just watching and waiting and, I think, hoping a little bit they can make it to retirement and not lose their jobs and benefits after working there 20, 30 years."
He said he knew the company was in trouble when its headquarters building was put on the market last year.
"I saw the writing on the wall," he said. "When they put the building up for sale, that was kind of the sign to find another job."
That's what Barry did, and it's something other Cloud Peak workers have been thinking about over the past few months, Sam said.
"A lot of the younger ones are stressed out about that," he said. "Some have already jumped ship. … I know a lot of the guys are worried and it's a hard time and they're terrified. I don't blame them, but you have to do what you have to do."
Sam said his and other local coal-dependent families are "all on eggshells."
Along with good-paying jobs comes a sense of family on the work crews, Sam said. That includes looking out for each other and for others in the community at large. Losing things like adopting families for the holidays would also have a trickle-down impact.
"I would hate to see things like that go away," Sam said. "We find families in need and the crews adopt them and do Thanksgiving and Christmas for them. I don't know of another company that does things like that, and that's a big part of Cloud Peak."
Wright is 'Ground Zero'
Energy is the lifeblood of Wright, a small town about 40 miles south of Gillette surrounded by oil fields and some of the best-producing open pit coal mines on the planet. The uncertainty surrounding the future of Cloud Peak's mines and employees is something that can be felt around town, said Mayor Ralph Kingan.
"You're always concerned because you don't really know what's going to happen to the employees," he said. "But it's not something we haven't been through before. It happened at (Black) Thunder and North Antelope, but there is concern for everybody in the town."
The mayor was referencing Arch Coal's Black Thunder mine and Peabody's North Antelope Rochelle mine, which combined laid off more than 500 workers on consecutive days in spring 2016.
Wright is "ground zero" for many of Cloud Peak's workers, Kingan said, adding however the sale shakes out "it's going to affect us possibly a lot."
That underlying sense of uncertainty can be felt, said Hank Pridgeon, owner of Hank's Bar and Grill in Wright.
"Coal, obviously, is the reason Wright, Wyoming, exists," he said. "I don't think there's a sense of panic or anything, but everybody's concerned."
He said that when times are good, communities can experience growing pains. This is the opposite.
"I think it's just that you can't call it a growing pain, it's a shrinking pain," Pridgeon said. Coal production "is ramping down, but it's not going to go away in my lifetime or the next lifetime."
In the meantime, Sam said he and the other coal miners at Cloud Peak's properties have a job to do and they'll keep doing it until someone tells them they can't anymore.