Warrior Met Coal Announces Second Quarter 2019 Results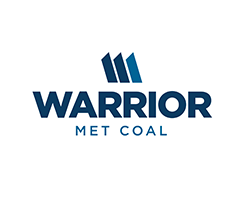 August 1, 2019 - Warrior Met Coal, Inc. (NYSE:HCC) ("Warrior" or the "Company") has announced results for the second quarter of 2019. Warrior is the leading dedicated U.S. based producer and exporter of high quality metallurgical ("met") coal for the global steel industry.

Warrior reported second quarter 2019 net income of $125.5 million, or $2.43 per diluted share, compared to net income of $91.3 million, or $1.72 per diluted share, in the second quarter of 2018. Adjusted net income per share for the second quarter of 2019 was $2.16 per diluted share compared to $1.81 per diluted share in the second quarter of 2018. The Company reported Adjusted EBITDA of $175.9 million in the second quarter of 2019, compared to Adjusted EBITDA of $128.8 million in the second quarter of 2018.

"The market for Warrior's high quality met coal remained strong in the second quarter, helping us to achieve record high sales volume and free cash flow, despite softening demand for steel in Europe," Warrior CEO Walt Scheller said. "We are pleased to have maintained our high production volume and completed one longwall move during the quarter, enabling us to increase our full-year sales and production guidance. Our strong results this quarter reflect our disciplined spending as well as efforts to take advantage of the pricing environment, which remained favorable during most of the quarter."

Operating Results

The Company produced 2.2 million short tons of met coal in the second quarter of 2019, 13.8% more than the amount produced in the second quarter of 2018. Sales volume in the second quarter of 2019 was 2.2 million short tons, an 18.8% increase over the amount sold in the second quarter of 2018.

Additional Financial Results

Total revenues were $397.6 million for the second quarter of 2019, including $387.4 million in mining revenues, which consisted of met coal sales of 2.2 million short tons at an average net selling price of $172.96 per short ton, net of demurrage and other charges. Total revenues increased 22.9% from $322.6 million in the second quarter of 2018. Warrior continued to capitalize on a favorable pricing environment in the quarter by selling its met coal at 97% of the quarterly Australian premium low-volatility hard coking coal ("HCC") index average price (the "Australian LV Index").

Cost of sales (includes mining, transportation and royalty costs) for the second quarter of 2019 were $205.2 million, or 52.9% of mining revenues, compared to $178.5 million, or 56.7% of mining revenues in the same period of 2018. Cash cost of sales (free-on-board port) per short ton decreased to $91.30 in the second quarter of 2019 from $93.90 in the second quarter of 2018, primarily due to higher production volume and lower spending.

Selling, general and administrative expenses for the second quarter of 2019 were $10.8 million, or 2.7% of total revenues. Depreciation and depletion costs for the second quarter of 2019 were $25.7 million, or 6.5% of total revenues. Warrior incurred interest expense, net of $7.0 million during the second quarter of 2019, reflecting lower interest due to the early retirement of a portion of our debt in the first quarter of 2019.

Income tax expense was $33.1 million in the second quarter of 2019 and represents a noncash expense as the Company continues to utilize its available net operating losses ("NOL") carried forward from prior periods. The Company did not have income tax expense in the second quarter of 2018 due to a full valuation allowance recorded against deferred income taxes.

Cash Flow and Liquidity

The Company continued to generate strong cash flows from operating activities in the second quarter of 2019 of $231.4 million compared to $132.5 million in the second quarter of 2018. Warrior's cash flows benefited from other income of $17.5 million due to unexpected proceeds received from a settlement with Walter Energy Canada Holdings, Inc., Walter Canadian Coal Partnership and their Canadian affiliates in the Companies' Creditors Arrangement Act proceedings.

Net working capital, excluding cash, for the second quarter of 2019 decreased by $39.1 million from the first quarter of 2019, primarily reflecting a decrease in trade accounts receivable due to timing of receipts and a decrease in income tax receivable due to the receipt of AMT credit refunds. Capital expenditures and mine development costs for the second quarter of 2019 were $34.2 million, resulting in a record high free cash flow of $197.2 million. Free cash flow increased 97.9% from $99.6 million in the second quarter of 2018. Cash flows used in financing activities for the second quarter were $238.9 million primarily due to the payment of the special dividend of $230.0 million.

The Company's available liquidity as of June 30, 2019 was $235.4 million, consisting of cash and cash equivalents of $119.3 million combined with $116.1 million available under its Amended and Restated Asset-Based Revolving Credit Agreement (the "ABL Facility"), net of outstanding letters of credit of $8.9 million.

Regular Quarterly Dividend

On July 23, 2019, the Board declared a regular quarterly cash dividend of $0.05 per share, totaling approximately $2.6 million, which will be paid on August 9, 2019 to stockholders of record as of the close of business on August 2, 2019.

Company Outlook

In light of the Company's successful performance in the first and second quarters of 2019 and the expected market conditions for the remainder of 2019, Warrior updated its outlook for sales and production and noncash deferred income tax expense for the full year 2019 as outlined below. The Company is maintaining its guidance with respect to the other financial statement line items for the full year 2019 as outlined below.

Coal Sales

Key factors that may affect outlook include:

- Planned longwall moves (2 - Q3, and 1 - Q4)
- HCC index pricing
- Exclusion of other non-recurring costs

The Company's guidance for its capital expenditures consists of sustaining capital spending of approximately $70 - $87 million, including regulatory and gas requirements, and discretionary capital spending of $30 - $33 million for various operational improvements.

The Company does not provide reconciliations of its outlook for cash cost of sales (free-on-board port) to cost of sales in reliance on the unreasonable efforts exception provided for under Item 10(e)(1)(i)(B) of Regulation S-K. The Company is unable, without unreasonable efforts, to forecast certain items required to develop the meaningful comparable Generally Accepted Accounting Principles ("GAAP") cost of sales. These items typically include non-cash asset retirement obligation accretion expenses, mine idling expenses and other non-recurring indirect mining expenses that are difficult to predict in advance in order to include a GAAP estimate.
Click here for financial figures.