When Coal Ruled Our Region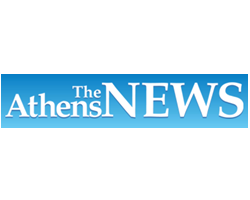 By Conor Morris

January 2, 2020 - Editor's note: This is the first part of a series from The Athens NEWS exploring the history of Ohio's Hocking Valley coalfields and what happened to local communities after most of the coal mines left the area. Check back next week for part two.

Dozens of coal mines once burrowed under the landscape of Athens and several adjoining counties, forming the backbone of a strong regional economy that for decades put food on the table of local families.

Once those coal companies left the area, though, small communities in Athens and other southeast Ohio counties have been left to languish through no fault of their own, struggling with increasingly desperate inter-generational poverty as few economic opportunities have surfaced in the time since.

Drive through those little towns – sometimes called the "Little Cities of Black Diamonds" – and witness boarded-up storefronts, collapsing buildings and blighted downtowns. These towns – among them Glouster, Chauncey, New Straitsville, Shawnee and Buchtel – once were bustling hubs of work and play.

At least for the moment, things aren't getting any better. The owner of the one of the last coal mines in the area – CCU Coal and Construction, with Buckingham Coal mines in northern Athens County and southern Perry County – announced in late August 2019 that it would lay off 102 employees at those mines (and 103 other employees at several other locations).

Meanwhile, there's a significant environmental legacy from the older generation of coal mines (before modern environmental standards), most noticeable in some of the rust-colored streams found throughout the region (you can read more about one regional clean-up effort here).

In Northern Athens County, the town of Glouster (fewer than 1,800 people as of 2018, with a 40 percent poverty rate) was where many of those CCU employees reside (and still do).

Longtime Glouster resident Sam Jones, 79, has seen the boom-and-bust cycle of coal and the dire straits since the boom times from a unique vantage point. He's the long-respected owner of Sam's Gym on High Street in Glouster.

Jones has trained hundreds of people over the years in the disciplines of boxing, kickboxing and mixed-martial arts (MMA) in the gym that was started by his grandparents. His family also owned a tavern in nearby Jacksonville and a clothing store in Glouster (which both have since closed).

When the mines were booming, "you didn't have to leave town for nothing," Jones said. Glouster and other small towns like it across Athens County offered general stores, restaurants, and entertainment aplenty. Now, as you look down High Street in Glouster, very few businesses are left.

"It's kind of sad to me, when I step out of here at night, I look all the way (down the street) to the football stadium, all the way to this end of town," Jones said. "And there's just a little light in the pizza place, that's it."

Jones in an interview this past November led this reporter on a tour of the gym, with dozens upon dozens of photos and newspaper clippings adorning the walls, showing people he's trained; celebrity boxers he's met; and big bouts his students have fought in. Mixed in with these images are old black and white photos of Glouster's past: A picture of High Street from 1908, bustling with people and wagons; a 1920 photo of a train wreck after a trestle bridge collapsed; an undated photo of the busy inside of a restaurant nearby.

Without the economic opportunities offered by coal mines – which for the most part had departed Athens County by the '60s or '70s – increasingly people either had to leave Glouster for better-paying jobs elsewhere, or settle for lower-paying work nearby.

"Well, if you don't work at Ohio University now, it's kind of down to fast food," Jones said. "I call them bedroom communities anymore. If we want to work, we drive to Columbus, Parkersburg or Marietta. Just come back here to sleep, that's it."

Still, Jones and others in Glouster are proud of their hometown. Jones also cited several other efforts under way in Glouster and elsewhere to try to bring about economic redevelopment, but it's tough work, and not many state and local resources are available.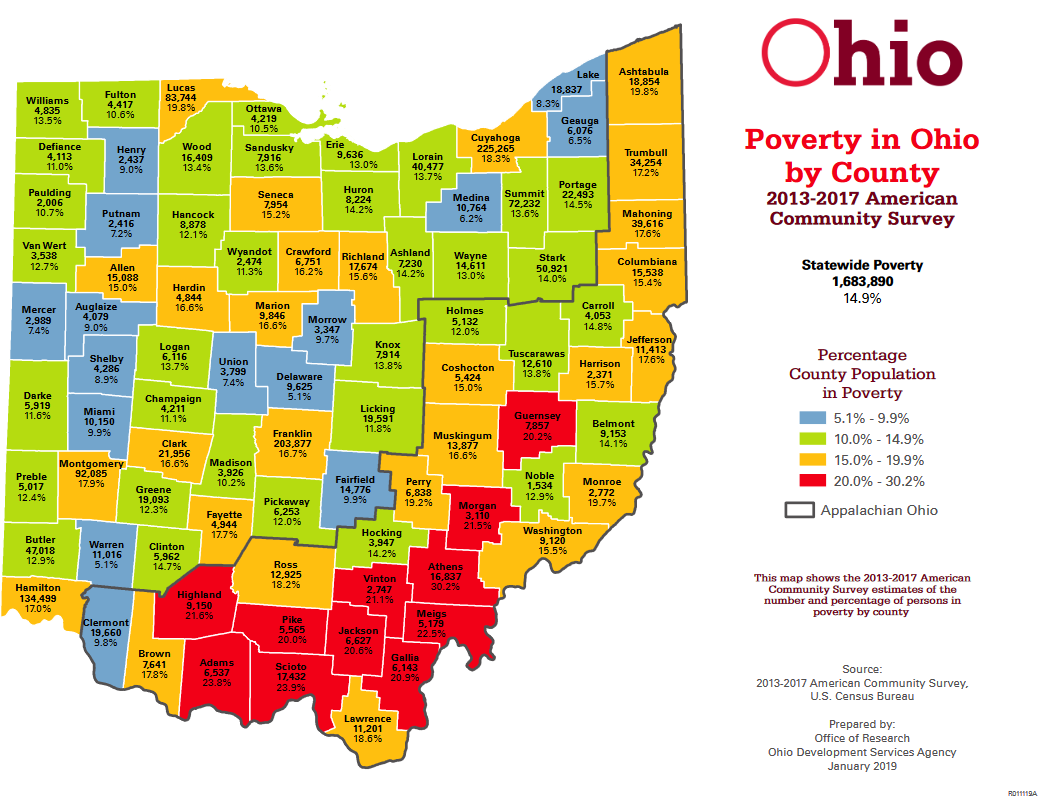 Jones said he sees Sam's Gym as a way to build skills and positive thinking for local kids who don't have much else going on in their lives. Plus, it's entirely free for them. Jones also hosts the annual Boxing for Books fundraiser for the local Trimble Local School District, which has generated roughly $1.2 million for the impoverished district since 1975.

Kim Jones, Sam's daughter, served as superintendent of Trimble Local Schools in Glouster for several years. A series of individual efforts are afoot to help attack the problem of poverty in the area, she said, but it will take reinvestment from big companies – not necessarily coal-related – to help revitalize Glouster.

"I think there are plenty of employable people here, and I'd like to see them consider that," she said.

With the hilly topography of Appalachia – and the lack of access to utilities in some areas, as well as limitations on broadband Internet – it's difficult to entice big industrial companies to come back to the area, noted Sara Marrs-Maxfield, executive director of the Athens County Economic Development Council. Increasingly, the remaining jobs in the area are low-wage service industry positions that often don't provide benefits, she said in an interview in late December. Two of the big exceptions locally are Ohio University, which employs thousands of people, and the local health-care industry (with OhioHealth O'Bleness and other providers in Athens).

According to a snapshot of the jobs in Athens County from the third quarter of 2019, the highest number of employees in the area work in education, training and library occupations, with 2,952 employees and an average annual wage of $60,000. The next two highest job categories are office and administrative support occupations (2,949 people, with an average annual salary of $33,500) and food preparation and serving-related occupations (2,925 people, with an average salary of $20,700).

"One industrial job will create five spin-off jobs," Jones explained in the earlier interview. "That's about right. If you and I are getting off work with 800-900 dollars in your pocket, we take the kids to the movies, we go down and buy tennis shoes. Using that formula, if you lay off 1,000 people, you'd think that's 5,000 people total that lost their jobs."

Jack Frech, former Athens County Job & Family Services director, said that during his time in that job, from 1981 to 2014, and since then the total poverty rate has not changed that much despite the exodus of coal mining jobs in the area.

However, he added, "The coal-mining jobs were good, living-wage jobs with benefits.

"For the most part, it was a reduction in the middle class… that affects all the people who sold cars to them, who sold furniture to them," Frech added. "It affected housing costs. It affected relatives and other people they (miners) may have helped support with those jobs. It just pulled that money out of the economy."

The last big coal-mine complex in the area to close was the Southern Ohio Coal Company mines in Meigs and Vinton counties, which shut down for good in 2002, and employed more than 800 people just prior to closing (these mines, owned by Columbus Southern Power/AEP, actually employed almost 2,000 people up through the mid-'80s).

Frech noted that those employees, like other miners, were active in their communities.

"These were a lot of the same people who volunteered to coach their kids' football and basketball teams," Frech said. "They were more likely involved in service clubs, and to make donations…. All of those things were impacted (when the coal mines closed)."

One bright spot when the last Southern Ohio Coal mine closed was a massive job-retraining program administered by the Hocking-Athens-Perry Community Aciton Program (HAPCAP), which helped miners and their spouses obtain decent-paying jobs elsewhere after the closure. We'll detail that story, and many others, in the coming weeks.

For now though, the debate about how to bring back economic development to Athens County and the surrounding area continues to rage.

Athens County Commissioner Chris Chmiel said he believes that a variety of approaches are needed to diversify an economy that for decades was bolstered by coal mining and manufacturing jobs that are no longer present. Chmiel said he believes tourism (and the economy it supports) is one of the few areas where Athens County can and does compete with other counties. Outside of that, he said the "innovation economy" has seen some successes as well, with Ohio University's Innovation Center successfully spinning out companies, such as RXQ Compounding in Albany. Meanwhile, Athens County also boasts several growing solar-energy installation companies as well, he noted.

To Chmiel's point about the tourism economy, though, one of the biggest – and most controversial – discussions concerning economic development lately has involved the Baileys Trail System, an 88-mile mountain-biking optimized trail system under construction in the Wayne National Forest north of Chauncey, which has generated headlines for the past year.

Most recently, Athens City Council voted to approve spending $90,000 or more per year for 20 years to help fund construction of that system. The Athens County Commissioners are considered funding the trail by a similar amount, but the county in its current financial situation likely cannot provide that much money per year, County Commissioners Chmiel and Charlie Adkins stated recently.

Supporters of the trail system cite a feasibility study that suggests that the trail system, once built, could bring as many as 188,000 new visitors annually to Athens County, with a significant boost to the local and regional economy as a result. Opponents say it's just a pipe dream, however, arguing there's no way the trail could bring in that level of economic development.

The trail system is an especially appropriate battleground for this debate because much of it is located on former coal-mine lands, bought up by the U.S. Forest Service/USDA decades ago for the Wayne National Forest, with the main trailhead located in the Chauncey-Dover Community Park (on former strip-mine lands).

And Chauncey itself? It's another one of those "Little Cities of Black Diamonds."

New Chauncey Mayor Amy Renner said Monday that she sees the Baileys Trail System as an important potential avenue to bring jobs back to Chauncey, which has a poverty rate of roughly 32 percent, and has struggled since nearby mining companies left in the mid-1900s.

"Chauncey is reliant on other nearby cities to provide industry (jobs) to the people who are living and working here," she explained.

Renner said several other factors compound Chauncey's economic woes, including a lack of public transportation access and the village being located in the flood plain. One thing she says she'll work on this year is getting Chauncey back into compliance with the Federal Emergency Management Agency's flood insurance program, she said. Without that measure, it won't be easy to encourage any new businesses to come to Chauncey, considering how frequently it floods, she said.

And even then, without the new trail system, Renner said she's not sure how Chauncey can "kick-start" itself.

One bright side of the trail system discussions is that there's been renewed interest in properties in Chauncey, Renner said, with people flocking to buy up real estate in the area in 2018 into 2019. However, that's meant increasing worries from local residents about gentrification, and being priced out of their once-affordable homes.

"We don't want to lose that identity that we've been able to have," Renner said, "where you can come here and live affordably… We're trying to think about how to preserve that during this process."

We'll have more on those fears of gentrification, and the Baileys project, in our edition next week. This series on coal mining will continue then and in the following weeks.