Permit Dispute With Navajo Nation-Based Coal Firm Unresolved as Deadline Approaches
By Camille Erickson

January 7, 2020 - The sudden closure of Montana's Spring Creek coal mine over a permitting dispute with state regulators in October sent waves of distress throughout the Powder River Basin, as hundreds of workers, most from Wyoming, were sent home indefinitely.

Though the new owner of the mine and state regulators reached a temporary agreement within days of the shutdown and miners returned to work, the mining license has a shelf life. The agreement reached in October expires Wednesday and a new agreement has yet to be reached.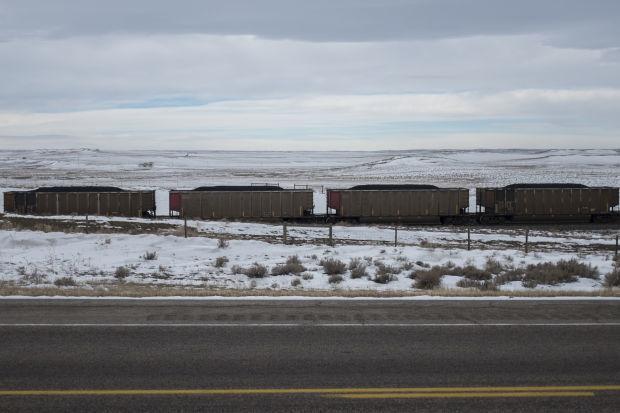 Rail cars loaded with coal rumble next to a highway north of Douglas in January 2014. The new owner of the Spring Creek coal mine in the Powder River Basin has yet to reach a new agreement with Montana Department of Environmental Quality.


Photo: Star-Tribune


Negotiations between the Montana Department of Environmental Quality and the company have been ongoing, according to Rebecca Harbage, a spokeswoman for the state agency.

"We're feeling pretty confident that we'll be able to get some sort of agreement in place before Jan. 8," she said. "We really want to prevent a repeat of the situation that happened in October. But I'm not sure if it will be a permanent waiver, a longer-term waiver, an extension — I really can't say yet."

Energy Journal: The Navajo Nation won't back a coal firm's expansion into Wyoming. Here's why.

Bankrupt company Cloud Peak Energy sold the Spring Creek Mine, along with two Wyoming coal mines, to Navajo Transitional Energy Company last year. But the ownership transfer hit a road bump as soon as the sale closed on Oct. 24.

Montana's Department of Environmental Quality refused to issue a mining license to the Navajo Nation-based firm because NTEC had not agreed to a limited waiver of its sovereign immunity on environmental laws.

Spring Creek miners back to work, though sovereign immunity questions remain

NTEC, which is a Navajo Nation tribal entity, could potentially protect itself from future mining liabilities using its sovereign immunity, Montana Department of Environmental Quality reasoned. Moreover, if NTEC violated mining laws, the company's sovereign immunity could shield it from state or federal jurisdiction.

State regulators entered into a 75-day short-term agreement with NTEC to grant the company a temporary license within days of the mine closure, after the out-of-state coal firm agreed to partially waive its sovereign immunity.

The company has been actively participating in discussions with the state of Montana to reach an agreement, a spokeswoman for NTEC said Friday.

The mine is located approximately 30 miles from Sheridan, and the majority of Spring Creek miners live in northern Wyoming.

NTEC still needs to line up about $107 million in reclamation bonds to cover future cleanup costs at the Spring Creek Mine before a formal permit could be issued, Harbage said.

"I think there's going to be a lot of legal uncertainty no matter what the actual agreement ends up being going forward," said Shannon Anderson, an attorney with the Powder River Basin Resource Council, a landowners group.

"We're still very aware of the situation and just want everyone to be cognizant that until the waiver of sovereign immunity is granted, there are major outstanding issues with compliance and environmental regulations," she added.

NTEC, a newcomer to the Powder River Basin, continues to operate Wyoming's Antelope and Cordero Rojo mines as a contract miner, according to a spokesman for Wyoming Department of Environmental Quality. NTEC successfully obtained a license to mine from Wyoming regulators. But formal permit transfers have also not been finalized in the Equality State. As the permit holder, former owner Cloud Peak Energy remains on the hook for the all the cleanup liabilities tied to the mines.

NTEC agreed to purchase the coal mines outside the Navajo Nation this August for a $15.7 million cash payment, in addition to a $40 million second lien promissory note and payment of royalties for coal produced over the next five years, according to the sales agreement with Cloud Peak Energy. NTEC also assumed $94 million in pre- and post-petition taxes.

The purchase came saddled with some $400 million in reclamation liabilities, too. Federal law requires a coal operator to line up sufficient bonds to account for future cleanup costs. So NTEC turned to the Navajo Nation, which created the tribal entity, for help.

Navajo Nation refuses to financially back purchase of Wyoming coal mines

But the Navajo Nation declared in November it would not financially support the acquisition of three coal mines in Wyoming and Montana initiated by the coal company.

NTEC reassured state officials and the public in November it was working with a broker and intended to secure all necessary bonds. As of Friday, NTEC had not resolved outstanding reclamation bond requirements with state regulators in either Montana and Wyoming.