Spot Volumes Rise for 4Q 2019 Premium Coking Coal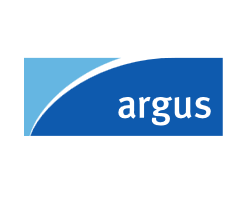 By Rou Urn Lee and Greg Holt

January 7, 2020 - Spot trade volumes in the final quarter of 2019 rose to 3.6mn t for fob Australia trades and 4.8mn t for cfr China trades as trading firms hoarded cargoes in anticipation of restocking by Chinese steel mills early this year.

The fourth quarter 2019 figure was up by 166pc compared with the same quarter in 2018, when fob Australia spot trades totalled 1.34mn t. The vast majority of this increase was because of aggressive position taking by trading firms, speculating on firmer demand in 2020 once coal import restrictions are loosened in China.

Spot trades done on a cfr China basis nearly tripled from a year earlier during October-December despite many key coking coal ports in China, including Jingtang and Caofeidian, not allowing customs declarations for Australian coal. Chinese steel producers were keen to secure more seaborne cargoes with prices considerably lower than domestic alternatives, with a price gap of $30-40/t providing clear arbitrage opportunities.

The Argus assessment for premium hard low-volatile coking coal prices on a cfr China basis averaged $152.77/t cfr in the fourth quarter of 2019 compared with an average of $214.93/t cfr in the fourth quarter of 2018.

The total spot volume for premium hard low-volatile coking coal done on a fob Australia or cfr China basis in 2019 at 23.6mn t was nearly twice that of 13.2mn t in 2018.

Prices for low-sulphur varieties of coking coal produced in China has continued to climb this week as production gets increasingly squeezed. A spate of mining accidents toward the end of last year compelled the Shanxi provincial government to step up safety checks at mines in the area, even temporarily shutting a few. Domestic production rates and supplies fell as a result.

Trading firms were also increasing purchases of spot coking coal cargoes further, in anticipation that the scramble for domestic coking coal will eventually push more Chinese steel producers into the seaborne market. Chinese steel producers are mostly sitting on the market sidelines for now, complaining that prices have risen too high for them to accept.

The most recently traded cargo of Peak Downs for February loading fetched $142.01/t fob Australia at the end of December, up by $6/t from a similar trade less than two weeks ago.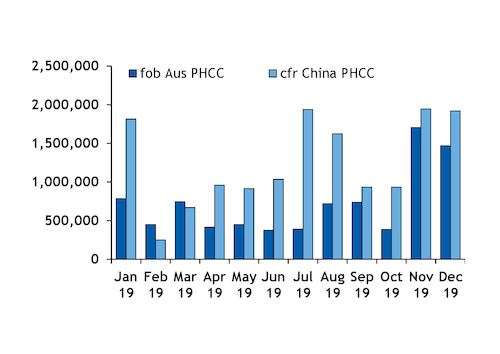 2019 PHCC transaction volumes (mn t)