Ohioans Are Troubled by the State's Declining Coal Economy
By Alejandro Figueroa

January 14, 2020 - Ohioans in the coal mining industry who are directly impacted by widespread layoffs and the bankruptcy of a large mining company expressed concern about the future of the coal market and what diminishing demand for the non-renewable resource could mean for the region's economy.

Ohio is the third largest coal-consuming state in the country, behind Texas and Indiana. Currently, the state's primary energy product is coal, which accounts for 47% of its total energy production, according to the Ohio's Public Utilities Commision (OPUC).

In recent years, however, Ohio has moved toward using natural gas for energy instead of coal because natural gas is cheaper.

Advancements in natural gas burning technology, more efficient ways to extract natural gas and government policies that encourage energy reform are also factors that led to increased natural gas use in the state, according to OPUC.

Right now, about 34% of the energy produced in the state comes from natural gas.

These rapid changes in Ohio's energy production, among other factors, resulted in a decline of demand for coal, which reduced mining operations at the state and local levels, alarming groups of workers involved in the industry.

"The truth is that most of those jobs were lost before the 1970's … It's really about economics. The coal companies did the math and figure it's cheaper for them to adopt techniques that require fewer workers and move out west," said Geoff Buckley, a geography professor at Ohio University.

Despite claims that a series of Obama-era regulations changed the mining industry, the coal operations started to decline decades ago, according to Buckley.

Last October, CCU Coal and Construction, a large Coshocton-based mining company, announced that they were cutting 205 jobs — one of the most recent instances of mass layoffs.

Half of those cuts affected the Buckingham mine, which spans between Athens and Perry counties, according to an Ohio Department of Jobs and Family Services public notice letter by CCU.

Another such instance is Murray Energy, the largest privately owned coal company in the United States, which filed for Chapter 11 bankruptcy — a type of bankruptcy that allows financial reorganization under U.S. bankruptcy law — in late October after failing to make debt payments to creditors, according to a press release from the company.

Buckley said that after World War II there was a shift in the industry toward surface mining, as opposed to underground mining, and an increase in equipment that didn't require as many workers.

Additionally, the way in which coal is used has changed. Because the resource is no longer used to power trains and boats or for heat, it's almost entirely used for energy production.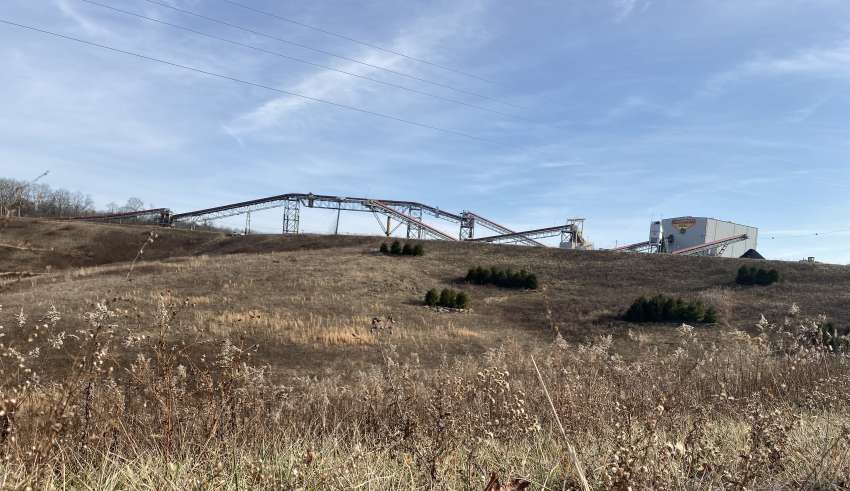 Buckingham mine in Athens County.
Photo by Alejandro Figueroa


A study published in the Journal of Energy Economics indicates that coal mining employment started declining at around the 1950's due to labor saving technological changes that reduced employment by nearly 75% by 1970.

A 1990 amendment to the Clean Air Act of 1970 helped shift coal production from Appalachian to Western regions because it's cheaper to operate mines there. In fact, Appalachia's production of coal fell from 43% in 1997 to 28% in 2012, while productions in western states rose from 41% to 53%, according to the study.

Bill Theisen, a former Athens County commissioner and Nelsonville resident, said there is plenty of coal left to be mined in the region, but activist groups are limiting mining and logging opportunities in the area.

"Athens County is the poorest county in the state of Ohio for a reason," Theisen said. "It's because there's a group in this county that will not let any timber come in, no drilling, coal mining or gas, you can't even cut a tree down without finding a group that's chained itself to the tree."

Theisen's frustration stems from environmental groups that protest incoming operations, making it difficult for companies to succeed with, or to even invest in, new operation ventures in the area.

But coal's share of the market is on a decline and has been for the past several decades. At the turn of the 19th century there were more than 50,000 coal miners in the state of Ohio, compared to less than 12,000 in 2019, according to the Bureau of Labor Statistics.

Roxanne Groff, a member of the Athens County Future Action Network, said citizens have pressured the regulatory agencies into enforcing existing laws and tightening their oversight for decades. But not one permit for a coal mine, oil well or gas well has been denied by the Ohio Department of Natural Resources (ODNR) or the Ohio Environmental Protection Agency.

"No matter how hard we fight, we have not caused any permits to be denied," Groff said. "What citizens have accomplished here in Athens County is the pushback against strip mining, which has in the past caused several companies to just go away because the regulatory agencies were forced to put the legal restrictions on the operation."

Regardless of policies and what has caused the decline of coal in Southeast Ohio, which is also the trend nationwide, people directly affected by the decline expressed concern as to what their healthcare benefits and financial future might look like.

Phil Smith, communications and governmental affairs director at United Mine Workers of America (UMWA), said company bankruptcies like Murray Energy — whose coal miners are part of the UMWA union — worry workers' pensions and healthcare benefits will be affected once bankruptcy proceedings are final.

Other company subsidiaries will be part of the bankruptcy filings as well, including American Energy Corporation located in Monroe County, a Southeast Ohio mining operation.

Through its bankruptcy, Murray Energy entered into a restructuring support agreement, which allows the company to relieve itself of certain financial obligations since it cannot pay back its creditors and other debts, according to the press release from the company.

Such relief of financial obligations for example, include relief from making payments into the UMWA 1974 Pension Plan, which is a plan that covers individuals who work in the coal industry under a wage agreement between the UMWA and an employer, according to Smith.

"Workers are going to pay the price because their terms and conditions of work are going to change, and retirees are going to pay a price because they're going to lose their healthcare," Smith said. "Unless we can get congressional action to save it, their pensions are going to be cut, and their families are going to pay the price as well."

UMWA provides career centers in order to give workers retraining skills after they have been dislocated, but it's completely funded by federal grants. Smith said that the union has recently experienced difficulty allocating federal grant money because of the Trump administration's policies.

Despite its bankruptcy, Murray Energy has not announced the closure of any coal mine operations under its ownership or any employment layoffs. The company intends to finance its operations with on-hand cash throughout the process, according to the press release.

Data trends suggest a further decline of the coal industry in Ohio. Total demand for coal in the state was 33.1 million tons in 2016. It is expected to be 26 million tons in 2021, 26.6 million tons in 2024, and down to 29.0 million tons by 2036, according to the OPUC.

This is compared to natural gas in the state, which has quadrupled in demand since 2010 and is expected to keep rising.

"It seems like coal's best days are behind them at this point," Buckley said. "A lot of these big companies have gone bankrupt and in need of bailouts but to really understand what's going on, it's just been a long term transition."

Ohio is in the midst of a rapid transition in which coal demand will be diminishing and replaced with cheap natural gas, Buckley said.

Moving forward, some suggest a technological solution to generate electricity in a carbon-neutral way could allow for a revival of the coal industry. The problem now is that it's expensive, and the technology is in its infancy, Smith said.

Another possible solution could be more support from the federal government, which could provide a pension to dislocated miners who lost their jobs because of government policies.

The Obama administration did not have such a plan in place after rolling out environmental action plans that caused coal-fired power plants to shut down, which resulted in the shutdown of many coal mine operations. The Trump administration does not have a plan in place either, according to Smith

"I don't expect to see a rebound in the market for coal, if anything it's just going to get worse, I argue. So it's not a good situation for anyone involved." Smith said.